By Reporter Staff
February 6, 2014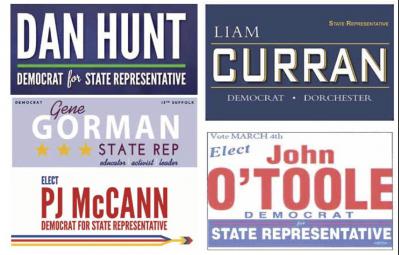 Signs of a competitive campaign
They're standing outside MBTA stations, shaking hands in frigid temperatures. They're hitting civic association meetings, coffee shops, and their neighbors' doors. And they have another three and a half weeks to go until voters hit the polls, again, in another Dorchester-centered special election.
Marty Walsh's ascension to the mayor's office has set off a small stampede for his seat. Five Democrats are on the ballot, joined by a write-in candidate, and with no Republicans running, whoever wins the March 4 primary will almost certainly coast in the April 1 general election.
Walsh won in a similar fashion in a 1997 special election, grabbing more than 2,000 votes in the primary and taking the oath of office days after his 30th birthday.
A labor leader and a lawmaker for 16 years, Walsh says he is staying neutral. "Everyone in the race – mostly everyone in the race – was very helpful to me in my race for mayor and I wouldn't pick a side in this race," Walsh said.
The 13th Suffolk House district runs from the Columbia/Savin Hill area down to Neponset Circle and dips into a Quincy precinct. Walsh's potential successors are focused on gathering votes. They include Liam Curran, a labor attorney; Gene Gorman, a local activist and former reporter; Daniel Hunt, a former State House aide; Paul "PJ" McCann, Jr., an attorney in the general counsel's office of the Boston Public Health Commission; and John O'Toole, a union member and former City Council candidate.
Tony Dang, a MBTA police officer, is running a write-in campaign.
Below, the Reporter takes a look at the candidates vying to be Dorchester's next Marty Walsh.
John OToole: The candidate speaks with a potential supporter at the John P. McKeon AmVets Post 146 on Sat., Feb. 1. Photo by Dave EisenstadterJohn O'Toole: Seasoned civic hand turns to politics
Falling back on his years of work for the community, John O'Toole hopes his record as a civic activist will put him first in voters' minds for the race for state representative. He came in second in the race for City Council in 2011, providing him with high name recognition in a politically active neighborhood.
O'Toole, who turns 50 this month, is a lifelong Dorchester resident who said he has been driven by a love for his community, and has been a longtime participant in local civic activities.
"My end game was never political office," O'Toole said sitting down at Handy and Person catering on Adams Street. "I have been doing this since my early 20s."
But now that his sons are older, he has time to dedicate to elected office, and he has his eye on the House seat left vacant by Mayor Marty Walsh. "I've built a lot of relationships over the years and I think I'm the best guy for the job that can walk into the office," he said.
O'Toole began his day Saturday dropping two of his sons off at sports practice, then grabbing a coffee at Greenhills Café and Bakery across the street from his campaign office. He made conversation and shook hands as he stood in line.
Upstairs in his office, he chatted with campaign workers Melissa Looney and Mike McColgan, lead singer for Street Dogs and former lead singer of The Dropkick Murphys.
With campaign worker Andy Boles, O'Toole then hopped in his beat-up Crown Victoria and headed to make the rounds. "It was either get a new car or college for my kids," O'Toole said of the vehicle.
The first stop was the McKeon AmVets Post 146, where Mark DeLuca provides boxing lessons for kids. O'Toole and all three of his sons went through DeLuca's boxing lessons. "It teaches them to stand up for themselves. I did it as a kid," O'Toole said. "It also teaches you the last thing you do is fight."
Inside, most are familiar with O'Toole. He shakes hands with Shawn O'Sullivan, who said he is undecided in the race for State Representative.
"I'm getting to know the players," O'Sullivan told the Reporter. "John has been great; a real leader in the community," he added.
Outside the McKeon Post, O'Toole visits Neponset II Park, and said working to make it happen as president of the Cedar Grove Civic Association is one of his most proud accomplishments.
The association fought to turn the area into a park and connect it to a bicycle path, O'Toole said. It had been formerly occupied by junkyards and a few other businesses, he said.
Rehabilitating old homes in Dorchester has also been a passion for O'Toole, who joined the Plumbers' Union Local 12 when he got an opportunity, dropping out of Suffolk University, where he was enrolled.
"I had friends ahead of me graduating making 10 bucks an hour," O'Toole said.
O'Toole calls himself "Dorchester's biggest cheerleader," and speaks fondly of the neighborhood's diversity, culture, and events— including the Irish Heritage Festival which he co-founded. He said he was proud to raise his three sons, Jack, Ronan, and Daniel, as fourth generation Dorchester boys.
While the community is diverse, O'Toole said everyone there wants the same thing – safe schools, reduced crime, and the ability for seniors to stay in their homes.
"I've been on every corner; nobody knows this district better than me," he said.
-- DAVE EISENSTADTER
PJ McCann: Pitches results-oriented approach to policy, services
Candidate P.J. McCann thinks Dorchester is ready to elect fresh blood to Beacon Hill and that his neighbors will vote for someone with a commitment to constituent services and public policy chops trained over years working in government.
McCann: PJ McCann greeted voters at the JFK-UMass MBTA station this week. Photo by Mike DeehanDorchester's electorate, he thinks, is ready to elect someone fairly new to the neighborhood to replace Marty Walsh in the State House.
"[Voters] don't value where you went to middle school as much as what your ideas are for the future," McCann said.
McCann came to the neighborhood about two years ago after living in South Boston and Allston. His parents hail from the city. His mother is originally from Dorchester and his father from South Boston, he told the Reporter in an interview last week. McCann himself was raised in the South Shore town of Hull in a house his parents bought in the 1970s as a cottage and eventually moved into with their family full time.
Hull public schools led to a degree with honors from Harvard concentrating on government in the City of Boston. He earned a law degree from Northeastern University and passed the bar in 2009. He lives "over the bridge" on Savin Hill Ave. with his wife Julie.
Professionally, McCann has worked for the Boston Public Health Commission as an attorney since 2012 and was a policy analyst there for two years before that. Stints in the Deval Patrick administration and City Hall as a legal intern preceded his degree.
McCann doesn't think that being new to the neighborhood should be a detriment to his chances of winning.
His pitch to voters is to point out the district's overarching concerns and make the case that he's the best man to vote on their behalf.
McCann says he enjoyed focusing on policy as part of an executive agency, but felt compelled to jump into the race to become a legislator because of the excitement caused by changes in the community and the election of Walsh to City Hall.
"I thought the field could benefit from having someone like me who could talk more about substantive policy issues on housing, economic development and public health," he said.
McCann says there's something special about the 13th Suffolk District.
"It's a great place to live, it's an exciting time for the neighborhood," McCann said. "I think, because it's an exciting time, in terms of economic development, we need to make sure that the benefits of that economic development are shared with the neighborhood."
Instead of treating groups of constituents based only on their ethnic or racial identity, McCann says he thinks about different constituencies by where people are in their life. Elders "have a more interesting position on housing than someone like me, who's recently married, renting looking to buy a home," McCann said. Parents, McCann said, have different priorities than adults without children.
"I think a great thing about the district is how welcoming it's always been to new Bostonians and immigrants and small business owners," McCann said.
"We need to make the district at least as good as it was three generations ago for people trying to start a small business."
-- MIKE DEEHAN
Gene Gorman: 'Newcomer' touts power of the people
With his efforts in turning the Roger Clap into an innovation school and a stint on Mayor Marty Walsh's transition team under his belt, Gene Gorman is looking to break in to politics himself as a first-time candidate.

Gorman: Gene Gorman is shown with his wife Dr. Terri Gorman during his campaign's kick-off event at the Harp and Bard restaurant.
"I feel like it's a logical and natural extension of the community involvement and the genuine concern and care I have for the neighborhood," said Gorman, a 43 year-old North Carolina native who lives with his family in Melville Park.
An active member of the Clap Innovation School's parent governing board, Gorman played a role in preventing the Clap School from closing down and helped redesign its curriculum. He said this experience sparked his interest in Boston politics and is why he thought about running for City Councilor At-Large last year. He reconsidered and instead threw himself into Walsh's campaign for mayor.
"The school involvement really opened my eyes to what can happen when people start to press on the various levers of a problem and start to work together," he said. "It was really my first foray into a public political discussion."
Gorman, who moved to Dorchester with his wife in 2005, is the youngest of three children and was raised by a single mother who worked as a mental health and substance abuse counselor. His wife is Dr. Terri Gorman, the medical director of the neonatal intensive care uunit at St. Elizabeth's Medical Center in Brighton. It was her work that brought the Gormans to Dorchester. They first settled in Savin Hill where Gene coached a baseball team alongside then-State Rep. Walsh.
"He was the first person to know I was running," Gorman said.
After the birth of his two children, Gene and his family moved to Hooper Street where he became an active member of the Clap School, which his son currently attends.
Describing himself as "a demanding, but reasonable" educator, Gorman is a part-time faculty member at Emerson College. He received his PhD from Boston College in English and American Studies.
With the Democratic primary election set for March 4, Gorman is looking to grow his support with a ten-person campaign team working out of his home. Although he has no big name endorsements, he said he has time on his side and looks forward to meeting voters and donors personally as he knocks on doors and attends various events in the neighborhood.
"I want to make sure that people understand the level of commitment that I'm going to bring to the position," he said.
A former reporter and high school teacher, Gorman is looking to be the candidate that brings people together and listens to what his constituents and colleagues have to say.
Recognizing "poverty and disparities" in Dorchester, he said he is ready to take on the "challenges" presented by the neighborhood he chose to raise his children in with policies around improving education, small business infrastructure, public health, and substance abuse prevention.
Although he is not a native, Gorman sees this as an advantage that sets him apart from the other candidates running for state representative. "We're relative newcomers," he said of his family. "We learned to really get rooted and feel at home in Dorchester."
-- JORDAN FRIAS
Daniel Hunt: Driven by a strong sense of 'community'
"That's the important date, March 4," Cathy Meade tells a commuter. It's 7:45 a.m. outside of Savin Hill MBTA Station, and she is standing with a fellow campaign volunteer along with her candidate, Dan Hunt.
"It's tough, first thing in the morning," Hunt says, as some commuters rush into the station, while others hurriedly shake his hand, showing a hint of recognition in their eyes.

Dan Hunt: Dan Hunt, above holding sign is pictured with supporters during a standout in Adams Corner last weekend. The 33 year-old attorney was the first candidate to announce plans to run for the 13th Suffolk seat.
Hunt has been standing in the chill since about 6 a.m. He adjusts his scally cap and extends his hand to another approaching commuter.
Persistence is the key, he says. "The next time you see them, they're a little bit more engaged."
Hunt, 33, is the third member of his family to make a run for the 13th Suffolk House seat in the last 30 years. His father, Jim Hunt Jr., ran for it in 1981, losing to Jim Brett. His brother, Jim Hunt III, was one of the six candidates for the 1997 special election that was won by Marty Walsh.
After Walsh won the mayoralty in November, Dan spoke with his father, who told him to weigh the idea of running carefully. "He wanted me to really want it." Dan told him he did. "And I need your support," he added.
But his first phone call was to Walsh, who is staying out of the race. " 'You need to call every person you know in your phone book. Tell all the civic leaders,' " Hunt recalls the new mayor telling him. "And that's what I did in November and December," he said.
The moves gave him a head start, and the backing of local power brokers like Ward 15 Democratic Committee co-chair Eileen Boyle, Maureen Feeney, the former City Councillor (and now the city clerk), and state Sen. Linda Dorcena Forry, a Democrat who represents Dorchester and South Boston and is married to Reporter editor Bill Forry. Hunt worked on Feeney and Dorcena Forry's runs for office, as well as former state Sen. Paul White's campaigns. In Quincy, he has the support of Councillors Doug Gutro and Kevin Coughlin and School Committeeman Noel DiBona.
After another morning spent outside the Savin Hill station, Hunt sits down inside McKenna's, the local breakfast nook, and orders eggs Benedict. He brings up his experiences working for the Economic Development Committee as an aide on Beacon Hill, a project analyst for the Massachusetts School Building Authority, and government liaison for the Department of Conservation and Recreation, helping to set aside money for a new park in Port Norfolk and push along missing links in the Neponset Greenway.
"I feel like I know the issues," he said.
And he points to the way Dorchester was there for his family when they were struck by tragedy: In 1984, his 11-year-old brother Matthew had a brain aneurysm and slipped into a coma for 18 years. Hunt remembers the outpouring of support from friends and neighbors.
"I want to make sure that sense of community, neighbors looking out for one another, is preserved," he said.
-- GINTAUTAS DUMCIUS
Liam Curran: Crescent Ave. native shares roots with Walsh clan
It's a Thursday night inside the Blarney Stone and Liam Curran is smiling.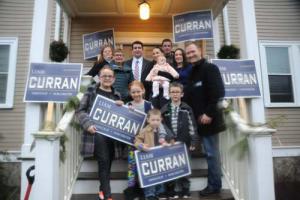 Liam Curran: The candidate, top center, is shown with a group of supporters recently. Curran, 33, is an attorney and former member of the Laborers Local 223. Photo courtesy Curran campaign
Sixty to seventy supporters have jammed themselves into the corner near the Fields Corner restaurant's entrance for his campaign kick-off. Kevin McBride, the 6'6" boxer, towers over the crowd, holding a bouncing baby in his arms. On the table next to the microphone and underneath televisions displaying a Bruins-Canadiens game, sits Irish bread wrapped in tinfoil.
Curran's smile gets a little bigger when two more guests arrive: Mary Walsh and Johnny Walsh, the mother and brother of Mayor Marty Walsh. Mrs. Walsh affixes a campaign sticker to her coat, after the mayor's brother and she signed up to volunteer for the campaign. Flavio Daveiga, one of Mayor Thomas Menino's neighborhood liaisons, is also there.
After his campaign manager checks the microphone and revs up the crowd, Curran steps up. "We're trying to get eight months of work done in six weeks," the candidate says.
He runs through his biography: Now 33, he grew up on Crescent Ave. and attended St. Margaret's Elementary, UMass Boston and American University College of Law. He worked in the general counsel's office of the Laborers' International Union of North America and as assistant corporation counsel for the city of Boston. On his palm card, he highlights another Walsh connection: He has been a member of Laborers Local 223, the union that the mayor's family has run for decades.
He said that like Walsh, a recovering alcoholic, he plans to focus on substance abuse issues. It's personal for Curran: He lost his brother Mark to a drug overdose three years ago.
Curran comes from a big Irish family, with each member carving out their own path: Two nurses, a massage therapist, a Marine engineer, a Boston Housing Authority manager.
After the speeches and Irish bread, the kick-off's two mini-celebrities – Mrs. Walsh and Johnny Walsh – head towards the door, stopping to pose for pictures with Curran and others in the crowd.
Asked about the support for Curran's candidacy, Walsh's brother says the Walshes and Currans have a long history.
"They're not like family, they are family," he says.
When asked about their drop-in the following day, Walsh reiterates that he's staying out. "My mother and [Liam Curran's mother] are friends that go back a long way," he says. His brother is also close to the family, the mayor says. "I am too, but I'm staying out of this race. Everyone in the race – mostly everyone in the race – was very helpful to me in my race for mayor and I wouldn't pick a side in this race."
Curran is keeping the race a family affair. His brother-in-law, Mark McGonagle, is running the campaign due to the short timeline. During the day, McGonagle works for City Council President Bill Linehan. And on the night of Curran's kick-off, he lays out the stakes.
"A race like this is won by personal contact, friend to friend," says McGonagle, who unsuccessfully ran for state representative in South Boston in 2010.
"We're not looking at it from a geographic standpoint," he adds later, when asked about campaign strategy. "We're going to talk to every voter, whether it's St. Brendan's St. Ann's, Quincy. This race will be won on the doors and that's what we're focusing on."
-- GINTAUTAS DUMCIUS
Tony Dang: Not on ballot, plans write-in
Tony Dang, a 10-year veteran of the MBTA Transit Police who served as an Army civil affairs officer in Afghanistan in 2010-11, is mounting a write-in candidacy for Marty Walsh's state representative seat. Dang, who came to Dorchester from Vietnam with his family, is a graduate of Boston Latin School and Norwich University.
"There are good candidates in this race," Dang said in a statement on his website that characterizes his campaign as an "uphill race." At a meeting of the Ward 17 Democratic Committee, Dang said of his campaign: "I'm the new face to this race."
Dang is running as a Democrat, but was unable to enroll in time to make an appearance on the March 4 ballot due to his earlier status as an unenrolled voter.
On his website, Dang says he was "very busy trying to help Marty Walsh get elected" and working full-time as a police officer.
More on his candidacy is available online at votetonydang.com.
-- REPORTER STAFF