By Lauren Dezenski, Reporter Staff
January 14, 2015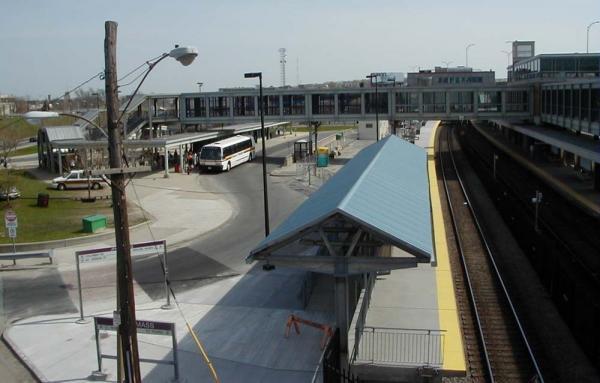 Details of who would pay for the facilities and the public infrastructure that would be needed for Boston to host the 2024 Olympic Games remain murky this week. Boston 2024 organizers say they will reveal more about their larger plans next Wednesday during a public event at the Boston Convention and Exhibition Center in South Boston.
But, there are already serious questions emerging about the potential public expenditure that would be needed to stage the event. Siting the Olympic Village at Bayside on Dorchester's Columbia Point, for example, would necessitate significant transportation improvements around the property, including the adjacent Kosciuszko Circle— a traffic rotary notorious for congestion— and JFK UMass MBTA station.
Last Saturday, the Boston Globe reported that "Boston 2024 officials have said all the public projects were approved as part of a $13 billion bond bill that Patrick signed last April," specifically citing improvements to the JFK/UMass Station and Kosciuszko Circle.
However, a Reporter review of the legislation shows that no money was specifically put aside for either Kosciuszko Circle improvements nor the JFK/UMass MBTA Station.
"There is no JFK/UMass project in the pipeline at this time," MBTA spokesperson Joe Pesaturo told the Reporter on Monday.
In 2008, the state approved a $700,000 traffic study for Kosciuszko Circle, but it is not clear if the study has been executed. Kosciuszko Circle is a vital link to UMass Boston's growing campus, siphoning traffic exiting and entering the I-93 expressway, Morrissey Boulevard, Day Boulevard and Old Colony Avenue. It is a notorious bottleneck during rush hour.
The JFK/UMass station, which abuts the rotary, would be the closest train station to the Olympic Village, making it an essential hub for the athletes and visitors in what has been billed as a mass-transit accessible Olympics by backers.
State Sen. Linda Dorcena Forry, whose state Senate district not only includes the Olympic Village and other potential Olympic venues has "not seen those plans," for the transportation projects as of Tuesday afternoon. "I'm not sure where the Globe saw those projects," she said.
"I think what the mayor and others were referring to was that those are projects that the community and business leaders and others have talked about for a long time," said State Rep. Dan Hunt, who now holds the state representative seat formerly occupied by Mayor Walsh. "The overarching premise is that if the Olympics were to occur, it could highlight or fast-track necessary transportation or roadway improvements that need to happen anyway."
Boston 2024 officials say that a community process is starting soon. The city is holding nine meetings in as many months across the city to allow citizens the chance to offer public input, with the first on Jan. 27 at Suffolk University. A separate citizens advisory group, created by Boston 2024, will meet on Jan. 21 at the Convention Center in South Boston. There, Boston 2024 will make a "full presentation on the proposal" as well as review bid documents with the media, according to Erin Murphy Rafferty, Boston 2024 executive vice-president.
"The plans for Boston 2024 are in the very early stages. As we move forward in this process, we will work with neighborhoods if they identify infrastructure improvements that they want and would benefit the community long-term," Murphy Rafferty said in a statement provided to the Reporter. "All projects will go through a thorough community review process and we look forward to a robust public conversation."
Eileen Boyle, president of Columbia-Savin Hill Civic Association, supports the Olympics and sees this as an opportunity, but wants consideration paid to community input. "Do we have a say, do we not? Right now, we haven't had much of a say."
Boyle said she hopes to see a renovated, accessible JFK/UMass Station that would better connect Dorchester with the waterfront as well as turning the Olympic Village housing into assisted living facilities for aging baby boomers.
"I understand that sometimes when you get the community process in too early, it makes things complicated, but it's definitely time now," Boyle said." If we do get the final bid, 10 years is not a long time to make this happen."
Boston 2024 previously promised public hearings would be available for every sited Olympic facility. Both Dorcena Forry and Hunt would not definitively say whether they support the games or not, but said they look forward to the upcoming public process.
Olympics backers now have until September 2015 to assemble Boston's bid to the International Olympic Committee. The IOC will then have two years to select the official host city. Boston is currently facing a field including Rome, Paris, Brisbane, Hamburg/Berlin, and Doha, Quatar.
"I would welcome continued improvements to our physical infrastructure. If the Globe sale is completed and if Bayside Expo gets developed, it will add to congestion in that area anyway," Hunt said. "And that money for improvements wouldn't be there except for the Olympics."