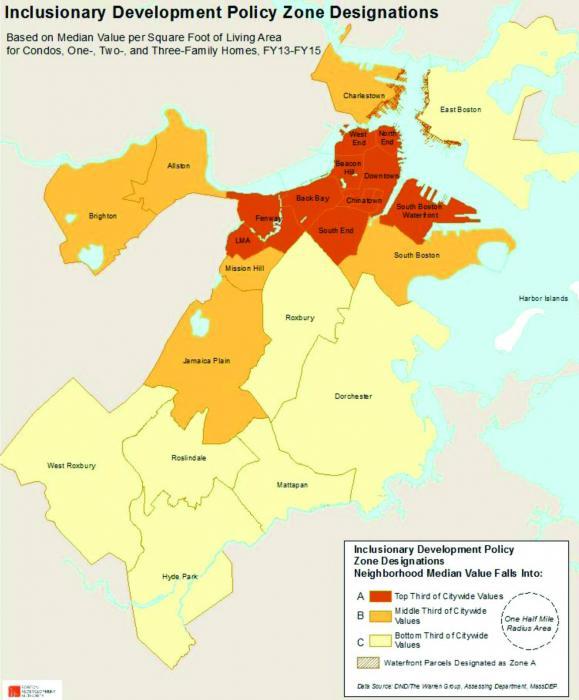 (Updated— Wed., Dec. 9) — Mayor Martin Walsh signed an executive order on Wednesday that sets up a new tri-tiered system to build and fund new units of affordable housing in the city of Boston. On Tuesday, the mayor and his policy advisors briefed reporters on the revision of the city's Inclusionary Development Policy (IDP), which has helped to create thousands of affordable units of housing since 2000.
The new iteration of the IDP – which will go into effect on New Year's Day – mandates that developers of housing with ten or more units set aside a percentage of those units for low or moderate-income residents – or "cash-out" by paying into a citywide fund that subsidizes low- and moderate-income housing projects.
A major plank of the policy change will be in Dorchester and other selected neighborhoods in a newly created zone. The allowable median income level of tenants in IDP eligible rental units in that zone will shift from 70 percent of AMI (Area Median Income) to 100 percent – a hike that has already drawn criticism from some housing advocates.
Under the new policy devised by Walsh's team, the city will no longer have one citywide formula for all developments. Instead, Boston will be carved into three distinct zones that roughly match up with existing neighborhood boundaries and reflect significant differences in rents and housing values.
Zone A comprises the downtown neighborhoods, including Back Bay, Beacon Hill, North End and the South Boston waterfront; Zone B includes South Boston, Jamaica Plain, Charlestown and Allston-Brighton; and Zone C comprises all of Dorchester, Roxbury, Mattapan, Hyde Park and West Roxbury.
Under the policy, developers who choose to build in affordable units at their on-site projects will all have the same calculation to make: 13 percent of total units in that scenario will need to be affordable. But if a developer decides – as many now do – to instead "cash-out" by paying into a trust to fund affordable housing starts elsewhere in the city, there will be a different calculus employed for each zone.
In the case of condo starts, projects in Zones A and B will be required to pay more into the fund using a higher threshold of units per development that must be offset. That figure will be 18 percent for Zones A and B, but the baseline cost per unit will be increased to $380,000 in Zone A and $300,000 in Zone B. In Zone C, however, the baseline cost is set at $200,000 per unit, with 15 percent of the total units included in the formula. Currently, the "blanket" citywide cost to buy out a unit is set at $200,000, regardless of the project's location.
The result of the new policy, Walsh hopes, will be two-fold: more overall funding to help the city subsidize new affordable and workforce housing starts citywide; and a jump in the number of projects in places like Dorchester and Mattapan, which trail sections of the city's core neighborhoods in terms of housing starts.
Walsh told reporters on Tuesday that he believes that the policy change is critical to reaching his goal of building out 53,000 new units of housing by 2030. By that year, Walsh's administration, in a 2014 housing plan, estimated that the city's population will exceed 700,000.
"I personally feel we'll be at 700,000 long before 2030," Walsh told reporters. "We can't do it with the amount of development we see now. We need to create a new portfolio of housing development."
Sheila Dillon, the city's housing chief, said that the city began internal discussions about changing the IDP formula last year, but ramped up engagement with both housing advocates and the development community last summer. The city hired a consultant to advise them on how to reconcile feedback from the opposing camps, both of which, Dillon acknowledged, would likely find this executive order either too conservative or too extreme.
"I don't think everybody's going to be happy 100 percent," said state Sen. Linda Dorcena Forry, "and that's when you know you're doing something good."
The pushback is something that Walsh, too, has anticipated.
"Some people are going to say that we didn't go far enough or that we went too far," he said, adding that the city did not intend to force large developments on individual communities. "We need to go to each neighborhood and work with them 'till they're accepting it."
In a letter to sent to the city ahead of this week's decision, Kathy Brown, the coordinator of the Boston Tenant Coalition, expressed opposition to the city's plan to expand the income requirement for tenants in IDP-related buildings to 100 percent of AMI, calling it "a step backwards."
The letter was endorsed by a number of local organizations, including the Greater Four Corners Action Coalition and Dudley Street Neighborhood Initiative. They noted that setting the rental threshold at 100 percent of AMI would be "twice the income level of many of the neighborhood median incomes."
"As you well know, displacement of longtime renters due to rising rents is occurring across Boston neighborhoods," said Brown in the letter sent last month. "We believe new market rate units increase rents in the neighborhoods where the new market developments are located. It is therefore critical that the affordable units in those very projects are actually made affordable."
"We see this proposed change as a serious step backwards and it would contribute to further displacement of Boston families," Brown warned in her letter.
Joe Kreisberg, director of the Massachusetts Association of Community Development Corporations, which signed onto the coalition letter, said that there are some elements of the new IDP that will be cheered by his members.
"Adding the three zones makes sense. That's an improvement in the policy and the cash- out change is a huge improvement," said Kreisberg. "If, as we expect, significantly larger subsidy dollars will come in, it will be very helpful to Mattapan Dorchester and other zone C neighborhoods. It adds to the pool of resources, which includes linkage and city and state funding. It will increase the amount of affordable housing."
"The higher cash-out numbers I think are very appropriate going forward and if anything they are overdue," said Kreisberg. "They will generate more money and serve more people. It properly realigns the incentives for developers not to cash out automatically but to think seriously about including the units on site."
Members of the Dorchester and Mattapan political delegation were briefed on the administration's plans this week, just ahead of the mayor's announcement.
Dorcena Forry said it is vital to take a close look at measures of affordability as laid out by the Department of Housing and Development because the percentages of AMI that apply to the rental rates vary based on family size and income. So balancing the need to prevent residents from being priced out, and making allowances for homeowners who are lost in the middle of affordability standards, does need to be addressed, she said.
"You find a lot of the workforce that really can't afford housing because they're making too much to be considered low income but not enough to stay in their neighborhoods," Dorcena Forry said. "There are a lot of programs that they can't take advantage of."
State Rep. Russell Holmes said he sees the revised IDP as a positive progression, but has some concerns regarding gentrification. As middle-income families have been left scrambling to live in even historically lower-cost neighborhoods, Holmes said, the conversation about affordability needs to be reframed.
"There is such a resistance, so we do need to do a better job of educating neighborhoods on what's affordable," he said. If a household with two working parents is unable to afford a home in the city of Boston, that is a significant problem, Holmes said. Expanding the AMI requirement up to 100 percent in more affordable zones would address the middle-wage concern that Holmes said is the chief issue brought to him during this discussion.
"What people are getting the biggest worries about is the middle income getting pushed out," he said. "Going up to 100 percent, yes that's hard for some people to afford, but I'd rather see two-earner households able to live in Boston than going to [other nearby towns]."

Jennifer Smith contributed to this report in speaking to members of Dorchester's delegation at the State House. Reporter editor Bill Forry is married to Senator Linda Dorcena Forry.