By Monique Atkinson and Deanna Klima- Rajchel, Special to the Reporter
February 5, 2015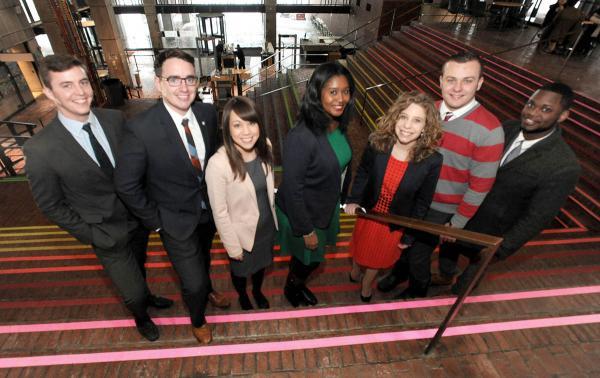 Some are lifelong Bostonians with roots dug deep into the firmament of neighborhood life. Some are new to town, lured in by college, and "enchanted" by the wonders of a vibrant American city.
All of them are under 30 and represent a cresting wave of youthful talent unleashed by a mayor whose own relative youth is an inspiration to many of them.
This week, the Reporter talked to nine of the Walsh wunderkinds who represent the vanguard of an administration that is itself still in its early days.
"[Mayor Walsh] is always open to our ideas and criticisms," explained Neil Doherty, a 23 year-old Policy Analyst. "It truly brings a robust and diverse conversation to the office."
Dorchester's Alec Bonelli, 23, and Mattapan's Gabrielle Farrell, 24, agree that their youth is — in many ways— an advantage in a city that has a booming share of young adults.
"I have boundless energy and the freedom to dedicate all I have to my work," says Bonelli, a Savin Hill native who acts as the mayor's liaison to Dorchester's district three.
"As a young person I'm driven to get things done, I try to be adaptable to technology and innovation," explained Farrell, who works to get the mayor's message out as a deputy in the press office.
Krista Zalatores, 26, stayed in the city after graduating from Boston University and settled in Adams Corner. She initially feared her inexperience would limit her impact. But she's been encouraged by the "incredibly supportive bosses and coworkers" within the administration.
Gary Uter, a native of Jamaica who now lives in Dorchester's Clam Point, has found a steady supply of mentors who "are always more than willing to provide advice."
Cam Charbonnier, the youngest of the group we spoke to at age 21, is a key operative for the mayor— working as an "advance" person to help set up events and keep Walsh on time.
"I have a lot of energy— a quality I'd say is rather important to have in this position," says Charbonnier, who notes "the hours can be a bit crazy."
"I work very well with others, and one of my strengths is bringing people together. I could work on slowing down from time to time. I tend to move a mile a minute, and sometimes I have to take it easy."
But Charbonnier, like his twenty-something peers, have clearly caught the bug of public service and politics. Charbonnier says he may even run himself one day.
Emerson alum Nancy Kwan, a 24 year-old speechwriter for Walsh, is reveling in the "crash course" of daily life in the Hall.
"I've had two amazing jobs within two years of graduating college, and I'm excited to see where I go next. I do know that I want to continue working for the City of Boston. I love this city and want to help make it the best it can be," said Kwan.
Over the next four years these diverse political minds will work alongside Mayor Walsh to continue providing, in the words of Cam Charbonnier, "functions, large and small, [that] make a difference in so many people's lives."

Cam CharbonnierCam Charbonnier, 21
Originally from: Dorchester Cedar Grove, lifelong.
Job: Advance team for Mayor Walsh; served as Dorchester field organizer in campaign.
Duties include: Moving mayor to and from events; coordinating set-up; "Marathon Tribute and the Boston Marathon have been the most important projects I've had since serving in this capacity…I also met Vice President Biden, and it made my year!"
"Sometimes young people might feel as though they don't have a voice, but we're changing that…. Having a background in political campaigns is one thing, but governing how a city runs in something completely different." Future: "I have also always liked the idea of maybe running for office myself one sometime in the future."
Gabrielle FarrellGabrielle Farrell, 24
Originally from: Mattapan
Press Aide, Mayor Martin J. Walsh
Duties include: Answering press inquiries, social media management.
"My mother, Francine Hobbs-Farrell, has always been dialed into what happens politically and in the neighborhoods.
"​There is a daily excitement to my work; no day looks the same. Some days we're answering questions about snow preparations, and other days we're gathering details about soccer tournaments for children. During matters of public safety, the way the press team handles communications is crucial to the wellbeing of the City. In the morning, I must say, I have no problem hopping out of bed and getting ready to start my day, because I'm doing this work for a City I absolutely love."
Alec BonelliAlec Bonelli, 23
Originally from Savin Hill
Job: Dorchester liaison, Mayor's Office of Neighborhood Services
Duties: "Eyes and ears for the mayor" at community meetings and city hearings.
"I believe my age keeps me humble and ambitious…. I have been captivated by local politics since I was a little boy…The preparation that goes into each hearing is demanding, and thrilling. I am taking an active roll in shaping the future of my neighborhood."
"This last blizzard was no walk in the park, but the people here literally worked around the clock for days to make the impact and inconveniences that come with a blizzard of that magnitude as limited as they possibly could be."
Future: "I intend law school and apply the skills I gain from a law degree towards the development of this great city."
Niall MurphyNiall Murphy, 24
Originally from Ireland, currently lives in Dorchester.
Director of the Mayor's Hotline
Duties include: Managing operations of the 24-hour constituent services hotline, currently transitioning the hotline to a 311 system. Former legislative aide for Rep. Walsh.
"My mother and father always instilled in me the values of hard work and leadership. They came to America to give my brother and I as many opportunities as possible. I carry those values with me every day in the way I approach my job. I try to show my staff as much appreciation as possible for the work they do."
"People call the Mayor's Hotline for a variety of reasons...being able to turn someone's frustration into happiness and appreciation is what makes me love coming to work every day."
Gary UterGary Uter, 23
Originally from Jamaica, currently lives in Dorchester's Clam Point.
Job: Project Assistant, BRA; formerly a Government Affairs intern for Governor Patrick.
Duties include: Seaport Square Planned Development Area
"Being an immigrant is naturally a political experience…I moved here months before the terrorist attacks on September 11, 2001. This tragedy left a lasting impression on all Americans, myself included…"
Biggest lesson to date: "Patience, the position requires it. You can never predict how long a proposed project will take to get through the development review process, and some projects are very complicated….The chance to help build communities and interacting with neighbors throughout the city is by far the most rewarding part of my job."
Krista ZalatoresKrista Zalatores, 26
Originally from: West Brookfield, Mass., now living in the Adams Corner, Dorchester. 
Job: Special Assistant, Mayor's Office of Economic Development
Duties include: A BU grad, she served as Interim Director of the Office of Women's Advancement, moving the Mayor's agenda on women's health, safety, and economic issues.
"As a recent college grad with a baby face, I got used to people asking me if I was the intern.  I used to be afraid that if people knew how young I was they would question me, but with experience… and incredibly supportive bosses and co-workers, I have learned to trust my judgment and to not let my relatively young age stand in my way….There is something that still captures my heart whenever I see the skyline lit up, but I am full of Dorchester pride."
Nancy KwanNancy Kwan, 24
West Bridgewater, now lives in Allston
Associate Speech Writer
Duties include: Writing speeches for mayor; former aide to Senate President Therese Murray
"I feel like I am getting a crash course on everything - from climate action, to housing policies, to economic development…I really started being interested in politics during the 2008 election, which was the first election I could vote in. I was inspired by the speeches given at the DNC that year and that sparked my interest in being a political speechwriter…I've learned that city government is really dynamic, and in a state of constant change. You never know what's going to happen - from Boston winning the US Olympic bid, to experiencing the blizzard of the century - and everyone I work with is always ready to respond. It's inspiring for me, and has taught me what it really means to be a part of a team."
Neil DohertyNeil Doherty, 23
Originally from: "Neponset in Saint Ann's Parish, I still live there today."
Policy analyst, worked on Mayor's advance team. Duties include US Conference of Mayors Opportunity Task Force, My Brother's Keeper Initiative, Mayor's Civic Academy. 
"I find that my age keeps me grounded…Mayor Walsh has many young people on his team, and he is always open to our ideas and criticisms, it truly brings a robust and diverse conversation to the office…The Mayor's race was my first official dive into politics, but as the youngest of eight in a union household, politics were always a topic of conversation."
Jill EpsteinJill Epstein, 28
Originally from: Dorchester, now lives in Ashmont/Adams
Event Planner, Boston Public Library
Duties include: Mayor Walsh's One in 3 Council, planning Opening Day (Feb. 21) events for the 2nd Floor of the Johnson Building; former intern for Rep. Walsh.
"Although my job is not politics-related, I come from a politically active family and have always been interested in working for the city... On a typical day I could be giving a wedding tour to a newly engaged couple, showing the director of a non-profit organization our community space and joining a walk through with members of the Boston Lyric Opera for their upcoming performance at the Library. I could work on slowing my pace down a bit- taking the time to really look at the beautiful murals that adorn the building."
Future: "I would love to work for the Mayor's Office of Tourism, Sports & Entertainment."