By Jennifer Smith, Reporter Staff
February 4, 2016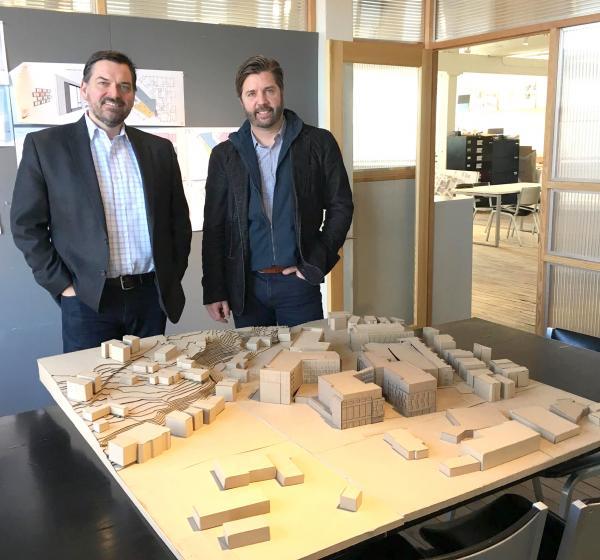 Dorchester architects Eric Robinson and Kevin Deabler have become practiced hands at designing developments suited for a neighborhood bursting with growth, their work today a far cry from the small-scale projects that first integrated them into their community.
Both 44, Savin Hill residents, and fathers, Robinson and Deabler launched RODE Architects in 2005, so named for the first few letters of the founding pair's last names.
At first, the two of them worked in the basement of a Savin Hill home, tackling tiny remodels and revamps, but as business expanded, the firm grew into a crew of 16 working in a bright, open South End office. Along the way, RODE has been entrusted with some of Dorchester's most innovative renovations, which always involve impassioned community feedback.
"The key when we go out into the community is to create this level of respect," Robinson said. "Even though we live in the neighborhood, we also want to make sure that the people that are coming into the meetings and hearing what we're saying, you know, respect that we respect the neighborhood," he said.
This is the team looking to fill in the "hole" in the heart of Savin Hill's business district, expanding their previous work on the Savin Bar and Kitchen and cleaning up a long-time neighborhood eyesore.
This is the team that is the gatekeeper for the Glover's Corner mixed-use project DOT Block, which is grinding its way through approvals after a small redesign.
This is the team that Dorchester Brewing Company, set to be the first full-service contract brewing facility in Boston, tapped to overhaul the old Peacard Co.'s sheet metal contractor building in Edward Everett Square and turn it into a spacious brewery and tasting facility.

The RODE Architects team stands in their South End offices, founders Eric Robinson (second from left) and Kevin Deabler (seventh from right). Image courtesy RODE Architects
"We see them as a partner," said Matt Malloy of the brewing company. "They are part of the team, and when we have a challenge, it's about, 'great, how do we solve this?' "
Malloy said that when he and his Dorchester Brewing colleagues hit a snag with the project, they all sat down with the RODE team on Malloy's porch in Ashmont, drinking beers and brainstorming. "It was great moment," Malloy said. "They have a passion for Dorchester and the city of Boston."
Robinson and Deabler "care about our neighborhood as much as the longest time resident does," said Catherine O'Neill, who represents the DOT Block developers. Even before the RODE guys came on board about two years ago, O'Neill said, community members kept asking her if she knew them, or if they were involved in the project. "Everything that they do on this project is a reflection of the entire community, and that's what I love."
New Hampshire native Deabler moved to North Carolina in his teens. He met Robinson, a native of Washington, D.C., in 1990 when they were freshman students of architecture at North Carolina State University. Their paths diverged after graduation, though they remained friends. After accumulating additional degrees and architectural experience, they found themselves living in Dorchester, where they began to collaborate on side projects. The jobs became regular enough that when it came to "decision time" in 2005, they chose to establish their own firm.
A Dorchester Reporter article in 2009 was a critical milestone for their fledgling company, Deabler said. The two were working out of the lower floor of Deabler's two-family home on Elton St. in Savin Hill, with Robinson living just two doors away. "It just eventually kind of snowballed," Deabler said. "I think one of our key aspects was to do work in the neighborhood, for our neighbors. We would take anything that came our way. It was literally doing kitchens and stairways… it was really just being present in our community."
Work on restaurants and private homes were on their docket at that point. Dot2Dot Cafe on Dorchester Ave was their first restaurant, followed by the Savin Bar and Kitchen. Living in the neighborhood and taking on every conceivable project proved to be an advantage, Robinson said, with the minutiae of gaining the approval of the community and the city bureaucracy becoming a regular matter.
RODE's early vision for mixed-use developments that align with the characteristics of the neighborhood was prescient and in keeping with much of the design in the construction that is booming across Dorchester and the city. The firm is now well-practiced at transforming large abandoned or industrial spaces. Among their work: The sprawling Bornstein & Pearl Production Center off Quincy Street down from Grove Hall. The old Pearl Meats factory is now a food cooperative being managed by CommonWealth Kitchen after an overhaul sponsored by the Dorchester Bay Economic Development Corporation.
Today, the scope is larger for RODE – projects roll in from across Boston, and among the laser-cut models in their office workspace is a rendering of an industrial project in Brooklyn. While the developments are grander, the team's philosophy remains: a focus on community with a blend of more modern design.
"We are starting to get a little street cred in the neighborhood," Robinson said. "The reason is, I think, that we're always trying to do the right thing, by both the profession, and the neighborhood, and the project."