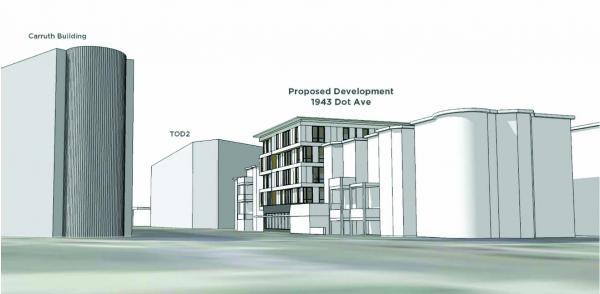 The Boston Redevelopment Authority's board of directors has given its blessing to another significant mixed-use development across from Ashmont station. A proposal to build a new 64-unit apartment complex on what is now the former Odwin Learning Center at 1943 Dorchester Ave. won official approval from the board last night.
The $14 million project will involve bulldozing the existing structure at that address, replacing it with a five story building that will feature a 2,100 square foot ground level commercial space. The project was the subject of two recent community meetings held in Peabody Square to give residents a chance to fine-tune the proposal, which is led by Peregrine Group LLC, a Rhode Island-based firm which has an agreement to purchase the site from the Codman Square Health Center. The health center has the first right of refusal to use the commercial space.
The building will mainly house studio apartments— 42 in total—along with 15 one-bedrooms, three one-bedrooms with dens, and four two-bedroom apartments. Eight apartments will be set-aside as "affordable" in accordance with city rules— "with rents ranging from approximately $1,065 to $1,400 per month," according to the BRA. Construction is expected to start next year.
On Monday, state and city officials hailed the launch of another major redevelopment just down the block from this one: The Treadmark building— owned by Trinity Financial, Inc.— is now under construction on what was once the Ashmont Tire company.