By Bill Forry, Editor
December 15, 2016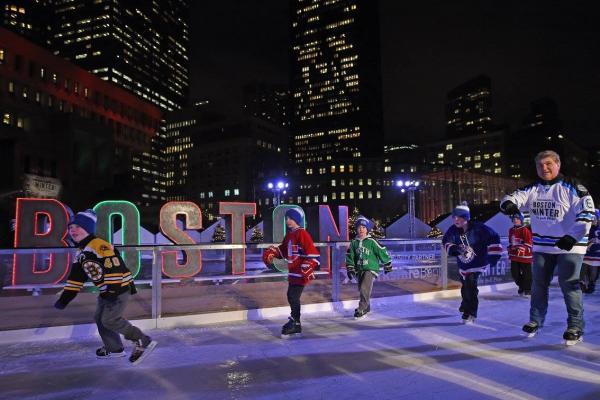 The reinvention of City Hall Plaza into Boston Winter—complete with ice skating, beer hall and shopping chalets — may be a downtown destination, but this innovation has Dorchester's fingerprints all over it.
So it was quite fitting that the first kids to lace up their skates and hit the ice track last weekend were a group of Mites and Pee Wees in the blue and red jerseys of Dorchester Youth Hockey.
Bruins legend Ray Bourque was the first "official" skater on the ice during a ceremonial opening last Sunday. But it was the Dot kids— along with fellow players from leagues in Charlestown, Allston-Brighton, and Southie— who really broke in the 11,000-square-foot circuit that has transformed the once desolate brick plaza into a frozen fairyland.
Billed as Boston's "ultimate holiday destination," the plaza takeover is already drawing better-than-expected crowds, according to Patrick Brophy, the city's chief of operations, whose Dorchester-heavy team played the key role in executing Mayor Marty Walsh's vision.
"It all started with mayor's idea to enliven the plaza," said Brophy. "It was his thought to do something creative, to bring people to downtown as a destination—and the idea was also to help local businesses."
No taxpayer money was used to fund the construction of the encampment. TD Garden, the successful respondent to a city-issued request for proposals, shouldered that burden. Brophy says that the city will realize a share of any profits from sales and skate rentals on the property and is guaranteed, at minimum, $50,000.
If the early attendance holds up, the city will likely get more than that.
"Each day is a test, but as of right now it's been wildly successful," said Brophy. "Every night it's being well used and on weekends it's booming. A lot of people come in to skate and to take a look at the food and drink offerings. The offerings in the chalet shops are really unique and cool."
Last weekend saw more than 13,000 visitors to the plaza, according to Brophy, who said that number was particularly strong, considering that mild weather delayed the launch of the skating. Now, with the temperature plunging below the freezing mark, the crowds are building.
"Weeknight is a great time to come, right after it gets dark," says Brophy. "The lighting in this place is really cool with the buildings coming to light and City Hall lit up in beautiful colors. We're coordinating lighting schemes and we have a DJ, live music – holiday themed and family friendly music – and a beautiful Boston sign at the track.
"This weekend we had our first couple get engaged in front of the sign, so we're really happy with the success so far," Brophy added.
The skating track is clearly the star attraction in this village. Unlike the oval-shaped Frog Pond, the track's winding route keeps the flow of skaters — including lots of novices— moving safely.
"We're trying to keep it at 200 people maximum,." Says Brophy. "Because it's a path— and not a big circle— it gives people of varying skills a chance to go at their own pace. It's very manageable and we have skate guards out there."
Visitors can pick out a pair of brand-new skates to rent for the day for just $6— or they can bring their own. Tickets are $10 for adults, $8 for kids 5-12 and free for children under 5. Tickets cannot be pre-ordered and helmets are free only while supplies last.
The hours of operation for skating are 11 a.m. to 9p.m. Sunday through Thursday and 11 a.m. to 10 p.m. on Friday and Saturday (Christmas Eve will be the exception, 11 a.m. to 4 p.m.). The track will be closed on Christmas and New Year's Day.
Berkshire Bank, the lead sponsor of Boston Winter on City Hall Plaza, is offering special discounts on attractions — including 50 percent off on skating path admission— to their customers with a bank card. Boston teachers, active military, and veterans can also get the half-off deal.
For novices, there is also a four-week Learn to Skate program on offer with 30-minute group lessons on Saturday mornings in January and February. The $99 fee includes skate rentals.
"It's really a great, family-friendly experience," said Brophy. "We have a great team here to execute the mayor's vision. Everyone who comes down here has been helpful in being creative about how we stage it. And safety is always going to be our number one priority."