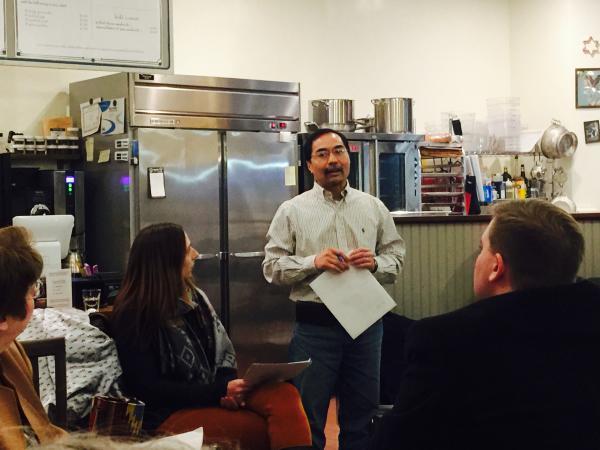 Construction of a new three-story, mixed use development on the site of the former Lucky Strike bowling lanes will be complete by June with residents moving into the complex's 22 apartment units by August. That's the latest word from Hiep Chu, one of the partners in the Lucky Strike Residential Project. Chu briefed the membership of the Fields Corner Civic Association about the project on Tuesday evening at home.stead café, a new bakery and coffee shop in Fields Corner.
The new building— located at 281-289 Adams St.—is still under construction, but Chu told neighbors that he expects an occupancy permit to be delivered by June 18. The ground floor will include 8,000 square feet of new retail space that Chu said will be sold to three or four different owners.
Chu's company, the BT Group, will retain ownership of the two upper levels of apartments, which will mainly be rented at market rate, with one-bedroom rents estimated at $1,500 per month and two-bedrooms marketed for $2,000. Three of the units will be set aside as affordable housing at 70 percent of Average Median Income. The project has been financed privately with no state or federal subsidies or tax credits, he said.