Reign Drink Lab, a cozy café specializing in nitro-fueled, cold-brewed coffees and teas with a southeast Asian twist, opened its doors in October and is quickly building a loyal and diverse following on Dorchester Avenue.
The shop is tucked into the side of Phó Hóa, the iconic Vietnamese eatery across from the Dot House on the upper edge of Fields Corner. Reign is literally the offspring of Phó Hóa, occupying what was once a little used function room and storage area. Tam Le— the son of Phó Hóa founder Thanh Le— enlisted three friends as business partners to create Reign Drink Lab, which the team sees as one-part business venture and all-parts fun.
"This is a passion project," explains Tam Le, 35, who launched the business with three friends and partners, Karl Ching, James Pham and Raghu Krishnan. "We had an artistic vision and we didn't want to cut any corners. We spent a lot on the build-out— probably more than we needed to. At the end of the day we may not make any money. It's possible. But we really wanted to create something new and special and true to ourselves."
In most ways, the shop is a departure from the aging décor that peppers most of the avenue's Vietnamese haunts. This is a hybrid spot by design. Vintage 1990s hip-hop pumps in the background as late-teen baristas pour nitrogen-fueled, cold brewed coffee from a pair of taps beneath an illuminated sign that advises customers to "Recognize Real." Three huge panel paintings dominate one wall— the original work of impressionist painter Ari Lankin, with added flourishes from Dot-based artist Marlon Forrester and Tam Le.
The main attraction, though, is the drink menu— all customized by the Reign team with heavy influence from the Vietnamese tradition. Offerings include the "Dark & Stormy"— sweetened with a touch of sea salt cream; the tasty "Matcha Draft Latte" and a coconut-layered "Pineapple Whip." Drinks range from $4 to $5 for a regular cup.
Partner Raghu Krishan— a chemist by profession— serves as the primary mixologist in the crew, but all four partners brought their passion for drinks to the table. "We've all traveled a lot and been to a lot of different drink shops in California, Japan, and Vietnam. In the end, we wanted to be inclusive— not just Asian, a place where everyone would feel welcome and so we took from all of those influences."
The Reign name and vibe channels the sensibilities of partner James Pham, who ran a street-wear boutique in Orlando, Florida— where he connected with Tam Le.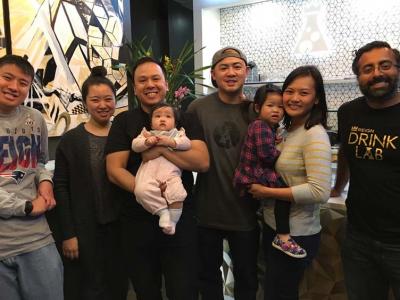 Partners in the Reign Drink Lab in Fields Corner: shown at the opening in October: (l-r) Karl Ching, Linh Huynh, Tam Le and his daughter Madeline Le, James Pham with his daughter Colette, Sarah Pham and Raghu Krishnan.
"I loved the culture and the vibe and feel of Reign," explains Le. "James really supported the arts and culture and created a space for people to come. I wanted to take that vibe and bring it here."
Pham, who shares Le's roots in Vietnam, saw the blend of people in Dorchester as an ideal extension of his Florida-based brand.
"Dorchester has a lot of Vietnamese businesses," explains Pham. "We are born and raised here in the states and we're a little different from our parents. We're thankful for what we have, we just didn't want it to be an Asian only or Vietnamese only spot. That's not how we grew up. And when you step out in Dorchester, it's a mixed community."
The drink menu reflects that cultural blend without undermining the authenticity of the Vietnamese-inspired offerings. The drinks are not diluted to appeal to American palates.
"We've taken pains to do something really different," said Le. "I would like to think maybe it's never been done before, being nitro-cold brewed but locally sourced in Vietnam. And we don't use any powders, syrups, or artificial flavors."
That sort of departure from the dime-a-dozen "bubble tea" spots popping up in Dot is winning Reign a sweet niche audience.
Packy McDonagh, 31, who runs a Cross Fit gym on Parkman Street, says the shop has become a popular spot for his members before and after workouts.
"I recommend it to people because they want to get their caffeine fix in and Cross Fit people are pretty particular about their coffee and they want healthy options. They love it. I'm a big fan of the nitro-brewed coffee. It gives it a frothy taste without the additives."
Angela Vo of Clam Point has become another regular.
"I love small family-owned businesses like Reign, where Tam makes you feel like family. In a time when it feels immigrants aren't welcome, Dot Ave. reminds me that it's families like ours who help build Boston, from Irish, Polish, Viet, Cape Verdean, Haitian," said Vo. "His ca phe sua is the real deal, and you can tell by the Vietnamese folks who come through."
Tam Le's primary responsibility is managing his family's other signature restaurant— Pho Linh on Hancock Street in Quincy. His experience at the Quincy eatery has informed what he intends to do in Dorchester.
My dad (Thanh Le) basically willed this place to get to where it is," explains Le. "He trusted me and that took time. I finished business school, took over the family business in Quincy, rebranded it, and it's doing really well. That helped build credibility. Before I was the ideas guy. And now my dad's seen action and results and that built trust. "I think what I learned in Quincy is to invest in people – it's the staff that make it work."
What's next? The Reign Drink Lab team continues to experiment with novel menu options, including a new hot chocolate and protein drinks. And they are marshalling their lessons learned for a possible Reign 2.0 spot in Dorchester.
"I really love Fields Corner," said Le. "I feel indebted to Fields Corner because my family's business has been here since 1992— when I was in the fifth grade. Basically this business put me and my three brothers through college. I don't know where yet, but I feel like this space is like an audition."
Reign Drink Lab is located at 1370 Dorchester Avenue. It is open Monday-Saturday 9:30 a.m.-8 p.m. and Sunday 9:30 a.m.-6 p.m. Visit reigndrinklab.com.