By Bill Forry, Editor
August 31, 2016
A newly published Boston Redevelopment Authority (BRA) report that examines residential and employment patterns— and related commuter flows— in Greater Boston reveals some interesting statistics about Dorchester and Mattapan. The report uses data from US Census Bureau that tracked "payroll jobs"— including both public and private workers— and where they lived and worked between 2011-2014. Additional data points from the American Community Survey (ACS)—including details about commute times and how people travel to and from work— have also been layered into the report.
One key finding highlighted by the authors: The report underscores the much longer commute times that face commuters who live in Dorchester and Mattapan. Alvaro Lima, the BRA's director of research, that the document, published on Tuesday, will help planners better understand the regional nature of the city's workforce and the public transportation challenges facing specific neighborhoods.
"When you look at the public transportation system in Boston what you can see is that inequality is already hard wired into the system," said Alvaro Lima, the BRA's director of research. "A single mother who works in Mattapan and has to drop off her child to day care and then get to a job in Brighton has to have a car. I don't know how you make it."
The findings show that about 54 percent of the 277,068 Bostonians who hold payroll jobs work in Boston. In total, Boston has 567,132 payroll jobs, according tio the BRA report, which notes that the total does not include certain categories of workers, including military personnel and US Postal Service employees.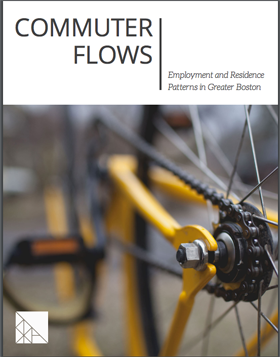 Commuter Flows report from BRAHere are some of the key findings that are of particular interest locally:
• Dorchester is— far and away— home to the largest number of "resident workers" — with 50,382. The next closest neighborhood is Brighton with 22,601 resident workers. Of those 50,382 Dorchester payroll workers—about half — 25,436 — are working jobs within the city of Boston.
• The number of Dorchester workers who live and work in Dorchester is 7.1 percent; 55.3 percent of Dorchester workers have jobs in Boston. The neighborhood with the highest percentage of resident workers who work in their own neighborhood is, unsurprisingly, Downtown. Just under 31 percent of people who live in Downtown also work there.
• However, Dorchester can claim the highest percentage of Bostonians who live and hold down payroll jobs in their own community, with 13.9 percent of Dorchester people living and working at payroll jobs in Dorchester. The next highest is West Roxbury at 8.5 percent.
• According to the ACS data presented in the report, more than half of the residents of Dorchester (56.3 percent) and Mattapan (55.5) say they drive to work. West Roxbury residents are the most likely commuters to take the wheel each day with 78.3 percent saying they use a car, truck or van.
• The number of neighborhood people who take public transportation is roughly the same in both Dorchester— 35.6 percent — and Mattapan, 36.9 percent. The highest percentage of public transit users can be found in East Boston, where 57.8 percent of workers are using the T.
• Only 4.8 percent of Dorchester workers walk or bike to work. In Mattapan, that figure goes down to 3.3 percent. (Roxbury (12.1) and Southie (10) are significantly higher in this category. More than half of the workers in Longwood, Beacon Hill, Downtown and North End say they ride a bike or hoof it to the office.
• When it comes to commute times, the survey found that Mattapan neighbors are definitely bringing up the rear when it comes to time spent heading to work or home. Forty percent of Mattapan workers reported a commute time of between 30-59 minutes each way; and 24 percent — the highest in city— say they spend an average of an hour-plus in transit. Dorchester was better in one respect: Only 14.4 percent said they were in transit for more than an hour each way. But, 43.5 percent of Dorchester workers expected a commute of 30-59 minutes each way.
• Where do Dorchester people with payroll jobs work? Of the 50,382 Dorchester folks included in the report, 27,845 work in the city of Boston. Of that number, 7,492— or just about 15 percent— head into jobs each day in Downtown. Another 3,552 — 7.1 percent— work somewhere in Dorchester. The next top three workplace destinations in Boston are Roxbury , Back Bay and Mission Hill. The balance of Dorchester workers— 22,537— settle in for treks to jobs in Cambridge (4.8 percent), Newton (2.7 percent), Quincy (2.7 percent), Waltham (1.8 percent) or Braintree (1.4 percent).
• Most people who hold payroll jobs located in Dorchester— 70 percent— are not Dorchester residents. A total of 17,834 are coming from suburban communities to the south, led by Quincy, Weymouth, Brockton, Braintree and Randolph.
• Mattapan is home to 10,149 payroll job holders, but only 2,062 payroll jobs are located in the neighborhood. Most people who work in those jobs— 64.9 percent— aren't city residents. They are coming from Quincy, Randolph, Milton, Brockton or Stoughton. Just over 10 percent of the 724 people who do live in Boston are commuting to Mattapan payroll jobs from Dorchester (218).
• Of the 5,601 Mattapan workers who commute within the city each day , the largest chunk— 15.1 percent— are heading into Downtown. The top out of Boston workplace destination for Mattapan residents is Cambridge.