By Elana Aurise, Reporter Staff
September 22, 2016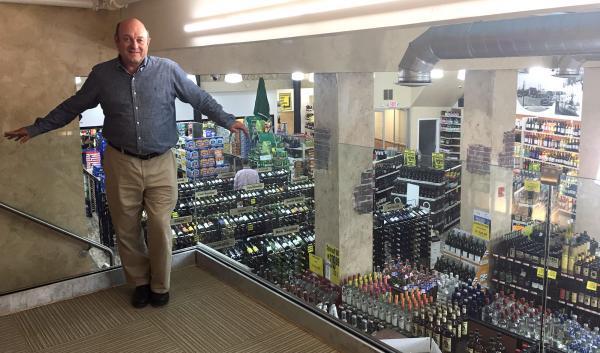 Supreme Liquors, a family-run business that has been serving Dorchester since 1934, is in its fourth month of offering a new and improved look – and earning booming sales – at its Gallivan Boulevard store in the wake of an ambitious renovation project that has added a modern look, more square footage, additional inventory, and more customer convenience at the Adams Corner mart.
"We did the renovations because I thought the people in this neighborhood really deserved better than what we were giving them. So we tried to upgrade the liquor store. It's the right thing to do," said Tom Cifrino, CEO of the Supreme Realty Trust, which operates a chain of liquor stores that also has locations in Fields Corner, Wollaston, and Cambridge.
The Cifrino family's Dorchester roots extend back to the early decades of the last century when brothers John and Paul Cifrino opened the Uphams Corner Market – Boston's first supermarket – in 1915. The brothers eventually sold the market and "retired" in 1929, but were soon back in business, opening Supreme Markets with liquor outlets in three locations ­– the one on Gallivan Boulevard, which, the company notes, holds the longest existing liquor license in the neighborhood, and the other two in Wollaston and South Boston.
The markets are gone, but Supreme Liquors has survived as a Cifrino family business.
The renovated Gallivan store has two levels, with a custom-made historical wallpaper collage of black and white photographs of the large Cifrino family and its many markets. There is also a space for wine tasting on a perch above the main store that features custom-built storage cabinets and stainless steel pouring stations. A sky scene with cherubs on the ceiling by the main registers was created by the artist Mark Grundig.
The store re-opened to positive reviews over Memorial Day weekend, when there was a 25-percent increase in overall sales, according to Cifrino, who credits the surrounding neighborhood for understanding the business and supporting his vision for an expansion and upgrade.
"We went to the Cedar Grove Civic Association and asked them for permission to expand, and it's the only time in my life this has ever happened," he said. "Not only did they give us permission when I presented the whole project to them, but they stood up and gave me a standing ovation for all the work we've done. I've never had that happen and it was so nice."
"I think we accomplished what we wanted to do," Cifrino added. "We made a real commitment that we were going to upgrade the building completely and also the parking lot, put in new lighting, brick sidewalks, and wrought-iron fencing. We installed cameras in the entire parking lot and then fixed the backside of the building. We put in a new walking corridor, a new bathroom for the employees, new floor and ceilings, painted everything, put in new windows, and got an awful lot more craft beers and better wines."
His business, Cifrino said, is committed to Dorchester for the long haul. The passion he has for the neighborhood, and for maintaining his family's legacy of serving their neighbors, is shown by the expansive renovation. "We've been here since 1934, and we're not going anywhere," he said. "My father was brought up in Uphams Corner and my mother was brought up in Fields Corner. I happen to like it here. Dorchester is a great town, it really is, and you don't get towns like this very often."
Cifrino clearly likes what he's doing. "It's fun to run a business. We have 12 employees who have been with us 20 or more years. We ask them to abide by our rules and we don't ask them to do anything we won't do. It's a pretty simple way to do business."