By Jennifer Smith, Reporter Staff
September 8, 2016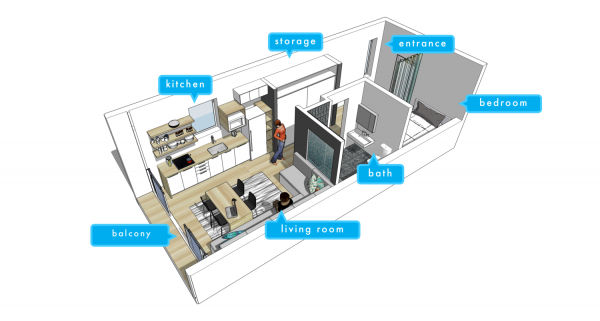 Something resembling a large shipping crate that today is sitting in the Mattapan MBTA station parking lot will make its way on Saturday to Fields Corner. Inside the 385-square foot space is a prototype studio apartment, a modular micro-unit called the Urban Housing Unit (UHU).
A person standing in the combination living room/kitchen will find the UHU minimalist and bright. A floor-to-ceiling double glass door, which opens onto a small porch, serves as the rear wall. In classic tiny-house style, space savers abound.
Shelving and storage space climb to the unit's ceiling. Only the front door swings inward on hinges, with a pocket door opening into a full bathroom across a hallway from a double closet. A bedroom nook is carved out by the front entryway, with a cherry-red drape offering a semblance of privacy in the compact space.
The Mayor's Housing Innovation Lab is taking the tiny home – which was developed in collaboration with the Boston Society of Architects/AIA (BSA), the BSA Foundation, and LiveLight, a developer of the unit – on a roadshow to eight neighborhoods in Boston.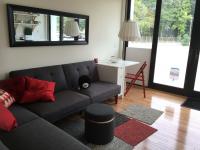 Making the most of a tiny space: A shot inside the UHU's living room/kitchen
Boston's development boom has highlighted areas of friction within the housing stock. Older residents may wish to downsize, but the limited housing options keep them in multi-unit properties that might be better suited for growing families. A glut of expensive larger apartments do little to alleviate the needs of smaller households.
These forces have combined with construction cost pressures to create a middle-income housing gap in the city. Single residents and couples make up about 66 percent of all Boston households, but only 17 percent of the housing stock is studio or one-bedroom apartments.

UHU bedroom
Mayor Martin Walsh's administration has called for 53,000 new units of housing by 2030, and his team hopes a proliferation of smaller units will help make a sizable impact on that goal.
The logic behind it is straightforward: by building smaller apartments in neighborhoods with lower land costs, the savings could prompt lower rents or more affordable ownership rates. A Boston Foundation report in November 2015 found that land purchases account for about 58 percent of the total development cost, strangling affordable building possibilities in many areas of the city.
In assessing the Boston zoning code and current minimum studio apartment requirements of 450 square feet, Max Stearns of the Housing Innovation Lab said, "We were curious if it was possible to translate smaller size to greater affordability. Is that something that people were genuinely interested in?"
Discerning that interest level is a key reason for hitting the road with the UHU mock-up. Since smaller-than-zoned apartments would require community support for variances, the units will be dead on arrival unless the neighborhoods can envision them standing alongside classic three-deckers and housing parents, siblings, or friends.
At a Fields Corner Civic Association meeting on Tuesday, Stearns fielded questions from the group in advance of the UHU's arrival in the village. He said one of the biggest surprises to those posted at the UHU during community events was the interest level among older residents who can see themselves in a smaller individual space.

The UHU kitchen
"We know that this isn't right for everybody," Stearns said, "but it is right for some people, like recent graduates, or aging seniors, empty nesters where they're just trying to downsize."
The units are modular, constructed in easily rearranged formats that lend themselves to a two- or three-unit combination resembling a typical multi-family house. Small unit communities are also a possibility, perhaps with shared amenities like green space or activity areas.
Stearns emphasized that the project is in its preliminary stages, with the city trying to determine if small units would be welcomed by the neighborhoods.
Representatives from involved departments are hosting open houses for community members to stand in the space and offer feedback.
The UHU will move to the parking lot at the corner of Dorchester Avenue and Park Street on Saturday.
Four open events are planned: a community night on Tues., Sept. 13, from 5 p.m. to 7 p.m.; in conjunction with the farmers market on Sat., Sept. 17, from 9:30 a.m. to 2:30 p.m.; a family night on Tues., Sept. 20, from 5 p.m. to 7 p.m.; and another community night on Thurs., Sept. 22, from 5 p.m. to 7 p.m.
For more information on the UHUs, visit http://www.liveuhu.com.
UHU, a long view. Jennifer Smith photo