By Jennifer Smith, News Editor
June 28, 2017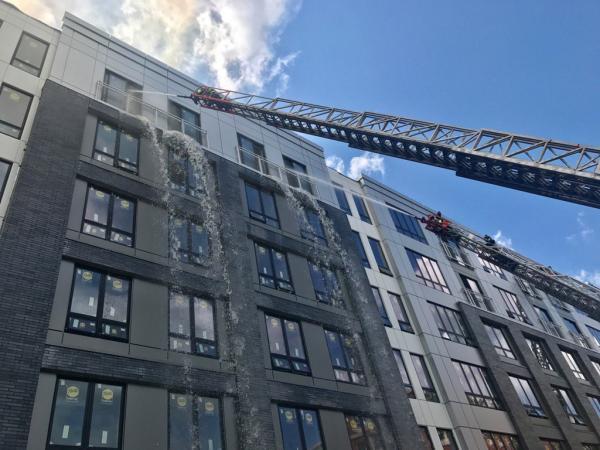 Updated 3:21 p.m., June 29
Ashmont station re-opened for Red Line, trolley service; Dorchester Avenue remains closed between Gallivan and Peabody Square
The Treadmark building in Ashmont continued to burn overnight as firefighters battled a six-alarm blaze, severely damaging floors of the nearly-opened mixed-use building in what community groups called a "heartbreaking" turn of events. Firefighters were still putting out hotspots as officials offered an update Thursday morning.
A fire on the roof of the six-story building at 1971-77 Dorchester Ave. was reported at about 2:30 p.m. Wednesday, according to the Boston Fire Department. As a stick-style, mostly wooden structure, Treadmark went up like tinder.
Emmy Rainwalker, who lives on nearby Carruth Street, watched as the fire trucks began to swarm the scene.
Boston Fire Commissioner Joe Finn on the scene"We were just walking to the bank and saw the fire trucks come careening down," she told the Reporter in a phone call. As she watched, firefighters scaled ladders placed against the structure — "one, two, three four, maybe 10 firemen going in with hoses," she said, eyes on the then-two alarm fire.
An hour later it was at six-alarms and firefighters were being called off the roof, with efforts limited to exterior work due to structural concerns. It was still burning into the early evening.
The incident started as a "ceiling fire," Boston fire officials said, which then spread to the roof.
The cause is still under investigation, pending structural engineers being able to assess the building. "It's all going to be determined by the investigation… we're looking at it right now," Fire Commissioner Joseph Finn said at a press update Thursday morning.
"What probably contributed to this was the sprinkler system was offline," he said. "That was definitely a contributing factor, and hopefully and investigation will determine why it was offline. Did it fail, or was it offline because it was shut down, or whatever?"
Treadmark is a sister structure to the Carruth across the street — both Trinity Financial projects — a prominent new Ashmont building still under construction.
"We care deeply about the Ashmont neighborhood and are heartbroken," Trinity Financial said in tweets Wednesday evening.
"We are deeply grateful to all of the firefighters, police, and city and state agencies that worked throughout the night to keep our neighborhood safe," said Jim Keefe, principal at Trinity Financial, in a statement Thursday. "The building was near completion and had received the requisite approvals at each milestone. The sprinkler and life safety systems were in place and slated to be tested today. We continue to work in close cooperation with city and state agencies, and we are committed to rebuilding as quickly as possible."
"We would like to reiterate our thanks to everyone involved in helping to deal with this unfortunate incident and to all those who have reached out to us with their heartfelt support," he continued. "Now that the fire is out, our primary mission is to redouble our efforts to fulfill our promise of providing long-term affordable housing in the Peabody Square neighborhood."
According to someone with knowledge of the building schedule, construction workers had been conducting tests of the emergency generator. The fire department was scheduled to come in for an inspection on Thursday, including a full test of the sprinkler systems and checking safety backups.
"Every part of this system was set for today for its final inspection," Inspectional Services Department Commissioner William Christopher said Thursday. Within two floors of any work, fire systems should be in operation, officials said, but the whole building would not have had to have fully turned on sprinklers before its final inspection.
Treadmark, with 83 units including 32 condominiums and 51 affordable rental units, was hoping to get a certificate of occupancy this week.
The top two floors, full of condominium units, were already sold, fire officials said. Almost all of the apartments on the second through fourth floors were rented to income-eligible renters selected through a city lottery. The first wave of residents was set to move in on July 15.
American Provisions, the showpiece commercial component, planned to open on the first floor in August.
Local groups and businesses expressed sorrow on social media.
Greater Ashmont Main Street tweeted: "Our hearts are breaking today as we witness the damage and loss being caused by the [Treadmark] fire. So many were calling this home soon."
Tavolo Ristorante, housed in the neighboring Carruth building, posted on Facebook that they would be closed Wednesday due to the limited access. "We are heartbroken to see the Treadmark building experiencing this terrible fire today, but we are thankful to all the first responders who are working so hard to contain the blaze and keep everyone safe," the post read.
Fire Commissioner Finn told reporters Thursday that "these buildings are relatively safe buildings," Finn said. "They are lightweight constructed building, which make it difficult from a firefighting perspective, but they are relatively safe." The fire protection systems and sprinkler systems are fully functional, he said, but during the construction phase, there is an additional risk before everything is running regularly.
The Treadmark building and similar structures like it can be built with four stories of wood framing above two stories of concrete, so the Ashmont apartment building was at the maximum allowable height for this type of construction, according to Christopher.
There are advantages to this construction -- these buildings are cheaper to put up and so can offset the cost of higher numbers of more affordable units. About $10 million of city, state and federal subsidies went into the $45 milion Treadmark, which has 51 Low Income Housing Tax Credit (LIHTC) rental units, affordable up to 60 percent of the Area Median Income (AMI) and 32 for sale condominiums. Four of the condominiums were made available at 80-100 percent AMI, 16 are up to 110 percent AMI and considered "workforce units," with rest market rate.
"The lottery had taken place, so people were being informed that they were successful on the highest lottery numbers," said Sheila Dillon, the city's chief of housing. "I spoke with Trinity this morning, and they're certainly going to honor those placements, and when the units are rebuilt, they will be invited to occupy their affordable units."
Five hours in, almost at 8 p.m., more than 125 fire, police, and EMS responders had reported to the scene. One construction worker was treated and transported by Boston EMS with chest pain during the initial part of the fire, fire officials said.
Air conditioning units collapsed through the roof into the top floor, and the Fire Department was establishing a precautionary collapse zone around the building. But on Thursday morning, Finn said he was reasonably certain the building would stand.
Fortunately, the building is relatively isolated from other construction, so there isn't likely immediate risk to nearby buildings.
The section of Dorchester Avenue from Ashmont Street to Washington Street was closed the entire night, covered by thick smoke. "Please stay inside," the fire department tweeted at the time.
Streets were still blocked off surrounding the building on Thursday. The Ashmont Station on the Red Line and its connection to the Mattapan Trolley was closed Wednesday night and re-opened the next morning.
City Councillor At-Large Ayanna Pressley lives with her husband and their cat in the neighboring Carruth building. Uncertain about potential smoke damage in their building, Pressley told the Reporter that they stayed elsewhere for the night and were only Thursday morning planning to go in and assess the situation.
"I guess my first response is just how grateful I feel to call Dorchester my home neighborhood," she said that morning, outside the sealed-off fire site. "Just the outpouring of support of community. Everyone was coming home from work… and I just was incredulous that the fire was still going. Obviously we'd received word about it early on, and thought "what's happening, this is tragic," but we didn't think at that point -- it was almost 8:30, 9 at night, and the streets were just teeming with people." People were bringing out food, and the owner of the Ashmont Grill fed those people who were unable to pass through.
This is tragic for those who were displaced, it's certainly tragic and upsetting for the developers, and everyone who had anything to do with this project, but it could have been so much more tragic, and thankfully there was no loss of life," she said.
"Obviously it's a huge blow, both for the business landscape and for the 83 families who were looking forward to calling it home very soon," said Jenn Cartee, executive director of Greater Ashmont Main Street, which is headquartered in the Carruth building.
The main street group will be staffing informal hours at the farmers market on Friday, as well as continuing to hold their planned Wednesday coffee hours. Resources will be posted at their website.
Pressley and Cartee emphasized the necessity of projects like this in growing neighborhoods.
"We are still absolutely committed to this model of mixed-income, transit oriented design," Cartee said, "and I think this kind of dense development that did not itself represent any displacement, in that it replaced the Ashmont Tire site, is one of the best ways we can bolster the housing stock in the city at this time," she said.
Nearby businesses that may have been closed temporarily will be back to normal operation tomorrow, she said. She worries, more than anything, about a "perceived loss of momentum" because if the delay. They will rebuild, Cartee noted, and the community resources will still be there.
"I hope the community can stay connected to its vision of itself and not letting concerns, or an unreasonable sense of vulnerability settle in," Cartee said. "This is something that we can and will get past and still fulfill our vision for our neighborhood."
Smoke poured from the top of the Treadmark building. Emmy Rainwalker photo