By Jennifer Smith, News Editor
September 14, 2017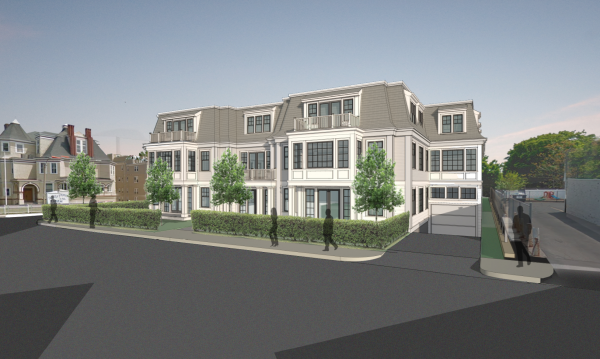 The Boston Planning and Development Agency (BPDA) Board on Thursday voted to approve 17 condominium units proposed for the Scally & Trayers funeral home site in Savin Hill.
Owner Giuseppe Arcari plans to develop the 14,688-square-foot parcel at the junction of Pleasant and Pearl streets, constructing a three-story building, which would have with 20 parking spaces located underground with an exit onto Pleasant Street.
BPDA project manager John Campbell said that the community "initially seen to be more opposed than supported," but asserted that the "majority of the community" supported it prior to the hearing.
Neighbors and local civic members have been concerned about the amount of density and any potential traffic impacts on the area.
Designs show a French Second Empire-inspired building with a mansard roof and green space buffers around the lot. Of the 17 units, two are designated as affordable in accordance with the city's Inclusionary Development Policy. Arcari will also contribute $42,000 to the Inclusionary Development Policy Fund.
For community benefits, the project commits $5,000 each to Project D.E.E.P., Bird Street Community Center, the Edward Everett School, and Dot Art of Dorchester.
Campbell noted a petition with 85 signatories, started by a Pearl Street neighbor and including several abutters, asking that the unit count be dropped to nine. Many of the signatories "don't live in this neighborhood or in Boston," Campbell said. Eighteen of the addresses given on the petition specifically list addresses outside of Boston, some outside of Massachusetts entirely.
Arcari's lawyer, John Pulgini, said the development team participated in six civic and abutters meetings. They "filed what we thought would be something very spectacular," he said, and architect Steve Sousa said it was "a gem for the neighborhood."
Columbia Savin-Hill Civic Association did not take an official position on the project, which was adjusted several times in terms of design. The Jones Hill Civic Association is also monitoring the project in terms of density.
The community comments ultimately supported the project by a count of 58 to 15, Campbell said, though he did not specify in his testimony what the boundaries were for that survey. A public comment period for the latest plans concluded on Aug. 11.
Mayor Martin Walsh's office and City Councillor Frank Baker's office supported the project, Campbell said.
To a board question on how the team planned to address safety and traffic concerns around the Pleasant and Stoughton street intersection, specially with regard to the garage exit and foot traffic, Pulgini said they conducted a traffic study that "kind of addressed all those things."
They will continue to work with traffic planners and the Boston Transportation Department, he said.
Zoning Board of Appeal approval is still needed for excessive Floor Area Ratio, which is 1.53; building height; conditional use; insufficient front, rear, and side yards; and parking.