By Sean Smith, Special to the Reporter
October 5, 2017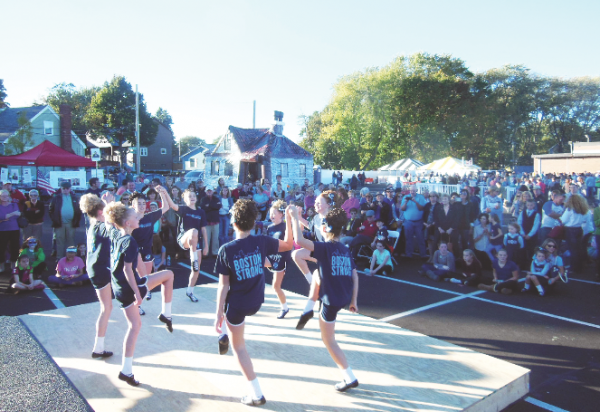 Resilient as its namesake setting, the Dorchester Irish Heritage Festival – cancelled last year due to severe rain – will take place for the seventh time on Sunday, Oct. 8, from 11 a.m. to 6 p.m. at Florian Hall (55 Hallet Street).
Among the performers confirmed for the festival are The Joshua Tree; Cliodhna & Friends; Silver Spears; Devri; Pauline Wells; Erin's Melody; Fenian Sons; the quartet of Paudi Walsh, Joe Walsh, Joe O'Malley, and Joey Abarta; Jinty McGrath; musicians from the Boston branch of Comhaltas Ceoltóirí Éireann, and a "singers round," including Mairin Keady, Mauren McNally, and Liam Hart. Also appearing will be the Greene-O'Leary School of Irish Dance, Smith-Houlihan Irish Dance Academy, and Kenny Academy of Irish Dance.
The festival has become a Columbus Day Weekend highlight for Irish/Celtic music and dance devotees in Greater Boston and beyond who have come by the thousands. It's also a steadfast symbol of community pride, built on the work of stalwart organizers and volunteers and supported by local businesses as well as larger sponsors. The event has endured the growing pains typical of such a large-scale enterprise, but also unexpected twists: Four years ago, organizers had to move the festival from its original location in Adams Corner due to a major construction project.
That year, 2013, saw the festival hold a "Dorchester Strong" tribute to the tenacity displayed by its host community in the wake of the Marathon bombings.
Now, after the disappointment of last year's cancellation, the festival is ready to bounce back. Two stages, one outdoors and another inside Florian Hall, will provide for continuous entertainment throughout the day. In addition to the music and dance, the festival offers family entertainment, and cultural activities, as well as food and vendor booths selling clothing, souvenirs, novelties and various other items.
Mairin Keady, who runs the festival with Sean Weir and Patrick McDonagh, notes that the 2016 rainout made it impossible to recoup the up-front fees and costs necessary to produce such an event. But with so much community enthusiasm and support for the festival, the co-organizers decided to "keep the party going" even though it meant streamlining the program a little.
"We're determined to keep this festival going, because it celebrates the best of our community," says Keady. "We've tried to keep the focus on our local talent, especially musicians who support charity and fundraising efforts that take place locally and beyond. And as always, we seek to encourage the next generation by putting a spotlight on young musicians and dancers, who always delight our audiences. The Dorchester Irish Heritage Festival is an important cultural contribution to this city, and we look forward to making it stronger than ever."
For news, updates and details concerning the festival, go to dorchesteririshheritagefestival.com.