By Elana Aurise, Reporter Staff
June 15, 2017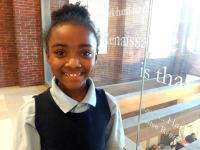 St. Jude's Children's Research Hospital received an unexpected gift this week from Boston Renaissance Charter Public School third grader Tamil Burnett, who used her voice to benefit a cause that was important to her.
The Dorchester girl e-mailed the Head of School, organized a petition, presented her case, and gathered over 200 signatures to launch "Freestyle Friday" at Renaissance, a uniform-free day for students who donated $1 to assist St. Jude's.
Burnett presented a check for nearly $3,000 to St. Jude's Cancer Hospital in Newton on Monday.
"She had her own clipboard, talked to students on her own and explained the rationale and initiative," said Alexandra Buckmire, the Head of School at Renaissance.
"I had lunch with Tamil and we started researching local charities in Boston. We came upon St. Jude's because she felt that it was a wonderful program that helped parents and children," said Buckmire. "I thought it was a great example of how strong a student voice can be. With all the things going on around the election, she still had a voice and it was great to see how she could effect change as a third-grade student. I was very impressed."