By Daniel Sheehan, Reporter Correspondent
December 28, 2017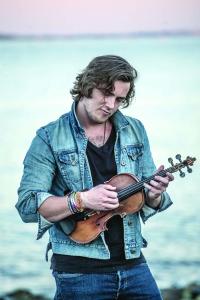 Dorchester-based artist Josh Knowles says his relationship with music began while watching Sesame Street as a kid.
"When I was four I saw some animated segment on Sesame Street about a kid playing a violin," said Knowles. "He was playing 'Twinkle, Twinkle Little Star.' He was pretty bad at first but then as he grew and practiced he got better. I guess it inspired me because I begged my parents for a violin."
Knowles, a Worcester native, has played the violin ever since, going on to attend Berklee School of Music before moving to Dorchester to teach in the Boston area.
About a year ago, Knowles was selected to represent Dorchester as a "local luminary" in the Isabella Stewart Gardner Museum's Neighborhood Salons, a series meant to highlight local talent who use their work to engage with the community. Knowles calls his collaboration with the museum one of the best artistic experiences of his life.
"It's been so amazing for me," says Knowles. "They genuinely treat you as an artist and give you creative space and opportunities to experiment with your work. It's really refreshing."
One of Knowles' favorite spaces at the Gardner is the courtyard garden, where he often sets up with his violin and an array of looping and delay pedals to craft spacey, ethereal soundscapes.
"They are completely trusting in our creative input and output. And that's really rare."
When Josh isn't performing at the museum, he's teaching music. In addition to offering private lessons, Knowles teaches violin, guitar, voice, and piano at the Boston School of Music Arts in Dorchester. He is also an Artist and Composer-in-residence for Revolution of Hope, an orchestral program for inner-city youth based in Roxbury.
"I've been teaching there, writing music and arranging songs for them for four or five years now," says Knowles. "It's the best."
Revolution of Hope is an after-school program founded by David France that provides string instruments and instruction to kids who otherwise wouldn't have access to such things, whether due to familial financial constraints or limited school budgets. The program is based in the belief that music can have transformative effects on children's cognitive and behavioral development. Knowles says after witnessing such transformations himself, he bought into France's vision.
"His whole outlook on teaching violin is very rigorous— he wants conservatory level style of training," says Knowles. "It's great witnessing the trajectory of different students. A lot of kids flourish in the really structured program, and it's so cool to see."
Outside of teaching, Josh is busy on the weekends too, playing gigs with his indie-rock band Nemes and Stringalong, a string duo in which he and cellist Aaron Fried spin contemporary interpretations of pop songs. However, Knowles collaboration with the Gardner museum as a luminary is set to continue for the foreseeable future. In an upcoming exhibit slated for early next year, Josh says he will improvise musically along with a series of morphing digital tapestries to form a kind of multimedia work of art. It's these kind of innovative formats that Knowles says allow him to grow as an artist and create a meaningful end product.
"I'm just trying to send as effective healing vibes with my music as I can," he says. "It has to be healing. In this climate especially, as an artist, you've got to infuse some sort of positivity. And the Gardner gives such a great platform to do it."