By Jennifer Smith, News Editor
August 31, 2017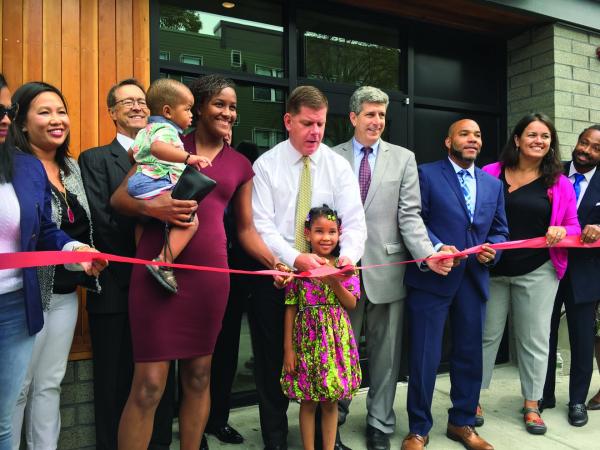 Officials and Four Corners residents celebrated the new Upper Washington buildings, which includes 35 income-restricted apartments and two commercial spaces on Washington Street, at a ribbon-cutting ceremony on Tuesday.
The Vietnamese American Initiative for Development (VietAID) helmed the $15.3 million project. Its management team was joined at the ceremony by Mayor Martin Walsh, Trinity Management, the Massachusetts Department of Housing and Community Development, and other local and state officials.
Since its inception, VietAID has created 88 affordable housing units in four Fields Corner projects, and "we've had a successful track record in transforming and improving neighborhoods," said Kim Thai, president of the organization's board of directors. "The time, effort and struggles from conception to construction," he added, "are all well worth the joy and happiness that we witness when new tenants move in."
Dione Teixeira, 26, drove by the Upper Washington apartments every day while they were under construction, going to and from a small basement she shared with her husband. "I used to say, 'God, this is my home. It's not ready yet, but this is my home,'" she said.
She choked back tears on Tuesday next to her new home on Washington Street, where they live with their one-year-old son. "Every day I used to say, 'God, how am I going to raise my son in this little room?' And I had my husband also," she said. "And we used to live there but we never gave up."
Teixeira and her mother came to Boston from Cape Verde 11 years ago. Her mother dreamed of a new house and Teixeira hoped to build a life for herself. After applications and waiting out the housing lottery, she got the call she had been waiting for – she made it, and so did her mother.
"I don't know how to explain how happy I am," she said, welling up. "I don't know how to say how happy it is to see my mom smile, with her own home. Now she calls it home, and I call it home, too."
Four Corners Main Streets and the new Four Corners Yoga & Wellness will be the commercial tenants in the complex. The artist Iris DuPont presented artwork inspired by the elements to hang inside the community space.
The project — income restricted for those making under 60 percent area median income — includes 5 one-bedroom, 21 two-bedroom, and 9 three-bedroom units.
"Mixed-use development is an important strategy for establishing and maintaining vitality in today's neighborhoods," Thai said, noting that VietAID has had "great success" with 1392 and 1460 Dorchester Ave. and that the organization hopes to replicate that experience with the Upper Washington apartments.
Nine of the units are set aside for formerly homeless families. "That's something that's really important for us as a city," the mayor said. "We've housed over 1,100 chronically homeless people in the city of Boston over the last three years. We've been able to do it because of projects like this, because projects set aside some apartments and then wrap-around services."
Upper Washington's Four Corners location benefits from a nearby health center and a supermarket next door, Walsh noted, along with other resources.
"For three decades, a lot of the lots that we see on Washington Street have been sitting vacant," he said. "Now we see a lot of mixed-use development happening and bringing these lots to life."
Upper Washington was funded by the City of Boston and the Massachusetts Department of Housing and Community Development (DHCD), and by tax credit equity provided by RBC Capital Markets. The project architect was Utile and the general contractor was Nauset Construction.
Susan Terry, assistant undersecretary at DHCD, said Gov. Charlie Baker's $1.287 billion affordable housing bond bill will bolster just this type of project if approved by the legislature.
"We believe we're most effective when we're partnering with communities and supporting development that's bubbling up on the local level," she said. "This project is a prime example of that kind of community-driven development. And as someone who's originally from Dorchester, I'm not surprised that the Dorchester community was able to come together and create a project like this that brings work, that brings housing, and that creates a strong community. A place that can keep the tradition of Dorchester alive."