By Reporter Staff
July 27, 2017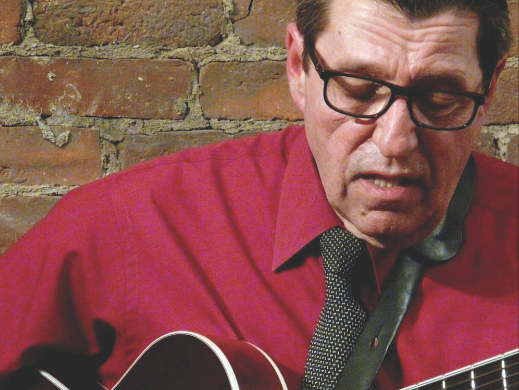 Veteran Boston-area jazz guitarist Gerry Beaudoin will bring his trio to Peabody Hall at the Parish of All Saints on Ashmont Street for a performance on Thurs., Aug. 10, at 7:30 p.m.
This concert is the inaugural event in the new quarterly Dot Jazz Series being co-sponsored by Greater Ashmont Main Street and the Mandorla Music Series.
"We were so pleased with the enthusiastic turnout for our April event with the Jason Palmer Quartet that we've decided to launch this as a recurring quarterly series," says Mandorla Music producer Mark Redmond. Remaining 2017-2018 Dot Jazz Series dates are November 9, February 15, and May 10.
Beaudoin heard a wide range of music in his childhood home, ranging from Louis Armstrong to the Beatles to Andres Segovia to Chet Atkins. He picked up the guitar at age 10, and started playing professionally in a country band at 15.
A cousin took him to see "Roomful of Blues" as a young teen, and he became enamored of the blues stylings of guitarist Duke Robillard. After playing in high school jazz and blues bands, he went on to study at Berklee in the early 1970s. Another seminal moment came when he first saw 7-string guitarist Bucky Pizzarelli in New York. Gerry soon began incorporating 7-string into his repertoire.
In a career that now spans several decades, Beaudoin has gone on to record and perform with early influences Robillard and Pizzarelli, as well J. Geils band namesake Jay Geils and newgrass mandolin legend David Grisman, among many others.
His working band these days is the trio he'll be bring to Dot Jazz, featuring his son Gerard Beaudoin III on vibraphone and longtime collaborator Bob Nieske on bass. (For the Dot Jazz date, Neil Patton will be subbing for Nieske.)
Gerry hopes the trio's new CD will ready in time to bring to the Dot Jazz show, and says it's a particular joy for him to have his son in the band.
"One of the important signs of a vibrant community is a lively neighborhood arts scene," said Greater Ashmont Main Street executive director Jenn Cartee. "Greater Ashmont Main Street has been working to bring more art to Dorchester through our public mural projects and other visual art pop-ups, and through supporting and promoting live music whenever possible.
"We now have live music or arts at all seventeen weeks of the Ashmont Farmers Market season, and host local musicians at the Dorchester Bike & Brew and our annual gala. Our new partnership with Mandorla Music on the Dot Jazz Series is another opportunity to make the arts accessible to all our residents, and we are so excited about the initial reception our first concert in April received," added Cartee.
Tickets, $15, include a dessert reception featuring items from a local bakery, and are available at mandorlamusic.net. Tickets will also be available at the door.
Tavolo Ristorante is also offering a special discount to pre-show diners who buy their tickets in advance.