By Reporter Staff
August 31, 2017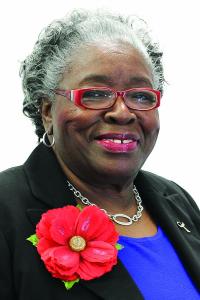 Dorchester's Yvonne L. Jones has been elected to serve as Chair of the Action for Boston Community Development (ABCD) Board of Directors for the 2017-2018 year.
A member of the board since 2005, Jones is a community leader and activist, and a veteran of the Massachusetts education system where she was committed to providing quality education to children and youth.
"Yvonne Jones is a nurturer and advocate for Dorchester and other communities of Boston. Her background experience with children and deep concern for the elderly highlight the humanitarian within," said ABCD President/ CEO John J. Drew. "This leadership role is a natural for her. Her good spirit and intentions will help ABCD deliver on our mission to empower those in need. With her guidance, ABCD continues to drive forward in providing disadvantaged citizens and residents the tools to overcome poverty, live with dignity, and succeed in finding their full potential."
She spent more than 12 years at VIP Child Care, Inc., in Brockton, Massachusetts, as a Site Director/Support Service Specialist overseeing staff, providers, budget allocations, regulation compliance, and provided support for linear programs including the Dept. of Early Education & Care (EEC), Dept. of Social Services, NAEYC accreditation programs, transportation, community partnerships, and more.
Prior to that, Jones also served ten years with Metropolitan Council for Educational Opportunity, Inc. (METCO) as a Director for the towns of Cohasset and Belmont. During that time she developed and managed the annual METCO budget, oversaw development projects as it applied to staff, parents and students, and coordinated diversity awareness and multicultural initiatives. During the late 70's and early 80's she worked for Boston Public Schools as a Library and Reading Paraprofessional.
Jones has served as Vice Chair for the ABCD Executive Committee, as Chair of the ABCD Elder Services Committee. She represented the Dorchester area on the Dorchester Neighborhood Service Center (NSC) Advisory Board, and was a 2002 recipient of the ABCD Community Service Award.
In addition to her volunteerism with ABCD, Jones also volunteers with Generations Inc., a literacy program with Boston Public Schools. She serves as a Site Team Leader at the Pauline A. Shaw Elementary School in Dorchester, and with Dana Farber Cancer Institute as an information volunteer assisting patients.
She serves as an Ordained Deacon for the Ebenezer Baptist Church, where she is an active member and has previously chaired the Christian Education Ministry. She is also a member of Delta Sigma Theta Sorority, Inc.
Jones holds a Bachelor of Science degree in Human Service Management from Lesley University and a Master's in Education Administration from the University of Massachusetts Boston.