By Daniel Sheehan, Reporter Correspondent
November 22, 2017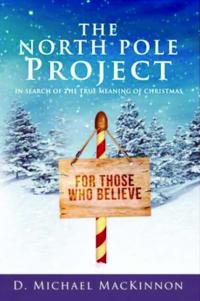 One of Doug MacKinnon's most treasured possessions is a small plastic nativity scene. He was five years old when he bought it in Catholic school after rummaging through his father's coat pockets and finding a handful of change.
The simple figurine soon became a talisman of sorts and a constant source of comfort. At the time, comforts were scarce for MacKinnon, who grew up poor in an abusive household that crisscrossed the neighborhoods of Dorchester some 30 times a half-century ago. "I have a vivid memory of hiding in the closet as a small child and clutching the nativity scene," he said in an interview with the Reporter.
The nativity scene is just one of the many aspects of MacKinnon's life that have found their way into his new novel, "The North Pole Project."
MacKinnon survived the hardship and trauma of his youth to eventually work in the White House and the Pentagon, write for two presidential campaigns, and become a political columnist and a novelist.
For MacKinnon, writing books is an appropriate culmination of his journey to success, which he says was made possible by books in the first place. "The thing that kept me sane through poverty was reading," he says. "The power of words really did save me, and I wanted to see if I could pass along that gift."
Passing along gifts is, in fact, the central theme of the novel, which follows protagonist Christian Nicholas, a miserable multibillionaire who experiences a spiritual epiphany and decides to eschew his lifelong pursuit of material wealth and instead dedicate his life to philanthropy.
Nicholas's character has a plastic nativity scene figurine of his own, a not so subtle allusion to the author's personal experience.
Very few aspects of the novel are entirely fictitious; MacKinnon says every single character in the book is based on someone real. Throughout much of the novel, he clearly knows about what he is describing, laying out scenes in the White House based on his familiarity with the context and protocol that goes on at 1600 Pennsylvania Ave.
Massachusetts also has a considerable role in the novel, parts of which take place in Westwood and Dorchester, including a brief scene on Hamilton Street, where MacKinnon grew up. He says his hometown is always close to his heart when writing. "That community means the world to me. I would never forget where I come from."
MacKinnon has documented the effects of his childhood in his memoir "Rolling Pennies in the Dark," in which, among other stories, he relates how his family was evicted and forced to move more than 30 times. He says his harsh upbringing gave him "empathy for life and for those below the poverty line." His early years clearly inform his portrayal of the wounded and downtrodden in his novel and allow him to construct believable characters.
MacKinnon says the idea for the novel came to him a couple of years ago as he was driving through a snowstorm in the Northeast at a time when seemingly every headline told of tragic news. "In that moment, I thought of the North Pole, and I thought of writing something that gave people hope," he says. "Something that would renew people's faith in humanity."
Faith plays an understated yet important role in his latest book. Christian Nicholas rediscovers his faith in the opening chapters and sets out on a path to redemption for his years of greed and selfishness. MacKinnon says he wanted to make a point about the intangible things that truly make us happy.
"I wanted the reader to understand that even if you have all the money in the world, your life can still be meaningless," he says, "You can still be without a mission."
Faced with the weight of his mistakes, Nicholas comes up with an idea to use his resources for good and build a real-life Santa's workshop at the North Pole, recruiting volunteers from around the globe to work as "elves." It's a bold project based in altruism and selflessness, qualities that MacKinnon says capture what Christmas is all about.
"We find the true meaning of Christmas when we help others in need," he says. "That's the greatest gift we can give ourselves."
"The North Pole Project" will be released on Dec. 5 and is available for preorder at simonandschuster.com and amazon.com.