By Jennifer Smith, Reporter Staff
May 25, 2017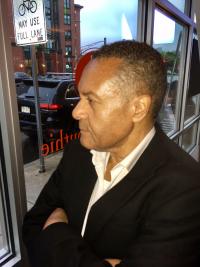 While Mayor Martin Walsh and City Councillor Tito Jackson have dominated most of the conversation in this still-young campaign season, a third candidate has quietly locked down enough verified signatures to force a mayoral run-off election in September.
Joseph A. Wiley, a 68-year-old Roxbury native, is working through the mechanics of his first run for office, saying the city needs a better approach to affordable housing in the face of a massive development boom.
President Barack Obama inspired Wiley to look to himself as a potential catalyst for political action.
"One of the things he said is that, if you're dissatisfied with the way things are going in the city, the state, the area, then do something; go out and buy a clipboard," Wiley said, referencing the former president's farewell speech. "That struck a chord with me."
Wiley, a gay man of color, grew up around Roxbury— "Dudley was sort of my playground when I was a kid" — and has lived across Boston in his decades in and out of the city. He's called Dorchester, Mattapan, Back Bay — "when it was affordable" — and, for the last 20 years, East Boston his home.
After attending Boston English High School, Wiley started but did not complete a degree at UMass Boston. He had caught the theater bug and moved to San Francisco for an acting program. After a year and a half of the two-year program, he decided he'd learned about all he could.
California remained Wiley's base for a spell, after which he moved back to Boston. In 1981, he moved to New York City, where he would live in Manhattan for the next 14 years.
But Boston called again, and Wiley, then in his mid-40s, moved home. After spending 12 years in the commercial real estate field, Wiley now works in health insurance.
He has been an East Boston resident for two decades, with life in three of the country's most expensive housing markets under his belt. The "piecemeal" manner in which Boston deals with affordable housing, Wiley said, is inadequate.
"I think the greatest issue facing the city now is the lack of affordable housing," he told the Reporter in a phone interview Thursday. "Having lived in San Francisco, having lived in Manhattan, I'm very much aware of what those two cities have been doing through as far as affordable housing."
"In my observation," he said, "unless something serious happens in the next 10 years, unless you're making at least $100,000, you won't be able to afford to live in the city of Boston. I defy anyone to contradict that, anyone who's aware of what the trend is, where we're heading."
Politics has always been of keen interest to Wiley, he said. After years of reading and watching, he took out papers to run for mayor in 2009.
"But I soon realized that I couldn't collect 3,000 signatures on my own," he said, "and nobody could have beaten Menino as long as he wanted that office."
This time around, with Walsh running for his first mayoral reelection, Wiley sees a second chance.
He staffed up to get in the race. Wiley hired a professional signature gathering company for almost $9,000, according to campaign filings, "and they did exactly what they said they would do," he said. "They said they would put me on the ballot and did just that."
Though he admits, "I may seem like a babe in the woods in a way, because I've never run for office," Wiley's voice tightens as he speaks about the scourge of homelessness, the scale of which he calls "a disgrace" and a "tremendous moral failure."
It is tied to general issues of affordability, he said, noting that nearly half of Boston residents make less than $35,000 per year, according to 2016 city data.
"What they're doing, god only knows, how are they possibly surviving?" he wonders. He's also skeptical of the kinds of metrics showing high approval for the way the current administration is being run.
"I wonder what questions they're being asked," he said. "Are you happy paying 40 or 50 percent of your income for housing, do you think the MBTA is adequately meeting your transit needs?"
The city does not control the state-run MBTA, Wiley said, but "the Mayor of Boston should be shouting from the rooftops about the state of the T."
So in his first full run at the post, Wiley said he is working on the mechanics of the campaign, getting a website together, honing his platform, and assessing the terrain. He is a novice as far as running for office is concerned, but said he has studied different politicians and political approaches through his life.
Obama charged the disappointed and dissatisfied to get involved, Wiley repeats, and "I'm dissatisfied."