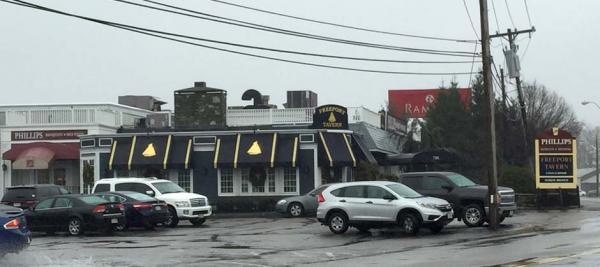 Owners seek to re-develop prime property; other businesses thrive
A landmark Morrissey Boulevard dining and function facility will shut its doors permanently this month. The Phillips Old Colony House and Freeport Tavern will cease operations on Jan. 15, according to Joseph Sammartino, president of the family-run company that owns the property.
The Old Colony House and Freeport Tavern— which sits on an acre and a half site at 780 Morrissey— will be the only parcel impacted by the shut down. The Phillips Family Properties also includes Boston Bowl, Phillips Candy House, Ramada Inn and Comfort Inn among its Dorchester holdings. None of those popular businesses will be impacted.
Sammartino said that after 27 years of running the restaurant and function business, it was time for "a reinvention."
"The family has decided to look at other opportunities for the property," said Sammartino, who said that the plan was to "take a pause to explore alternative uses for the property."
"I've had a few sleepless night about this, because it's bricks and mortar, but its more than that: it's people — our employees and the customers, all of the weddings and social events and fundraisers," he said. "We've touched a lot of people and neighbors. It's bittersweet."
The 47 employees of the restaurant have been asked to attend a meeting on Thursday afternoon to discuss next steps, including assistance from the Massaschusetts Rapid Response Team that counsels employees on unemployment insurance, separation pay and finding new jobs.
Sammartino said that the Phillips Family has no specific plan in place for the potential re-use of the site, but expects to hire a commercial real estate broker to assist in marketing its potential sale or redevelopment.
"We're going to see what's available out there. It has great visibility on two main roads and it's a very desirable piece of property," said Sammartino. "One door closes and another one opens. That's the way we're looking at it."
The restaurant — and adjacent banquet and meeting rooms— has operated under the Phillips Family umbrella since 1989. Prior to that, the property operated as Blinstrub's Old Colony, a popular wayside eatery that changed ownership after a kitchen fire cause minor damage in the 1980s.
The 12,892 sq. ft. building that houses the restaurant was constructed in 1962, according to Sammartino. The main property — which includes a large parking lot— is 31,908 sq. ft, in size and was last valued by city tax officials at $1,862,500. The Strazzulla and Sammartino families own the various Phillips Family Properties along Morrissey Blvd. They also control two adjacent parcels along the southeast expressway that add another 42,098 sq. feet of space to the site.
Sammartino said that the company had begun the process of calling people who had reserved space for functions in the coming months to help find alternative arrangements.
Sammartino said that the other Phillips-run businesses on the boulevard— including the two hotels operated as Ramada Inn and Comfort Inn— are "very strong and viable."
"This decision was made in the context of growing the businesses that we have here. We continue to invest in all of our properties," said Sammartino. "The candy house is coming off of a very successful year. It was named as one of Oprah's favorite things in 2015 and this past year, we're actually having to make a lot more chocolate, because we ran out."