By Jonathan Innocent, Reporter Correspondent
August 10, 2017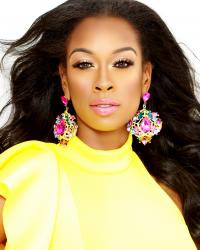 Janelle Woods-McNish, a former Mrs. Massachusetts and the current Mrs. North America Universe, will travel to Durban, South Africa, next month to seek the international Mrs. Universe crown in a beauty queen competition featuring 84 married women from 80 nations.
Her send-off celebration at The Blarney Stone restaurant in Fields Corner next Thursday will include the launch of her new children's book, "Grandma's Crown: The Story of Queen Janelle."
The proceeds from the sales will benefit "Children of the Night," a national nonprofit for which Woods-McNish is the national spokesperson. The Los Angeles-based organization provides programming meant to help rescue vulnerable women and children from the grip of prostitution, offers a 24/7 help hotline, and sets up GED tutoring and assessments, among other things.
Born in California and raised in Texas, Woods-McNish has been a resident of Dorchester for the last 10 years. A graduate of Texas A&M University and Boston College, where she received her BBA in Marketing and International Business and Master of Arts in Higher Education, she also earned an MBA from Simmons College.
Now a wife, and a mom to twin 9-year-olds, she works for the Harvard Pilgrim Health Care Foundation, where she is the Director of Service and Giving, overseeing employees' service programs to help them give back to the community, and making sure her company supports the employees' community initiatives. She also serves as a board member for College Bound Dorchester and City Year Boston.
Woods-McNish says that her job has a local focus, but it also has a longer reach, with offices in Maine, New Hampshire, Connecticut, in addition to Massachusetts.
"It's not my job, it's my life," she told the Reporter. "So, I feel like I really am doing what I'm meant to be doing and serving my purpose in both parts of my life. People always wonder how I can do so much, but when it's not work, it's never enough ¬– it's just an extension of who you are."
She uses her identity as a former Mrs. Massachusetts and current Mrs. North America to make people aware of the dangers of human trafficking, particularly of women and children, both locally and nationally.
"Nobody wants to talk about it," she says. "My role is to let people know that it is an issue, and not just an international, Thailand, or Cambodia issue; it's a Boston, Dorchester, Brockton issue. These are our young girls who are being lured into this life."
In her book, Woods-McNish tells the story of her childhood relationship with her grandmother, who introduced her to pageants. She hopes that the book itself will send a message to young girls who need the reminder: "You're loved, you're valued, you're a queen. You don't have to have a crown to be a queen; wear your invisible crown always and don't let anyone take that away from you."
As life goes on, she hopes to take her level of outreach even further.
"I want to be a United Nations Ambassador," she said. "I want to be an ambassador of goodwill to really work both nationally and internationally around this issue. I want this to be an everyday conversation, with people having their eyes open to what's going on, seeing things and reporting them."
To RSVP for her send-off celebration at the Blarney Stone, visit janellewoodsmcnish.com.