By Jennifer Smith, News Editor
August 2, 2017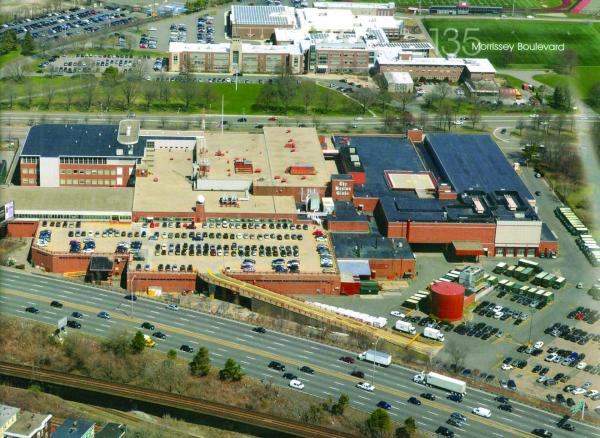 The 16.5-acre Boston Globe property on Morrissey Boulevard has a new buyer in place. Boston Globe Media Partners is under contract to sell the parcel to Nordblom Co., a real estate enterprise headquartered in Burlington that has a prolific development footprint around suburban Massachusetts.
This is the third attempt by Globe owner John Henry to sell the sprawling property at 135 Morrissey Blvd., which housed the newspaper for 59 years until its newsroom decamped for downtown earlier this summer.
Sean Keohan, chief operating officer of Boston Globe Media Partners, said the company and Nordblom signed a contract on Tuesday. The sale is likely to close later this fall, he said. "Nordblom's very familiar with the site and we are very excited to move on," he added.
No sale price was given, but an earlier failed deal with New York-based Center Court Properties was ball-parked at more than $80 million.
Although most of the Globe's printing and distribution operations have transitioned to a new Taunton facility, some are still taking place at the Dorchester plant, Keohan told the Reporter in a phone interview Wednesday.
"We're still printing the New York Times," he said. "That should transition to Taunton soon. For another few weeks or so, but just another few weeks, there might be a small piece of the distribution [in Dorchester]."
After that, Keohan said, the Globe will be fully out of the Morrissey Blvd. property. No more green trucks rattling in and out of the lot, no storage, just an 815,000-square-foot and its surrounding empty parking lots.
Ogden Hunnewell, Nordblom's executive vice president, did not return Reporter calls seeking comment on Wednesday morning.
His company's development portfolio includes office and shopping centers along Route 128 in Burlington, Bedford, Danvers, and Lexington, including the evolving 3rd Ave retail park in Burlington soon to be the site of a new luxury hotel. Nordblom oversaw capital projects at Milton Academy consisting of residence halls and classroom renovations.
In Greater Boston, the company has developed several luxury apartment buildings in Brookline and Cambridge. Nordblom and its investment partners got the green light last year to construct an 11-story office building at 321 Harrison Ave. overlooking the Massachusetts Turnpike.
Henry paid $70 million in 2013 to buy the Globe and its various holdings— including the Dorchester property—from its previous owners, the New York Times Co. He soon put the property and its building out to bid as part of his plan to move the business and news operations downtown.
The Concord (MA)-based investment firm Winstanley Enterprises was the first in line to try to close on the land in 2015, but a key financier withdrew, ending that bid. At the time, Adam Winstanley of Winstanley Enterprises told the Globe that it "is great real estate but ultimately it was not the best fit for our capital partner at this time.''
Things looked hopeful for Henry a year later when Center Court Partners moved to buy the property. But that deal, too, fell through for unspecified reasons in May of this year.
In late June, Center Court purchased the former WLVI-TV property at 75 Morrissey Blvd. adjacent to the Globe from auto magnate Herb Chambers for $14.5 million.
Keohan said the parcel drew a "high level of interest" as the Globe whittled down the group of bidders during the early summer.
The Globe's departure is one more move in the real estate shuffle along Morrissey Boulevard and nearby Mt. Vernon Street. Keohan could not comment on Nordblom's intentions for the site, but an existing Columbia Point master plan highlights the area's potential for mixed-use housing and office space.
"We were there for nearly 60 years; it served us really well," Keohan said. "The neighborhood was really good to us, and the Globe in Dorchester will always be a special place."