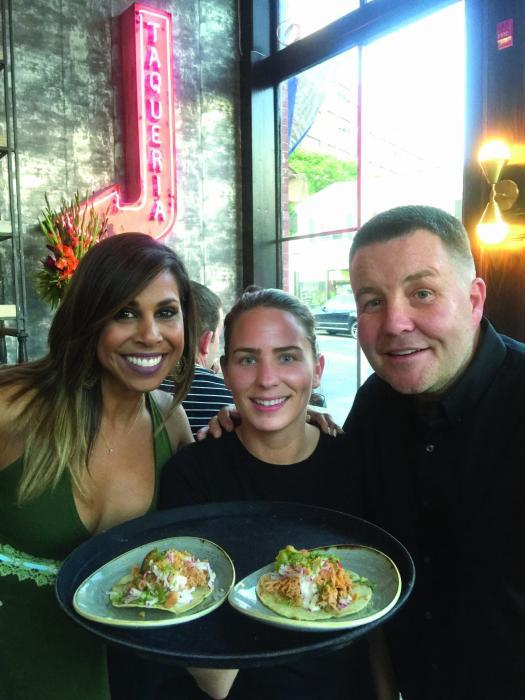 The Yellow Door Taqueria at the corner of Dot Ave and Washington Street will swing open its brightly painted front door to the public for the first time on Monday. The cozy, 50-seat bar and restaurant opened briefly for a private preview party on Monday, revealing a stunning transformation of the former Dark Horse Antiques storefront.
The eatery is the latest joint venture of Brian O'Donnell and Ken Casey, the Dropkick Murphy's front man who teamed up to buy and re-invent the Lower Mills Tavern, which has become a popular dining and drinking destination in the village.
O'Donnell's wife, Taniya Nayak, the acclaimed interior designer featured on HGTV, is the other key partner— and the person most responsible for the charm and function of the taqueria. Nayak and her team have deftly mixed Mexican-themed motifs with her signature throwback style, resulting in a dining space unlike anything else on the avenue. The original red-and-white tile and wood floors lend the space a vintage feel, complemented by two custom-made interior signs— "Liquor" and 'taqueria."
A long wooden bench along the Washington Street wall maximizes the seating area, while cushy stools are tight in along the bar. There is no signage outside the eatery. Its eponymous mustard-colored entryway is self-explanatory.
The interior of the Yellow Door Taqueria.
Colton Coburn-Wood, who runs the kitchen at Lower Mills Tavern, serves as executive chef at the taqueria. He has devised a menu that's manageable for the relatively small confines of the 1,153-square- foot space, but hits all the key notes with 11 different tacos from pork belly and duck confit to Gluten-free veggie and carnitas.
The offerings include Ceviche – scallop, tuna and yellow tail— along with salads, housemade guacamole and chips and daily-made corn tortillas. Another innovation of the taqueria: it's kitchen will be open nightly until 11 p.m., a rarity in Dorchester.
The full bar— open until 2 a.m.— has an impressive assortment of tequilas and signature margueritas, including frozen concoctions, along with beers and wines.
O'Donnell, Casey, and Nayak won hearty support for the concept from neighbors and fellow business-owners in Lower Mills last year, in part because of their strong stewardship of the tavern up the street. O'Donnell and Nayak live within walking distance of the eatery, just across the river in Milton. The taqueria is conveniently located next to another wildly popular Dorchester haunt, the Ice Creamsmith, which will no doubt benefit from the after-taco and chips crowd next door.
The Yellow Door Taqueria is located at 2297 Dorchester Ave., Lower Mills, Dorchester. It will be open daily for lunch and dinner beginning July 24.