By Bill Forry, Editor
April 13, 2017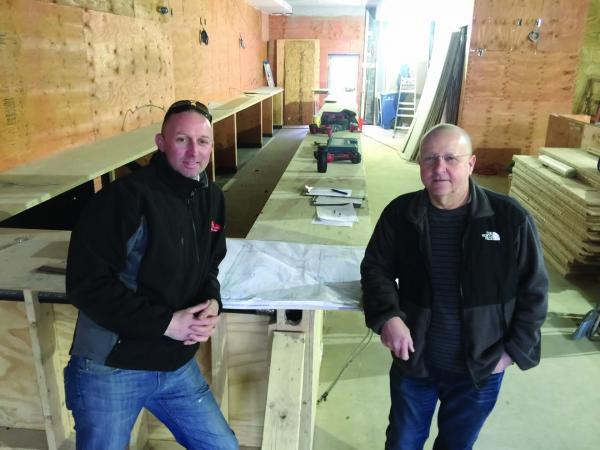 It's called The Industry, a 140-seat lounge and restaurant serving up American comfort food and a large variety of wines and whiskeys, and it's is on track for a summertime completion in Adams Corner. The eatery will replace Sonny's, the longtime neighborhood hangout that was sold last year to David Arrowsmith and Martin Davis.
This is the first restaurant-bar project for the duo. Arrowsmith, who owns Neponset-based Capital Construction, is leading a team of builders who are installing new windows, doors and building out the interior of the space, including a state-of-the-art, 618-square foot kitchen.
The partners led the Reporter on a tour of the space on Monday. A 30-seat main bar will feature 16 tap beers— including nitrogen-fueled Guinness— and a massive, mahogany wine cabinet. The large room will be lined with red-leather booths and floor-to-ceiling windows that will open up to Adams Street.
As they promised, the partners are leaving no trace of the Sonny's footprint. His bar's wooden front doors are in the basement, where there'll be re-used out of public sight. Otherwise, everything is brand new— gas lines, HVAC systems, and plumbing.
"The neighbors here have been fantastic," said Arrowsmith. "The two things they said they wanted most was live entertainment and a private room for functions and we're doing both." The private room will accommodate up to 38 seats and a small stage near the front of the main dining room will allow for two or three musicians, he said.
Davis, who will serve as general manager, said the bar will include a chilled-glass system, which will allow every pint poured to be ice cold. Arrowsmith added that the bar will also feature Dorchester's largest variety of whiskeys, with more than 50 different labels on offer.
"We are really looking to give the neighborhood something different," said Arrowsmith. The eatery will eventually serve breakfast, lunch and dinner, but will begin with just dinner during a soft opening period.
"We'll have a great menu, from flatbreads and seafood to steaks— and an amazing burger," he said. And, of course, this being Adams Corner— a full Irish breakfast.
The Industry, at 750 Adams St., will sit in a village that has become a mecca for pubs and a diverse range of dining options. Eire Pub, Lucy's, Molinari's, Blasi's, and Landmark – another new eatery that has opened in what was once Gerard's – are all booming at the moment.
"We think we will get a lot of people from around the village who'll want to walk here," said Arrowsmith, a native of Ireland's County Louth. "It's going to be a neighborhood place."