By Reporter Staff
September 7, 2017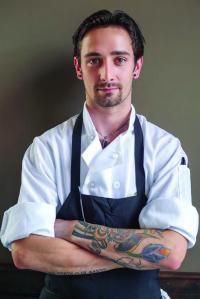 Tavolo on Dorchester Avenue will host a party on Tuesday, Sept. 12 to celebrate nine years of serving high-quality Italian food, drinks, and hospitality.Chris Douglas, chef/owner of Tavolo and the nearby Ashmont Grill, had a vision for a casual, neighborhood restaurant serving housemade pasta, pizza, and excellent Italian food. His team recently completed an extensive renovation, including two new murals by local artist, April Clay, featuring a collage of images, including the Mattapan trolley.
The party will run from 7-9 p.m. and include fall menu samples from Tavolo's new Executive Chef Eric Buonagurio, who started his career with Chef Jason Santos at Gargoyles on the Square in Somerville. He also worked at Blue Inc., Abby Lane and Back Bay Harry's. He opened Parla in the North End as executive chef.
"My priority at Tavolo is to cultivate strong relationships with local foragers and farmers like the folks at Langwater Farm in Easton," said Buonagurio. "They offer true, local organics and amazing produce that I'm proud to continue featuring on our menu."
Tavolo is located at 1918 Dorchester Ave.