By Jennifer Smith, Reporter Staff
June 14, 2017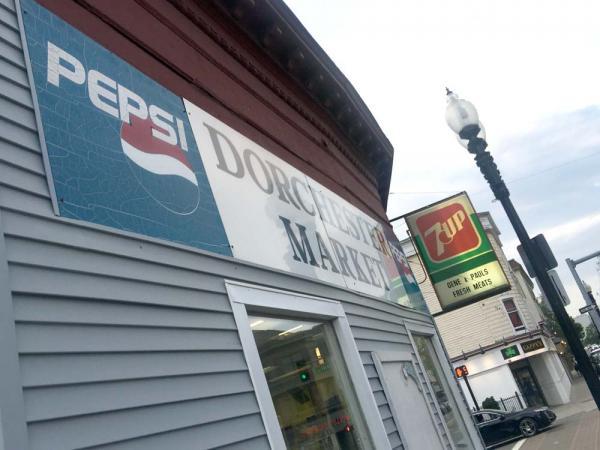 Tom English's bar and the adjacent Dorchester Market— two longtime businesses on a prominent Dot Ave corner in Columbia-Savin Hill— are under agreement to be sold this summer with the next owner eyeing a mixed-use project for the site. The buyer is Adam Sarbaugh of Cornerstone Real Estate, who discussed his plans with the Columbia-Savin Hill Civic Association's planning committee on Tuesday evening.
Sarbaugh will purchase 951-959A Dorchester Avenue, a roughly 11,500 square foot parcel including the bar, the Dorchester Market, and a lot in between. Discussions started "a few weeks ago," said attorney Joseph Hanley of McDermott Quilty Miller, who is representing Sarbaugh.
Both the property and the existing liquor license would transfer to Sarbaugh's control when the sale closes. A licensing hearing is scheduled for June 28 at 10 a.m.
Tom English is "no longer interested in running the Tom English concept there," Hanley said. They hope to retain control over the liquor license to help with long-term planning for the site, possibly including a restaurant component.
The Dorchester Market, a small but popular grocery and meat purveyor at the corner of East Cottage Street, remains part of the plan, Hanley said. They are offering the operator a new market space included in the mixed-use project.
Hanley said they do not have specific designs for a new building. RODE architects, which is working on several other nearby projects, is attached to the Tom English redevelopment plan. The site location — near the JFK/UMass T stop with solid foot traffic passing through the area — means "it falls into this category of transit-oriented development," said Kevin Deabler with RODE Architects.
At this stage, "I envision it kind of as a mixed-use," Sarbaugh said. Whether condominiums or rental units, "I'm open to either, I'm listening to feedback both ways," he said. A restaurant or gastro-pub would also make sense in the context of the streetscape, Hanley said.
Sarbaugh has a "strong background in multi-family, residential, some mixed-use, condominium and apartments," Hanley said. A Mission Hill resident and real estate company owner, Sarbaugh said much of his property work is in Mission Hill. He has also worked on a condominium project on Harvest Street in the Polish Triangle, he said.
They are having discussions with their neighbor, College Bound Dorchester, Hanley said, to keep them appraised of any progress and help ensure that the project is "community-minded, community-focused first."
The site abuts College Bound's property at The Little House on East Cottage Street, which is also where the Columbia-Savin Hill group meets monthly during general session.
"We know that's a special building, and it's been a special building for the whole community," Deabler said. "So the fact that this is one of their key abutters right here, we're just working hand in hand with them, but we're just not at a point right now to sit down and say what it is.
They hope to have more precise plans before the licensing hearing later this month.