By Isabel Lord, Reporter Correspondent
August 16, 2018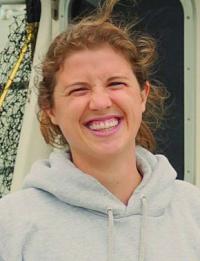 It was raining last Saturday morning, but Molly Ryan didn't notice. She was already underwater.
At 7:30 a.m., the Fields Corner resident hopped into the ocean with 21 other solo swimmers to take on this year's Boston Light Swim (BLS), an 8-mile open-water run from Boston Lighthouse on Little Brewster Island to the L Street Bathhouse in South Boston.
This kind of competition is a natural progression for Ryan, a 30-year-old Michigan native who now lives in Fields Corner and has been swimming since the age of two. She has participated in endurance races like this annually since 2013, and plans to do her next one – the Chicago Marathon – in October.
"I like setting a big goal, and then having your incremental steps toward it, having your sights set on something," she said. She got involved with the open-water swimming community through the Charles River Masters (formerly, Cambridge Masters) swim team, and the sport stuck with her. In 2013, she swam a 4-mile race in Bermuda, and in 2016 she swam 6 miles in Vermont, along the Canadian border. Now, the BLS.
"It's a local legend to all of us who swim open-water," Ryan said. "I decided I wanted to take a crack at it this year."
The race, the country's first open-water marathon swim, was initially held in 1907; it calls itself the "grandaddy" of the sport in America. Islands replace buoys as markers, and water temperatures hover around 60 degrees Fahrenheit. Facing hypothermic conditions and strong currents, racers must finish within five hours. On Saturday, seven solo swimmers and one relay team did not.
This was Ryan's first time swimming in the BLS, and she had been training for it since October. "I was really nervous," she said with a laugh. "This was the longest distance I had ever done. I was pretty certain I'd be fine with the water temperature, but you never know what the conditions are going to be. There's always that anxiety around training for something for almost a full year. You put a lot into it, and you just hope you finish."
Before jumping into the harbor, Ryan had swum some 120 miles in preparation at the Dorchester House Health pool. She cites the staff, who gave her tips and encouragement, among the number of her motivators throughout the process. She also took dips in front of the L Street Bathhouse last year from May through November to better acclimate her body to the cold.
In the end, all her hard work paid off. She finished 10th, completing the 8 miles in just under 4 hours. "I feel really accomplished," Ryan said. "The BLS stands out as one of the main races people try to do, so to be counted as one of the people who not only attempted but also finished it feels really gratifying."