By Isabel Lord, Reporter Correspondent
August 16, 2018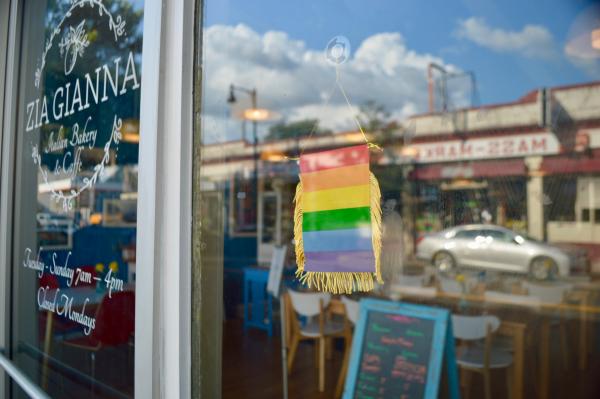 Updated Aug. 21, 2:48 p.m.
A hateful review left on the Yelp page of Ashmont cafe Zia Gianna has neighbors rallying behind the popular brunch spot. It is the first time the Italian restaurant has been subject to such an attack, apparently incited by its rainbow flag and non-Italian staff.
In a review posted on Aug. 10, someone under the name of "Restaurant T" claims the cafe is "clearly geared and catered ONLY to those who rally behind the rainbow flag," something which he or she believes "should be considered treason against our Nation and our Italian Heritage and against Nature and should be punishable as a crime."
Restaurant T, presumably of Italian heritage, also states that anyone who does this "should be stripped of citizenship and even their surname reflecting our heritage" for violating "our time tested Traditions and Iron-Clad rules of maintaining Roma Invicta." One thing the critic couldn't speak poorly of? The quality of the food (though, they add, portions are small).

.
The Zia Gianna response and original Yelp post
Apart from five people who have found the review "useful" or "funny" on Yelp, the response has been one of unequivocal support and love for Zia Gianna. A Facebook post on the cafe's page by its owner, Nino Barbalace, containing a screenshot of the review and expressing that all, "even this gentleman," are welcome at Zia Gianna, has received over 100 positive comments, 38 shares, and almost 200 reactions -- five times the usual amount.
For Barbalace, someone to whom cooking is an "expression of love" and food a means "to bring people together," the review was surprising.
"It was something that you read happens somewhere else, not here" he told the Reporter. "I got mad for a little bit, and then I smiled, because it looked unreal." He says he has no idea who Restaurant T is, though he assumes it is a 'he.'
With his Facebook post and rainbow flag, Barbalace hoped to express that his cafe was "a place for everyone," not just the gay clientele the critic highlighted. With Zia Gianna only nine months old, Barbalace was surprised by and appreciates the level of support given to him by the community, with many posting Yelp reviews of their own to hopefully drown out Restaurant T's.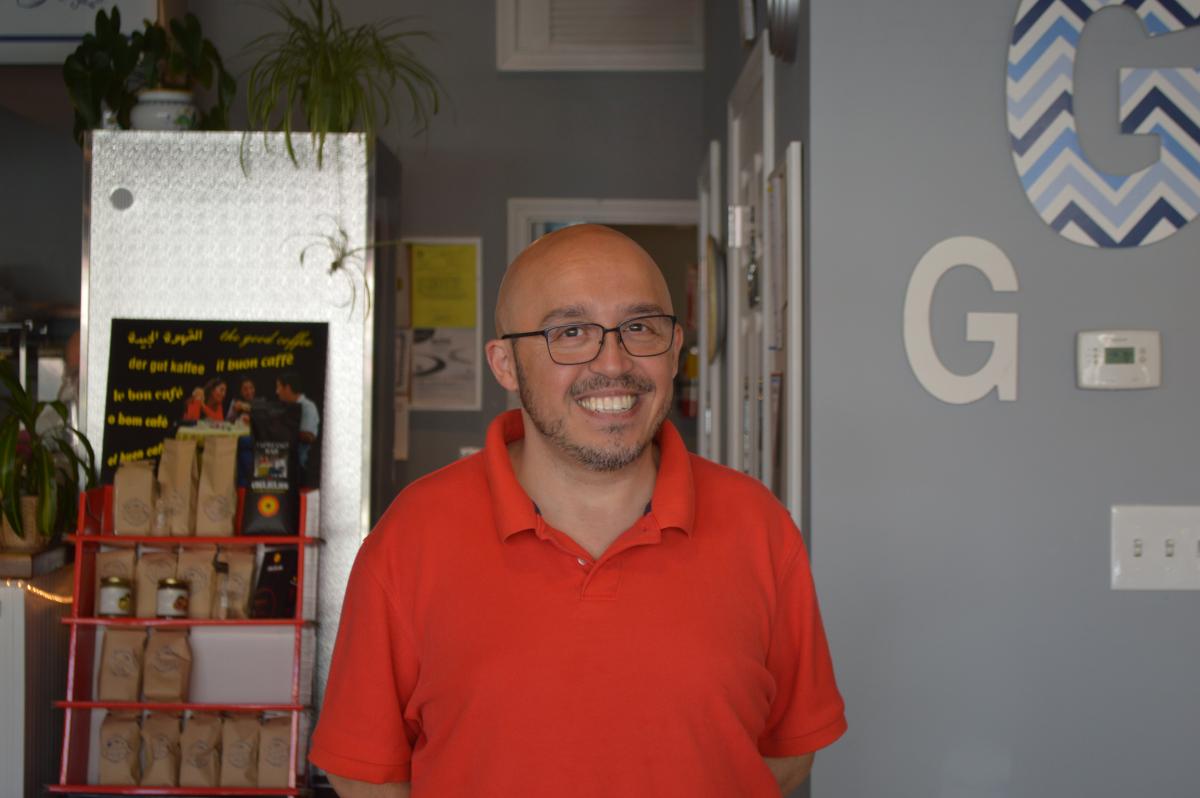 .
Nino Barbalace in his cafe. Isabel Lord photo
While Barbalace doubts he or she will ever come back, he says he would serve the critic, despite their differences. "I don't need to be liked by everyone," he said. "If he comes here, he comes here to get some food, something to drink, and to have a good time. If he comes here, I'm going to serve him." Barbalace doesn't want to make a big deal out of the review, noting that, while sad, "It's just a review on Yelp; nobody died. It's just somebody's opinion."
As to whether this has happened in the area before, Greater Ashmont Main Street executive director Jenn Cartee says she's never witnessed such a review in her three-year tenure.
However, "this kind of attitude and ideology is present in our community and people need to know its out there," she said, "and that our minority and LGBTQ and other socially disenfranchised folks who are small business entrepreneurs struggle with this on the regular. It's the responsibility of the rest of the community to stand up and say it's unacceptable and we won't allow that to be representative of who we are."
News coverage of the incident sparked a wave of increased backlash, Barbalace told the Reporter on Sunday, ranging from more Yelp reviews to emails and phone calls.
Yelp removed the initial posting, as it violated their policy against personal attacks, and a notice on the website this week said the site is cleaning the review section for Zia Gianna after it "made waves in the news."
"While we don't take a stand one way or the other when it comes to these news events," the posting reads, "we do work to remove both positive and negative posts that appear to be motivated more by the news coverage itself than the reviewer's personal consumer experience with the business."
Zia Gianna came to Ashmont in November of last year, opened by Barbalace and his husband, Hans Steuber, after Barbalace's successful but lonesome career as a private chef. He said he wanted "a place like this, where I get to know people. It's a comfortable place, where people can stay here, where they know the owner, which is a big word. I don't feel like the owner, more like somebody who brings you food."
It is a role he cherishes, he said, as he listed off the usual orders of customers sitting near him (a cappuccino to-go here, a coffee with gelato there).
The restaurant, which is open for breakfast and lunch, has become a popular neighborhood hang-out. It has Italian-movie nights on Sundays and Barbalace hopes to expand to feature live music and, potentially, Italian language courses. Zia Gianna was nominated by Greater Ashmont Main Street as its business of the year in 2017, and the event after-party was held there.
"Part of why we did that was to take a very public position about someone who came in and made this huge investment in this less-trafficked nook in our district," said Cartee. "That in and of itself, with the quality of food that he's producing in an authentic style, [is] the kind of thing that we want to honor and recognize with a business of the year award."
To Barbalace, the restaurant is the culmination of a dream he's had since he was 18. After growing up in Sicily under the care, guidance, and cooking of his aunt "zia" Gianna, Barbalace moved to the United States in 2011 to pursue careers in architecture and cooking. In Boston, he found the education and diversity that Italy lacked while he was growing up in the '80s, and he finds a familiar comfort in the liveliness that surrounds his Savin Hill home.
"Talking with people of different cultures, different religions, you grow," he says, adding, "I like meeting people who think differently."
It's that same diversity that he welcomes through his cafe, though it may include opinions that he himself doesn't share. He came to America because it was "the land of opportunity," he says, and on Thursday, Aug. 16, in Faneuil Hall, Barbalace became an American citizen.
"I'm going to cry like a baby," he told the Reporter the day before. His father will be there, on his bi-annual two-week visit from Sicily. "He's happy about this, because I'm realizing my dream," Barbalace said. "I feel welcome here, and in Italy. I met my husband, I opened my little place, so I want to stay here."
.
Nino Barbalace, left, and his husband Hans Steuber after Barbalace's citizenship ceremony. Image from Zia Gianna's Facebook page