By Reporter Staff
May 2, 2018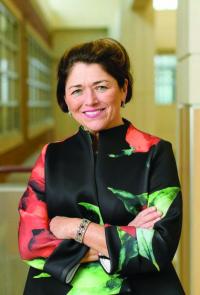 Boston College High School will celebrate the inauguration of its new president Grace Cotter Regan this week with a series of events at the Dorchester campus. Regan will be officially installed during missioning Mass at BC High's McNiece Pavillion on Thursday, May 3 at 9 a.m. She will be named the "Director of the Work" by Very Rev. John Cecero, SJ, Provincial, Northeast Province of Jesuits during the Mass, which will include the high school's Liturgical Choir and professional musicians. A coffee reception will follow at 10:30 a.m. at Cadigan gymnasium.
On Friday, May 4, Regan will join in a panel discussion entitled "BC High in the City," beginning at 7:30 a.m. at Cadigan Hall. Led by former State Senator, Jack Hart '79, the discussion will engage and inform the audience on the changing landscape of the City of Boston.
 
Mayor Marty Walsh will welcome the crowd and will be joined by Dave Sweeney '01, Chief of Staff for Marty Walsh, Tom Hynes '57, Colliers International, and Linda Dorcena Forry P'22, VP, Suffolk Construction. A lunch will follow before a second panel— BC High in the World— begins at 1 p.m. Fr. Jose Mesa, SJ, the Secretariat for Jesuit Education for the Curia in Rome, joins former BC High President Bill Kemeza and President Regan,  along with Larry Hyde's family, to share exciting new initiatives through the Hyde Center for Global Education.
Finally, an inaugural cocktail reception will be held on Friday evening, May 4, in McNeice Pavillion at 6:30 p.m. To RSVP or learn more, visit bchigh.edu/page/about/inauguration