By Jennifer Smith, News Editor
March 14, 2018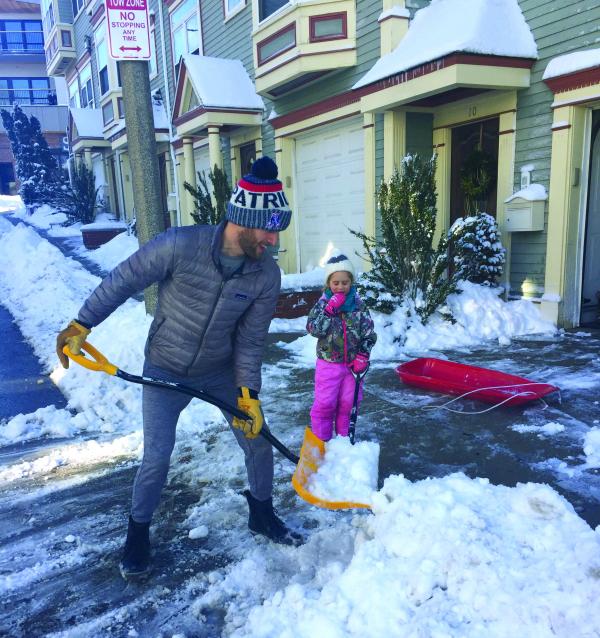 No tidal surges; quick city rebound Wednesday

The latest in an early March round of three powerful northeasters rolled into New England in the wee hours of Tuesday morning and turned the region into a wind-driven snowscape as it stayed its course into Wednesday morning, leaving a mountain of heavy, wet snow that essentially closed down the region for the day, made travel by land, sea, and air impossible, and left hundreds of thousands without power for long stretches of time.
In Boston, the storm arrived complete with vicious winds and blizzard conditions, dropping about 14 inches of snow into the city over the course of the day. Unlike recent storms, there were no severe high-tides flooding along the city's edges, but Mayor Martin Walsh said they rolled out equipment throughout the storm to keep roads clear.
"It feels like we haven't really seen this type of storm since 2015. We've had storms in '16 and '17 and a couple this year, but it seems like this is going to be a big one," he said late Monday. "We're getting ready for it and taking this one very seriously."
A seemingly endless series of consecutive blizzards broke snowfall records in Boston during the winter of '15. Looking ahead on Monday, Walsh warned that the Tuesday's storm could be followed by another one next week and urged residents to prepare.
By Wednesday morning, snow depths had peaked at around two feet in a number of regions, setting records from the Central Hills to the coastlines. The official figure at Logan Airport was 14.8 inches by 8 a.m. in the wake of snow flurries through the early morning, according to the National Weather Service.
Schools in numerous communities were closed Tuesday and Wednesday. In Boston, Walsh directed all non-emergency city personnel to stay home. Statewide, Gov. Charlie Baker set an 11 a.m. start time on Wednesday for all non-emergency state executive branch employees.
There were limited power outages in Boston on Tuesday and into the overnight; the primary concern was snow removal. State officials said there were several injuries due to the storm but no fatalities.
"After the storm winds down, temperatures are going to remain low," Walsh said on Monday. "We won't see much melting this week so a lot of this snow will be on the streets for at least a week. And we're looking at a potential other storm coming in sometime next week, so try to do your best to get down to pavement when you're shoveling."
Walsh said 800 pieces of equipment would be out clearing snow, with a city snow emergency and parking ban in effect on main roads beginning at 7 p.m. Monday that was still in effect Wednesday morning.
Those parking in all city neighborhoods but the South End are allowed to use space savers for 48 hours from when the snow emergency ends. Roads around Dorchester were mostly cleared down to blacktop by Wednesday morning, although sidewalks were still being shoveled out into the afternoon.
The mayor urged residents to call 311 with any concerns about snow plowing or removal. "Just be patient, we will get to you," he said on Tuesday. "We're putting on extra additional staff, and we'll have additional staff on Wednesday as well, taking any calls you might have... and I promise you we will get to your streets and plow your streets."
National Grid said they were seeing an "increase in outages due to the blizzard, bringing down wires and equipment," and about 140,000 were still without power in Massachusetts on Wednesday morning, mainly on the South Shore. The company expected all power to be restored by midnight Wednesday.
Major roads are plowed, the Massachusetts Department of Transportation noted Tuesday night. The morning commute was roughly on schedule Wednesday morning, with commuter rail operating on "extremely reduced schedules," and MBTA subways on reduced frequencies throughout Tuesday. The Mattapan trolley was replaced by shuttle buses, though regular service resumed at 8 a.m. Wednesday.
The St. Patrick's Day parade faces an uncertain fate, Walsh said. "We'll play it by ear," he added.
WBUR reporter Simón Rios contributed to this report.