By Daniel Sheehan, Reporter Staff
October 31, 2018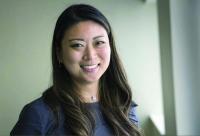 Two weeks after BPS officials proposed the closure of John W. McCormack Middle School on Columbia Point, members of the school's community are urging the School Committee to consider other options. Jessica Tang, president of the Boston Teachers Union, said the decision to close the McCormack "came out of left field."
"We didn't find out about the specifics of the proposal until literally the day before [BPS officials] were visiting the schools," said Tang. "So, there was frustration on our end because we said we're willing to be a partner, we'll help you to think this through, but if we get the information last minute, there's only so much time we can actually help to inform a better plan."
According to Tang, the McCormack's staff had been in talks with BPS officials for well over a year about a possible future transition to a 7-12 school, in line with the city's plan to eliminate all middle schools in favor of a new two-school structure of K-6 and 7-12 facilities.
But the proposal BPS decided on – to close and renovate the McCormack after the 2019-2020 school year as a 7-12 school and have South Boston's Excel school absorb the current student body in the interim – never came up.
Now Tang is calling on BPS leadership to include school communities in the decision-making process going forward.
"Let us be part of the solution," she said. "It shouldn't have been just one option laid out. It should have been: Here's the data, here's the problem, here are options A, B, and C, here are the benefits and the challenges, and let's help to come up with maybe D or E as better options."
At a community meeting held at the Jeremiah E. Burke High School last week, representatives from several schools aired frustrations that alternative options had not been sought, let alone pursued. Tang told the Reporter that officials and parents from Kenny Elementary and Mather Elementary had expressed interest in becoming K-6, a solution that could ease enrollment pressures at other local schools. McCormack staff suggested consolidating their students to one side of the school building, which can house double the current student population of 400, while renovations take place.
Neither option was considered, said Tang, bemoaning a lack of transparency and trust between the school and BPS, which, she said, has yet to respond to FOIA requests for reports on the McCormack's structural integrity.
"I think there's just a real desire to understand how the decisions are being made and what the plans are to ensure students aren't harmed," Tang later added. "The school is not the building; the school is the community of educators, students, and parents."
That last statement is one echoed by school personnel, including Neema Avashia, who teaches 8th grade civics at the McCormack, who speculated that communication problems between BPS and its constituents stemmed from a summer that saw "a lot of transition" in the central office.
"We're all pretty upset, and understandably so," she said. "Our staff has probably spent over a hundred hours in meetings, retreats, and conversations, and then we were excluded from the final decision process. We want to be part of a process that is thoughtful and about the community, but this BPS process feels like it's just about buildings. They're focused on future students but not current students, and so the message is that they are expendable."
For Avashia, the development reflects a worrying trend in Dorchester, where large-scale change is being enacted, she says, often without community input.
"Dorchester's changing in ways that feel less and less reflective of the student population," she said. "For my kids, this fits the pattern of what happens in Dorchester--where things are made nice, but not made nice for existing people, and not in ways that necessarily represent the demographics of the neighborhood."
At an initial community meeting at the McCormack on Oct.18, Interim BPS Superintendent Laura Perille acknowledged that the proposal was subject to change after input from a series of community meetings set to take place over the next two months, including one on Nov. 3 at the Mildred Avenue K-8 school and another on Nov. 29 at the Murphy K-8 school.
Before a final vote in early December, members of the Boston School Committee will have ample opportunities to hear testimony from parents, teachers, and students. Avashia hopes they will listen. "If we're not careful, we're gonna do a lot of damage," she warned.