By Jennifer Smith, News Editor
April 26, 2018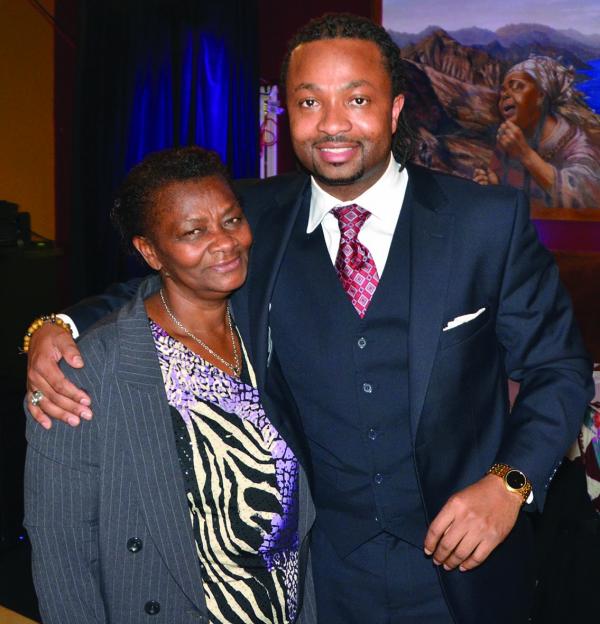 State Rep. Evandro Carvalho of Dorchester, who has more than enough signatures under his belt to make the Suffolk District Attorney ballot, says his roots in, and dedication to, his home neighborhood and a strong track record of pushing for criminal justice reform and equity on Beacon Hill make him an ideal fit for the position.
A native of Cape Verde, Carvalho came to the States at age 15 not speaking English. He later graduated from Madison Park Technical Vocational High School, UMass Amherst, and Howard University School of Law before joining the Suffolk DA's office as an assistant district attorney prosecuting gun crimes. He has served as state representative for the Fifth Suffolk District, which includes parts of Dorchester and Roxbury, since 2014 and will not seek re-election as he runs for district attorney.
An Uphams Corner resident, he says his experiences in the neighborhood as a teenager and young adult were formative and give him a particularly useful lens with which to view the district attorney's responsibilities.
"My unique place in this race is that I grew up in Uphams Corner and I live in Uphams Corner," the 36-year-old Carvalho said at an interview at the Dudley Cafe. He gestured up the street to Madison Park High and noted that he worked as a prosecutor in Roxbury District Court.
"So I think what you'll see, if people pay close attention to the profiles of the candidates, I'm the only one who represents the community as a former prosecutor and also as someone who's had experiences in leadership on the Hill on this issue."
The race is crowded. Just days from the May 1 deadline to submit the 1,000 signatures necessary to make the ballot, six Democrats and an un-enrolled candidate had pulled papers. Should they all meet that mark, the Sept. 4 Democratic primary would include John Carey, a Charlestown attorney; attorney Linda Champion; former Suffolk gang unit chief Greg Henning; former defense attorney Shannon McAuliffe; and former MBTA legal counsel Rachael Rollins.
Carvalho is the only candidate in the running who has held elected office, He counts among his major achievements his role in shaping and helping to pass the sprawling criminal justice bill signed into law by Gov. Charlie Baker this month. Although other district attorneys in Massachusetts have expressed opposition to the bill, the Suffolk race is filled with candidates who support it.
Carvalho's entry into the race was a quick pivot. He had been running to seek the First Suffolk Senate seat left vacant earlier this year by Linda Dorcena Forry, but when Dan Conley surprised political observers by announcing he would not seek re-election to the post he has held for 16 years, Carvalho conferred with family and supporters and joined the district attorney's race.
"It's one thing to make policy and make changes," he said of his legislative work. "It's another thing to implement them. And even without some of the big changes that we made, the district attorney's power is so substantial, so critical to our communities that someone like me could already have implemented and taken leadership on some of these things."
Carvalho supports treating the opioid epidemic as a public health crisis, engaging with communities to find creative approaches to addressing the plague of gun violence in his community, bolstering trauma supports, and increasing transparency and accountability in the office.
His first order of business if he is elected will be to increase the diversity of the office, and to train all employees on implicit bias and mental health issues, on substance abuse issues.
"My plan is essentially to transform the office," he said. "Transform the lens that we look at prosecutors [through], adding that the training and diversification "alone will go a long way, if we have an office that reflects and understands them. I think it'll go a long way toward restoring justice in the system."
Equity in prosecuting and policing is a significant issue for Carvalho. As an immigrant himself, he pledges on his campaign site to work in conjunction with other law enforcement agencies to resist federal pressures that might undermine community safety and make immigrants feel unsafe or unwelcome.
Carvalho has been endorsed by Representatives Jay Livingstone of Beacon Hill, Liz Malia of Jamaica Plain, Mike Moran of Brighton, Chynah Tyler of Roxbury, and House Ways and Means Chairman Jeffrey Sanchez of Jamaica Plain, all of whom tout his progressivism and passion for criminal justice work.
At its root, Carvalho says, his commitment to the Fifth Suffolk is borne by the work he has done with local groups who needed an advocate, like the Louis D. Brown Peace Institute, for which he filed a bill to secure money for a long-sought funeral and burial fund for families of victims of violence.
"I think ultimately I'm a young man from this community who had the blessing to get an education and go to law school and come back here and stay here," he said. "I have a record of serving this community and I have shown that I can get things done."