By Reporter Staff
March 15, 2018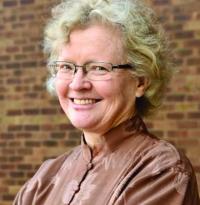 UMass Boston will honor Jane Money, founding artistic and education director of the Boston City Singers, with the Robert H. Quinn Award for Outstanding Community Leadership at the university's annual Community Breakfast on Thur., March 29.
Former State Sen. Linda Dorcena Forry will also be honored, with the Chancellor's Award for Longstanding Community Commitment and Service, for her public service to the citizens of Dorchester, Hyde Park, Mattapan, and South Boston for nearly 20 years.
"Like Bob Quinn, our honorees exemplify dedication to public and community service," said Interim Chancellor Barry Mills. "We look forward to continuing this important tradition of honoring one of our founding fathers and recognizing those who follow in his footsteps."
Money founded the Boston City Singers in 1995 as a Dorchester-based division of Youth Pro Musica to provide outstanding music training opportunities to low- and moderate-income inner-city youths in the communities in which they live. The organization has since grown to serve more than 500 singers, many of whom reside in metro-Boston's urban neighborhoods.
The selection committee noted Money's extraordinary dedication to providing access to quality music education and life skills training for every child involved in the program and her significant contribution to developing the children of Dorchester and surrounding communities into tomorrow's leaders.
Forry will be recognized for her commitment in the State House as a representative and a senator. Throughout her tenure, she has supported and empowered neighbors and families in Dorchester and other communities in the Commonwealth's First Suffolk Senate District through leadership that encouraged inclusion and diversity, economic growth, and neighborhood revitalization.
The breakfast, which is open to the public and free, begins at 8:30 a.m. in the Campus Center Ballroom. Those interested in attending should register by or before March 22.