By Jennifer Smith, News Editor
February 15, 2018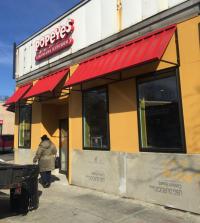 The opening of a Popeyes restaurant in Codman Square has community members and elected officials alike frustrated over a permitting tweak that allowed the restaurant to begin construction in spite of sustained neighborhood pushback and an initial zoning denial.
Codman Square Neighborhood Council co-chair Cynthia Loesch said the council heard a presentation for a Popeyes at 572 Washington St. in June 2016. The group opposed the bid, citing concerns about traffic, congestion, litter, and the unhealthy food options the establishment would bring to a neighborhood with high obesity and Type 2 diabetes rates.
In an initial email to the Reporter, Loesch wrote, "This establishment went against much of the work we have been doing around our merchants district over the years."
In an interview last week, she added, "We don't need another fast food establishment, bringing unhealthy food and traffic. It just wasn't going to make sense in Codman Square with all the work we were trying to do."
Popeyes announced in 2014 that it planned to expand its footprint by 15 to 20 new stores in the Boston area in five years and 30 total over the next decade. The company had not responded to a request for comment on this story by press time.
"Boston is a prime market for further expansion of the Popeyes footprint," said Greg Vojnovic, Popeyes chief development officer, in a statement in 2014. The proposal received concerted pushback from the Neighborhood Council, local health centers, the mayor's office, and City Councillor Andrea Campbell.
Popeyes went before the Zoning Board of Appeal in October 2016 seeking a conditional use permit to operate a store at the Washington Street site. Its permit application was rejected.
"Denied with prejudice and we thought, well, beautiful, that's how the civic process should go," said Loesch.
But some 15 months later, in December 2017, community members noticed ongoing construction at the site and reached out to the city. Neither the council nor the mayor's office had a clear sense of why the construction was proceeding.
They got some clarity on the what and the why in mid-January, with construction already well under way. After the board initially denied the request, the applicant filed an appeal in Superior Court, challenging the decision. Though the case is still open, it seems to have been abandoned.
While the Inspectional Services Department (ISD) would ordinarily order a halt to work while there was an ongoing legal appeal, in this case the applicants changed their permit request. Rather than asking to operate a take-out restaurant, requiring the conditional use permit that they were denied, they instead framed the construction as an expansion of an existing restaurant.
A permit was approved last November for a "change of occupancy from store, barbershop, restaurant to expanded restaurant (19 seats) to include additional restaurant use into vacant space with take-out use." The distinction, ISD Commissioner William Christopher said Tuesday, is the primary purpose of a restaurant, most of which allow for take-out options.
"I'm not sure how you can have a restaurant without a take-out license," he said, adding, so as long as less than 75 percent of the sales are from take-out, it just counts as an ordinary restaurant and does not need the conditional use change. With that alteration, the construction work could, and did, go forward "as-of-right." There is no notification process for an as-of-right project, he said.
Councillor Campbell said the situation seems to highlight a "breakdown in the process," where a permitting technicality allowed work to proceed on something the community vehemently opposed without any kind of notification or follow-up after the initial zoning denial.
"It's very appropriate that the community remain a part of the conversation, especially because they opposed the concept," she said. Such a conflict is a chance for the city to "evaluate, even if a project is as-of-right, what kind of questions they should be asking. Where is it going for that neighborhood, which supports healthy options, healthy food, and we should allow residents to be a part of those conversations. In terms of enforcement, that's a challenging, legitimate concern for the community."
Christopher said that ISD can only respond to complaints reported. "When a new restaurant opens up, they have no track record," he said. "If after a year ago they find out they took out all the chairs and all the tables," they would have reason to believe that the purpose of the Popeyes was altered.
"This makes us lose faith in the system and the process," Loesch said. "How, if there's just a minor change that's been made, are they allowing it to pass because of one minor change? Isn't this a red flag?"