By Jennifer Smith, News Editor
May 10, 2018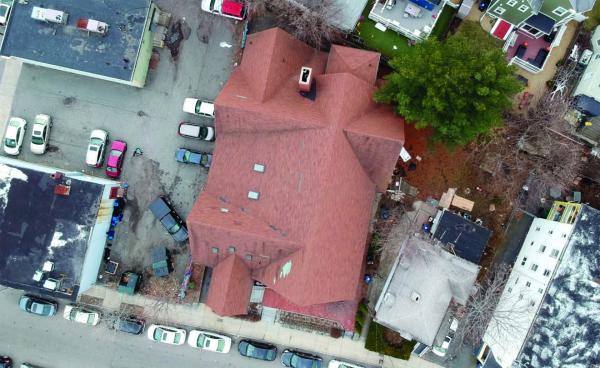 College Bound Dorchester is looking for community input on the best use for its Little House property on East Cottage Street. The expiration of its Boston Public School contract for the Little House in June provides an opportunity to reassess the future of the space, which has not had an upgrade or renovation in about 30 years.
Mark Culliton, executive director of College Bound Dorchester, briefed the Columbia-Savin Hill Civic Association on the project at its monthly meeting inside the Little House hall on Monday.
For the past 25 years, the Little House has served as the site for an alternative middle school while also providing space to community groups including the Columbia-Savin Hill Civic Association, Dot Art, Diploma Plus, and the Brown Box Theater Company.
"They're redesigning how Boston Public Schools does alternative schools, so we'll no longer be doing that service, and that's been the primary use of this facility for most of the day," Culliton said.
Prompted in part by the expiring contract and the forthcoming redevelopment of the Dorchester Market and Tom English Bar site next door, Culliton said College Bound is partnering with coUrbanize to solicit ideas for the space.
College Bound's programming is predominantly focused on getting formerly gang-involved youth on a path to college. The organization owns the East Cottage Street sites and a large Victorian building in the Bowdoin area, as well as leasing other properties.
The Little House site includes 275 E Cottage St. and a single family dwelling at 269 E Cottage St., where an alternative high school operates now.
"Little House is currently used far below its potential capacity," the coUrbanize site reads. "Unfortunately, the space has not been updated and is in need of significant renovations estimated to costs tens of thousands of dollars. This includes roof/floor repairs, better interior spaces for programs, improved accessibility for elderly or disabled individuals, and other modernized infrastructure."
Bridging a residential area with the Dorchester Avenue corridor, Little House has been a community fixture for some 100 years. The area has evolved and the space had been used for a slew of public purposes, Culliton notes, "so what is it that the community needs today?"
Comments can be submitted at the coUrbanize website, courbanize.com/projects/little-house-redesign.