By Reporter Staff
April 26, 2018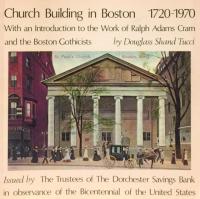 Douglass Shand-Tucci, a Dorchester native who became one of the 20th century's leading authorities on Boston architecture and history, died on April 11 at age 76, according to the Boston Globe.
As a child, he lived in a grand Victorian home on Wilbur Street in Jones Hill. He worked as an usher at the Strand Theatre in the 1960s, according to his former neighbor Ed Grimes.
A graduate of Harvard College, he worked as a journalist for the Boston Phoenix and taught at Boston Architectural College and MIT, according to the Globe. He is best known for his biography of Isabella Stewart Gardner and for his studies of Boston architecture, including his 1978 book "Built in Boston," which includes a definitive history of Dorchester's signature housing stock, the three-decker, a description that Shand-Tucci defended vigorously.
His Dorchester roots shone through in other, more- focused studies, including "Dorchester: The Second Settlement (1875-1925) and "Church Building in Boston 1720-1970," a 1974 book commissioned by Dorchester Savings Bank. He also published a more focused study of " The Gothic Churches of Dorchester" in 1974, as well as a historical guide to Ashmont Hill, Carruth Street, and Peabody Square— an invaluable document for modern-day residents interested in preserving our architectural history.