By Daniel Sheehan, Reporter Staff
October 18, 2018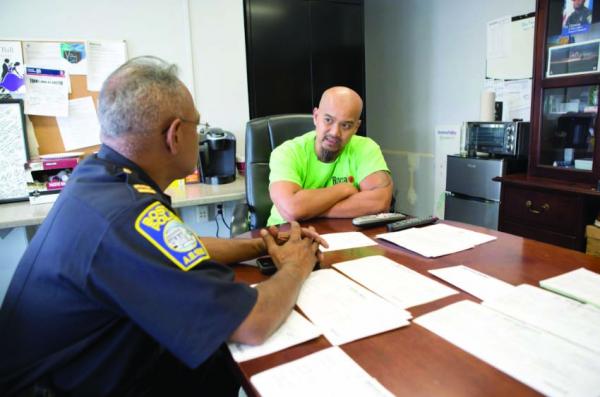 "This work is not 9 to 5," says Tha Thai, a 41 year old who came to America with his family as a refugee from Cambodia in 1984. Today, he is the assistant director at Roca, a Chelsea-based non-profit that seeks to steer court-involved men and teens away from trouble and into opportunities. Thai lives in East Boston, where he grew up, but spends much of his time working with men from Dorchester and other Boston neighborhoods.
He has benefited from the work of the Ecumenical Community Council, an organization that helps immigrants acclimate to life in the US. Thai says it helped him avoid the gang culture that enveloped some of his friends— and has helped inform the work he does today.
After a stint with the Dorchester Youth Collaborative, Thai joined Roca as a youth worker a decade ago. The job involves more administrative duties and desk work, but he made sure to retain a handful of kids on his caseload. For him, this is the fun part, being out in the field and connecting with people one-on-one.
Using an intensive four-year intervention model, Roca staff work with kids ages 17 to 24 who are proven to be high risk, many of them already in the system with extensive criminal records. Roca's motto, "Less jail, more future," is essentially the end goal of Thai's work as he tries to disrupt the cycle of incarceration and poverty by helping troubled youth change their mentalities and their lifestyles.
"These are guys that a lot of places have given up on," Thai explained. But Roca never gives up on them. They take a "relentless" approach to engagement; after identifying at-risk kids, they locate them and knock on their door until they respond.
"We don't wait for them to come to us. We go to them," said Thai. "All we need really is a name, an address, a phone number, and we'll go track them down...the one key thing is we never give up; the more you push us away, the more we're gonna come back to you."
On Monday, as the Reporter followed him on his daily routine, Thai visited young men in South Boston, Randolph, and Dorchester— all of them in transition from trouble with the law or the streets.
His first stop was in Southie's Seaport district to check on a young man who was struggling with homelessness and suicidal thoughts. Thai and other Roca staff members spent the whole weekend by his side.
As we pulled up beside an office building in the Seaport, Thai instructed the reporter to stay in the car. "This guy doesn't trust a lot of people," he explained. He got out and chatted for several minutes with a young man in jeans, a hoodie, and a backwards cap. When he returned to the car, Thai shared some of the young man's background.
"He went to prison at a young age, got involved in gang stuff. He has tattoos and everything, so people see him and judge him but, underneath all that he's just a loving kid who's lost."
Thai is bald with a mustache and a wispy goatee that suggests vast reserves of wisdom. He has a knack for finding understanding or common ground with his "guys," effortlessly breaking down their tough guy facades with a joke or a sarcastic question.
At our next stop, a house in a sleepy neighborhood in Randolph, Thai picked up a young man from Dorchester who had relocated out of the city after being shot in the leg this summer. As the man slid into the backseat, Thai cracked a joke.
"I brought someone from the FBI with me today," he said, jerking his thumb in the reporter's direction.
The young man, Thai had explained to me, was suspicious of law enforcement. [He was wary of the reporter at first, but within a minute or so Thai had moved the talk to the Celtics.] This ability to connect with people and to put them at ease is one of the main reasons why Thai is so successful in his work.
"I make myself vulnerable," he explained.
"Tha's too friendly," joked the young man from the backseat. "He definitely tries to help people out a lot. Not everybody's ready for a change."
"You are," Tha interceded.
"Oh yeah, I'm definitely ready."
Not everyone Thai works with is ready. Still, Roca's success numbers reveal cause for hope: Last year, 76 percent of young men in the program placed and kept a job for more than three months, and only 16 percent had new arrests. For Thai, it helps to stay focused on the small picture.
"The only thing we can work on is changing one kid at a time," he said. "And hope that through the work we do, the system changes."
"The two main things it takes are love and time," he said. "Just showing them you care — that's something for a young person that can open up these emotions and these feelings that they've never felt before...all the anger, all the hate--that's all they know. But when they see that, these positive emotions start to grow and start to manifest in a way that, in the long run, we hope those things will help shift those behavior changes."
Tah's last stop of the morning took him to Ashmont, where he picked up a third young man and took him to the bank to help him set up an account. This simple act, much like the two prior, fell outside Thai's job description. But as he explained, it often requires going the extra mile, and stretching the rules, to make a real impact.
"There are guys who want to do the right thing but don't have the right support system, so they say, 'Screw it, this is too hard,'" he explained. "How are guys supposed to do this if they don't have someone helping them?"