By Jennifer Smith, News Editor
May 30, 2018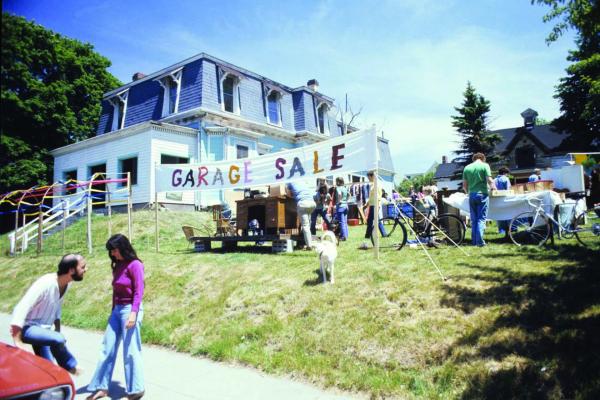 It's a cornucopia of vintage dishware, eclectic clothing, trinkets, and furniture, and wooden skis laid out across a lawn. People wander up and down the hills of the neighborhood's streets with paintings tucked beneath their arms and books in hand as the smell of cooking ribs wafts up Harley Street and through the spring foliage.
And so the Ashmont Hill Garage Sale merrily chugs along after four decades. Now heading into its 39th year, the tradition is still under the stalwart command of Joe Gildea.
Traditionally held on the weekend between Mother's Day and Memorial Day, this year's event will be part of a "whole celebratory weekend," said Ocean Street resident Vicki Rugo, who still has a card table she purchased at the very first sale more than 40 years ago. Postponed by weather – a rare occurrence that had only happened thrice before – the yard sale will now take place on June 2, the day before Dorchester Day.
In its early years, around 20 homes participated, but now there are regularly about 50 residences across just a few blocks where homeowners scavenge in their basements and plunder their attics for a profitable spring cleanout.
"It's a good chance to clean out your basement," Gildea said. "And hopefully not refill it with other stuff."
The first organized yard sale was in 1981, but in 1976, something of the sort took place at 16 Harley St., which was owned by a group whose members did not speak and who followed the teachings of the 20th-century Armenian philosopher and mystic George Gurdjieff, Rugo said, adding, "It was just kind of a community thing because they were into community and they were new to the neighborhood."
There were a number of house tours on Ashmont Hill in the 1970s before residents decided to convert the event into an annual yard sale. "As I recall," Rugo said, "the reason to do the yard sale was that the house tours had been so successful in getting people to Dorchester, getting them into a neighborhood, one of many that people had no idea were even there, that it was partly for people to make money and sell and unload their things, but also a way to get people walking around their neighborhood. And a yard sale is a lot easier to put on than a house tour."
Each year, strolling around the neighborhood is as much a treat for the eyes of visitors as it is a coup for the owners' wallets, with gorgeous Victorian homes rising behind each of the yards.
"The houses are at least as interesting as what's going on outside," Rugo said. "It's just this great neighborhood event, because, you know, people come from other Dorchester neighborhoods. It's sort of your once a year check-in."
As the yard sale expanded, certain owners became known for their wares. The late Barbara Roper's front lawn was awash in hats placed neatly on lace-covered tables. Some residents developed reputations for their plantings. Rugo, for one, sells some pots of Sweet Autumn Clematis vines every year.
The pickings can be unusual, she and Gildea said, recalling years when stained glass windows and entire church pews were sold off. Gildea bought a gas pump one year that is still hooked up in his basement. Rugo's daughter found a reindeer rocking horse for her son a few years back. And this reporter is steadily ensuring that her house gets a yard sale-facilitated glassware upgrade every year.
Walking around Ashmont Hill can leave people a bit peckish, so for them there's food outside the Ashmont Nursery School and across the way Mae Graves has cooked up spectacular ribs and grilled chicken year after year. "There's always a line," Gildea said, "you have to wait for that. It's good stuff."
Some things sell more quickly than others; clothes are tough to get rid of, and furniture is often unwieldy. But when the sale officially wraps up at 2 p.m., many residents leave unsold items on the curb for neighbors or passersby who whisk them away. "It can take two or three days sometimes for the stuff to diminish down to nothing," Gildea said. "It's amazing."
The 39th Ashmont Hill Garage Sale is scheduled to open at 9 a.m. on Sat., June 2., with starts at the corners of Alban or Ocean streets off Welles Avenue. Maps are available at each yard, and most residents only accept cash. Visit ashmonthill.org; email cadmanjoe@aol.com; or call 617-288-6626. Images courtesy Dorchester Historical Society, Ashmont Hill Association.