By Reporter Staff
May 10, 2018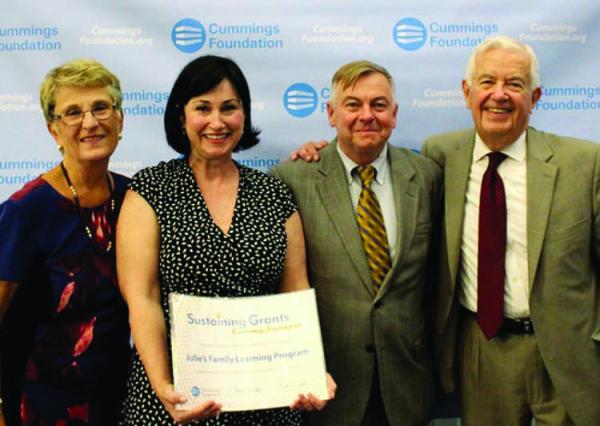 Julie's Family Learning Program in South Boston is one of 33 local nonprofits awarded a total of $10 million from Cummings Foundation through its new Sustaining Grants program, which provides funding for up to 10 years. Bob Monahan, Executive Director, and Carrie Coughlin, Director of Development, represented the non-profit at a May 3 awards night at TradeCenter 128 in Woburn.
Julie's high touch, long term engagement with individual mothers and their children provides a path to stability for families living in poverty. Currently, 50 percent are homeless and the rest live in public housing. Many struggle with childhood trauma, addiction, domestic violence, unemployment and poor health. The program's intensive, holistic curriculum of adult basic education and life skills, combined with licensed, certified childcare, emergency supports and basic needs, and a mother's determination that her own child will have a better life, results in thousands of families finding a way to break the cycle of poverty since 1974.
"The timing of this grant enables us to advance our Child Care Expansion Plan," said Bob Monahan, executive director of Julie's Family Learning Program. "Why is this so significant? We can now hire a new licensed infant/toddler teacher. It will enhance our capacity in this area by addressing a 'bottleneck' in the availability of infant/ toddler slots. Adult learners who are eager to enroll can now immerse themselves in our comprehensive adult services program in tandem with her child's enrollment.
"It also creates a new revenue stream generated from vouchers and sliding fees to support our core program," Monahan added. "With this grant, even more families will be served ."
"This kind of long term support is incredible," said Carrie Coughlin, the group's director of development. "Cummings truly understands the funding needs of nonprofits and the entire company's dedication to philanthropy is remarkable."
This support from Cummings comes at an exciting time for Julie's as the organization rolls out Julie's Childcare Expansion Plan, which will evolve over three phases. Each phase will require hiring an additional licensed, certified teacher at the level of $50,000 each. The group is looking for matching funds for the Cummings grant to implement phase 1. All three phases of expansion, to be completed in 2019, will double infant and toddler enrollment, addressing a bottleneck which opens the door to adult learners who are ready to engage in our program, but cannot due to childcare.
The Sustaining Grants program builds on Cummings' Foundation's $100k for 100 program, first offered in 2012. First offered in 2012, $100k for 100 annually awards $10 million through multi-year grants of $100,000 each to 100 nonprofits that are based in and primarily serve Essex, Middlesex, and Suffolk counties. Grant recipients that received their final grant disbursements in 2017 were automatically considered for the Sustaining Grants initiative in 2018. The complete list of 33 grant winners is available at CummingsFoundation.org