The Boston Licensing Board has granted a food and liquor license to a proposed 240-seat restaurant that would serve barbecue, steaks and even some vegetarian dishes on Blue Hill Avenue where it meets Harvard Street and Talbot Avenue.
Partners Boris Sapozhnikov of Worcester and Wayne King - who already runs a chiropractic and physical-therapy clinic in the building - hope to open by mid-June. In an interview inside the proposed restaurant at 881 Blue Hill Ave., they said they've been working on outfitting the space since last year as a dining destination for an area that now has nothing comparable, complete with a patio and valet parking - and a unique indoor waterfall and pool left over from an earlier restaurant in the space: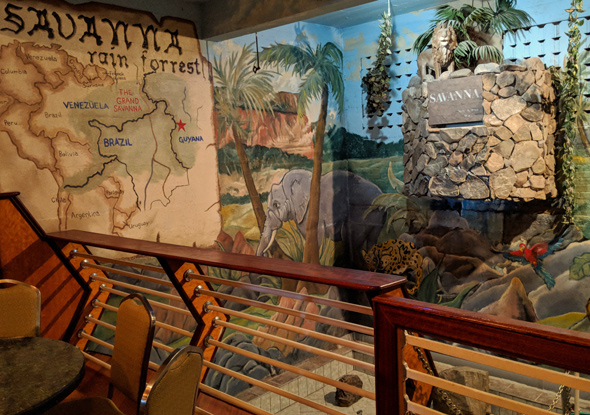 King allowed as how the current waterfall mural and ceramic lion don't exactly whisper "elegance" and says he'll likely change those before the opening.
The restaurant will feature an array of Southern-style barbecue items, all smoked in house, along with all the fixings. The pair say they've already hired a couple of workers away from the Pit Stop in Mattapan. But they emphasized they will have a menu that will include everything from chateaubriand steak to burgers, as well as some vegetarian options. A separate room will be devoted to take out and Uber deliveries.
King said he has plans for after-church meals on Sundays - members of nearby churches would get specific times and discounts so they could dine with their fellow congregants. Sapozhnikov is looking at the idea of letting people order their sit-down meals online - so they would be served soon after they arrived.
In addition to the 4,600 square feet of indoor space, the two asked for permission to run a 400-square foot seasonal patio. Their proposed hours would be 6 a.m. to 11 p.m. (10 p.m. for the patio), which would also let them potentially offer breakfast.
Eventually, Sapozhnikov and King said, they hope to offer live entertainment, but they said they want to get the food and service right first.
The glassware's ready to go: