By Jonathan Ng
July 17, 2018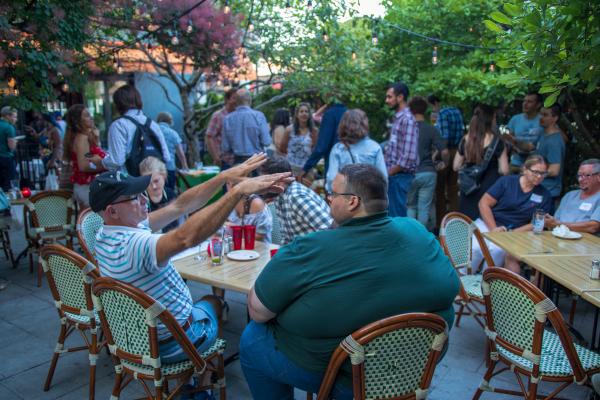 Last Thursday night, nearly 50 people attended an informal social gathering at the Blarney Stone in Fields Corner to discuss housing, transportation, livability and economic development in Dorchester, with a goal to plot the best path forward for the neighborhood.
Jarred Johnson, one of the organizers and an assistant project manager at the Codman Square Neighborhood Development Corporation, said the event came to fruition after many residents expressed interest "to have a casual and inviting atmosphere that supports a dialogue on those themes."
"We're asking people what sort of businesses they would like to see, or what makes Dorchester great, what can we do to make the neighborhood more walkable and bike-able, and finally, what can we do better when it comes to housing," Johnson said. "No agendas, just neighbors talking to each other about their concerns and their community."
The evening mixer was hosted by neighborhood organizations, residents, and the Massachusetts Smart Growth Alliance (MSGA), a statewide policy group that is currently advocating for two bills on zoning reforms.
At one table, people discussed how Dorchester can be more walk- and bike-accessible.
"It's kind of ridiculous how there aren't any dedicated lanes for bicycles or buses," one person lamented.
Participants jotted notes on large sheets of white paper laid at various tables, gathering around to review and discuss potential actions to help meet those goals and priorities. On one sheet that asked attendees what businesses they would like to see, people wrote a bookstore, community space, a Trader Joe's, breakfast joints, and a marijuana dispensary.
One resident said that development should happen throughout the neighborhood. Others in the discussion worry that the influx of housing development coming into Boston don't have residents' interests in mind and that new developments will afflict long-time residents and local businesses.
"We already have enough development and it isn't affordable," said Kristine Acevedo. "When more developers come in, the less that we're going to be able to keep Dorchester what it is."
She added, "We do not want to have a Whole Foods or some other big chain that's going to displace some of the local businesses here. We have to support these local mom-and-pop cafes and stores in every way possible. And that's leaving out some of these developers who only care about the money."
Anabelle Rondon, a program manager for MSGA's Great Neighborhood initiative, said that she understands the anxiety residents are concerned about when it comes to gentrification and displacement.
"We always talk about development and housing in places where it will not change the character of the neighborhood and displace people," Rondon said. "It has to be intentional that makes sense for that particular community. We know there's a lot of tension around developments and we care about livable communities, places where there's housing for everyone that's affordable."
Johnson said the conversations and notes broached from the mixer will be passed along to organizations in attendance for further discussion.
Andre Leroux, executive director of MSGA, says he hopes the two bills his organization is advocating for, An Act to Promote Housing Choices (H.4290) and An Act building for the future of the Commonwealth (H. 4397), will be finalized before formal sessions end July 31.
The Housing Choices bill was proposed by Governor Baker in December 2017, which would reform the state's zoning laws, allowing municipalities to lower the threshold for decisions from a two-thirds majority approval to a simple majority. It would also incentivize cities and towns to build 135,000 new units of housing by 2025.
"But it's not enough," said Leroux, executive director of MSGA. "We really can't stop there. We have to encourage more communities to build apartments. If you look at the last seven years, only 10 communities in Massachusetts have built two-thirds of all the apartments in the entire state. Boston alone has built 37 percent of all the apartments and that's not fair. There's 341 other communities that are not doing their fair share."
Leroux said the H. 4397 bill, or "Great Neighborhoods initiative," would build on the governor's Housing Choices bill that would "improve their neighborhoods and make them more walkable, welcoming, affordable, and vibrant." Under this bill, homeowners with a lot of at least 5,000 square feet would be able to create a second dwelling within or attached to their single-family home.