By Jennifer Smith, News Editor
September 5, 2018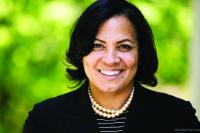 Boston voters turned out in decisive fashion on Tuesday, at least compared to most state primary years, and ushered into office a wave of new and diverse faces. Amidst all the excitement around the transformational Congressional race between Ayanna Pressley and Michael Capuano, competitions down ballot saw dramatic moves and surprising wins.
The turnout across the city was unexpectedly high starting from 9 a.m., where 3.7 percent of voters cast their ballots before noon on a warm post-Labor Day. By the time the polls closed at 8 p.m., turnout had reached 24.86 percent in the city, with 100,333 Boston residents taking their stands at the voting booths.
A key rider on the wave was Rachael Rollins, who earned some 40 percent of the vote to become the Democratic candidate for the office of Suffolk County district attorney in the November final. She bested her closest rival Greg Henning and three other hopefuls in a competitive race and will face the independent candidate, attorney Michael Maloney, in the general election.
"I am honored and humbled," Rollins said in a statement issued by her campaign. "But I also need to say – for all of us – that this is earned. As a 47-year-old black woman, I have earned this. We have earned this. This is the time for us to claim our power and make good on our promises to make true criminal justice reform for the people in Suffolk County. Reform that is progressive – that decriminalizes poverty, substance use disorder, and mental illness. This is the time to create a system that puts fairness and equity first – as a model for the Commonwealth and the nation."
Henning, who finished second to Rollins with about 23 percent of the vote, spoke to a gathering of supporters at Dorchester's Florian Hall. He thanked his family and his girlfriend before asking his supporters to congratulate and rally around Rollins: "If Rachel Rollins is the next district attorney in Suffolk County, we need to support her and her efforts to combat gun violence, to address the opioid epidemic, and to help rebuild relationships with people in the community."
Henning appeared disappointed but poised as he noted that the ethics of his campaign never wavered, even in a tight race. "The guiding principle for the campaign was we're never going to do anything we regret. We wouldn't lie, we wouldn't be unethical, we wouldn't go negative…. Even though the outcome is disappointing, we can all look each other in the eye and know we never did any of those things, and be proud of the way we ran this campaign."
Bellwether locations across Dorchester showed the ebb and flow of the dynamics of the DA race. In Ward 13-10 (Savin Hill), Henning took 46 percent of the votes to Rollins' 24.7 percent. He similarly took the double precincts at Florian Hall by 52 and 79 percent to Rollins's 19 and 4 percent, respectively. But Rollins took the double precinct at Lower Mills Library, which pulls in sections of Dorchester and Mattapan, with 39 and 50 percent to Henning's 26 and 22 percent.
Rollins's supporters across the district were elated. The former head of the legal departments at Massport and MassDOT's was seen as the progressives' pick for the post. She had support from national campaigns like Democracy for America and the Real Justice PAC, along with elected officials like state Sen. Sonia Chang-Díaz and Boston City Council President Andrea Campbell.
"I think it's incredible news — it speaks to the voters and the hard work of all the campaigns and their volunteers," Campbell said after the wave of victories was announced. "The voters spoke — and I never trusted polls and I always trust what people say — and they said we want more women, people of color, and we want the electorate to represent the diversity of the district."
Hard work comes first, said Campbell, who ousted a 32-year incumbent in City Councillor Charles Yancey when she won election in 2015. That paid off in every candidate she endorsed, Campbell said, especially Rollins. "People — regardless of demographics, how old they are, diversity, gender, how they identify —want a particular thing, want their electorate to reflect their community."
Tuesday's voting was a forceful showing for women of color running for office. In a statement Tuesday night, the Massachusetts Association of Minority Law Enforcement Officers congratulated Rollins, Liz Miranda in the 5th Suffolk District, Ayanna Pressley in the Massachusetts 7th Congressional District, and attorney Nika Elugardo, who unseated House Ways and Means Chairman Jeffrey Sanchez from his 15th Suffolk seat.
In other balloting, voters across the state opted out of making a change in the Secretary of the Commonwealth's race. Longtime incumbent William Galvin cruised to a 67 percent to 33 percent win over Boston City Councillor Josh Zakim to clinch the Democratic Party's nomination.
One of the few high-profile incumbents to win big on Tuesday, Galvin told the State House News Service that he didn't think there was an anti-incumbent trend, noting that each race has different dynamics. He attributed his victory in part to "my familiarity with the state and the people's familiarity with me. There's not a part of the state in all my time that I haven't been to and spoken with, haven't worked with local officials," he said after addressing supporters at the Stockyard restaurant in Brighton. He will go on to face Swampscott Republican Anthony Amore and Juan Sanchez, a Holyoke resident running on the Green-Rainbow ticket, in November.
Norfolk District Attorney Michael Morrissey, who introduced Galvin at the party, said the results showed "experience and knowledge matters, especially in a job that's so important as protecting our right to vote and making sure that every vote counts."
After conceding the race, Zakim said in a statement that he looks forward to continuing to serve out his third term on the Boston City Council, "a job that I love, representing the most diverse district in Boston and working with smart, progressive and hard-working colleagues." He and his wife Grace are also expecting the birth of a son.
Other races decided last night included Gov. Charlie Baker taking the Republican nomination with 64 percent of the vote, and the Democratic gubernatorial ticket taking shape with Jay Gonzalez (64 percent) and lieutenant governor candidate Quentin Palfrey (59 percent) over Bob Massie and Jimmy Tingle.