By Daniel Sheehan, Reporter Staff
July 18, 2018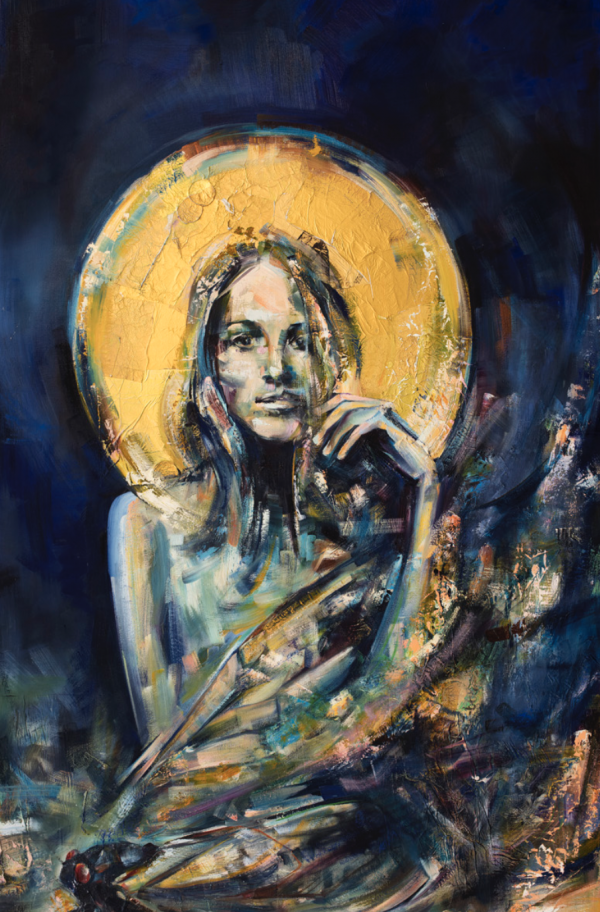 Beginning on Saturday night and continuing for the following five weeks, an art gallery in Fields Corner will be the center of all things sacred as The Dorchester Art Project presents an exhibit entitled "Altarations: A Selection of Shrines" at its studios at 1486 Dorchester Ave.
Over the past month, gallery directors Emma Leavitt and Sophia Giordano have been reviewing submissions and helping artists to install their shrines in the DAP gallery at the second-floor space overlooking the Avenue. The venue, which was acquired by the local non-profit BRAIN ARTS in January of this year, also includes a handful of studios available for rent and an intimate performance space.
As of July 9, only a handful of shrines had been completed, but come Saturday night and the opening reception (July 21, 6 p.m. to 9 p.m.), Leavitt says, the whole space will be filled to the brim. "We put out the call for art and we were so overwhelmed by the submissions we got," she said. "We got 78 submissions."
The vast majority of these – 56 – were approved for the exhibit. Guidelines for entries were broad: As long as the artists could adequately explain the meaning of their works as it relates to their personalized concepts of sanctity, they were accepted.
A statement on the mission of the exhibition described a shrine as "a sacred place or object. It can be religious, cultural, personal, political, public or private, dedicated to one deity or concept or person or event, or exist with a multitude of meanings and devotions."
The creative liberty afforded by the lack of stringent guidelines resulted in artwork diverse in its mediums and cultural backgrounds. The show will include painting, photography, sculpture, performance art, video, and collections of personal objects. Leavitt noted that the varied turnout is right in line with the exhibit's premise.
"Another main theme of the show is that this is such a personal and universal topic," she said. "We all kind of inherit our ways of worship from our family or however we were raised, but then we have to sort of reinterpret them as we live and, you know, bend them to our own lived experience."

Alexis Agbay, a MassArt graduate, recycled old artwork of hers to create a shrine to failure: "'Homage to Failure' is a shrine built in honor of all my past failings. It is all my past artwork that I have kept collaged into a sphinx like creature. The Sphinx was a story about a creature with a head of a woman, body of a lion, and wings of an eagle that went around asking everyone the same riddle. Many people failed to answer and only person succeeded. It represents the overpowering importance of the discarded journey."

Duane Gorey of Lower Allston submitted a shrine featuring guitar amps and porcelain rabbit figurines: "I began collecting rabbit statues in 2012 to decorate the stage for performances of my solo musical project, BUGS BUNNY. It became an accidental ritual of packing my car, traveling from the safe zone of my rehearsal to a (theoretically) safe venue, setting up the amplifiers, rabbits and rope lights on the floor and then playing."

Meaghan Greene of Vermont embroiders portraits of dead animals: "It is difficult to examine live animals in nature because they run away; only after they're dead can we get a closer look. In this series I explore how, in death, they could be simultaneously melancholy and beautiful."

Boston area-based artist Ankana installed a piece made of tapestry, string, and assorted objects called "Altar to the Nameless Migrant": "This Altar is dedicated to the migrants who have died in transit. The majority of the time the bodies are never claimed and they are buried anonymously. In life and in death they are treated inhumanely. We may never know their names but we can honor them with dignity in their passing. This is my way of honoring them."

Carolina Laredo, a daughter of Peruvian immigrants born in Boston, used the symbolism of butterflies to represent the immigrant experience: "My shrine is a portrait of myself in the various mental stages that I go through every night between my fears and my vulnerabilities. A big part of who I am also includes dealing with my mental health issues and trying to cope in healthy ways. Unfortunately, mental health problems are not commonly talked about among people of color, despite the fact that PTSD is consistently an issue with immigrants."

Danielle Robbins of Dorchester uses oil paint to represent nuanced emotions: "A shrine is not always a physical place or object. Sometimes a sacred place evolves from our everyday interactions. It can creep up on you; one day you look around up at the person you're with and you realize that you have been surrounded by holiness. When you love someone doesn't it feel sacred? Aren't we worshipping at the altar of love?"

Jessica Caponigro of Dorchester has created a video installation which documents her creation of ritual sites in the woods near where she grew up: "I was raised by fiercely independent Sicilian women who strongly believed in holistic medicine and the powers of the earth and intuition, and passed down their spirit and knowledge to my generation. I maintain that sincere connection to the forces of nature, both seen and unseen."

Minu DaCosta of Dorchester set up a shrine dedicated to her sister who passed away last year. Born in Angola, DaCosta included symbols important to African culture, as well as objects with deep personal significance: "My Shrine represents my culture, nationality and family history."