By Maddie Kilgannon, Reporter Correspondent
March 22, 2018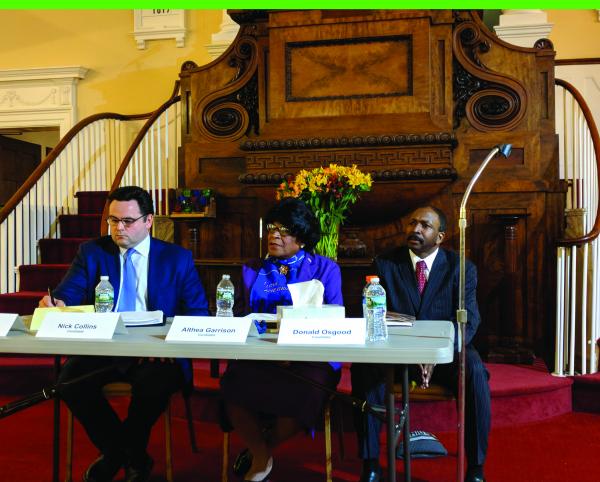 Three candidates running in a special election for the state Senate's First Suffolk seat spoke at a panel discussion organized by more than 20 civic associations on Monday evening at the First Parish Church.
The event drew an audience of about 40 people and was moderated by Dorchester Reporter news editor Jennifer Smith.
The lone Democrat on the April 3 ballot, state Rep. Nick Collins, who currently represents South Boston and parts of Dorchester and is seen as the heavy favorite to succeed former Sen. Linda Dorcena Forry, who stepped down in January, talked about the work he has done in the State House since being sworn into office in 2011.
The path to victory in the primary election became easier for Collins when Dorchester Rep. Evandro Carvalho, who initially declared his intention to seek the Senate seat, changed course and is now a candidate for Suffolk County District Attorney.
Althea Garrison, who served a single term as state representative in the Fifth Suffolk district from 1992 to 1994, is running as an unenrolled candidate. She used the forum to discuss her focus on transportation issues. "Neither party does the community justice," she said.
Garrison asked for voters support in the May 1 special election to finish out Dorcena Forry's term, but said that she intends to run for Carvalho's open Fifth Suffolk seat in the House in November.
Donald Osgood, a pastor and a former mayoral candidate, is also running as an unenrolled candidate. He said it would allow him to work with his colleagues on both sides of the aisle.
A father of six, Osgood said that ensuring quality education for all children is important and if elected he would like to explore teaching models in other cities.
The issues of gentrification, the rising cost of housing, and displacement were brought up multiple times when the candidates were asked about them.
Osgood and Garrison kept their answers vague when it came to housing and development policies while Collins took the opportunity to highlight his work in the Legislature.
He said that he would rely on working relationships with civic association groups to understand areas of the community that could absorb more density when it came to meeting the need for additional housing in the city. He also affirmed his support for a legislative approach to protecting tenants and to provide access to legal services.
"Tenants' rights are strong, but they're not strong enough," Collins said.
For her part, Garrison said,"Some sort of rent control has to happen," adding that there was "no real affordable housing" in the district. She said that she would like to see "a moratorium on development" to keep families from being pushed out of their homes. 
Smith asked the candidates what kind of gun control measures they supported after Massachusetts became the first state to ban bump stocks effective last month.
Garrison said she did not believe there was any need for additional gun control measures, but added that parents should take more responsibility for how they raise their children. "As a strong supporter of the First Amendment (sic), I don't support any kind of gun control," Garrison said.
One questioner took up sexual harassment in the workplace, specifically Beacon Hill, and asked what measures each candidate believed should be taken.
Collins said he supported a process that would make it easier for victims to report harassment. Garrison said she believed that no additional measures are needed. And Osgood said that "every allegation should be taken seriously until proven otherwise."
Collins's name will be the only one on the April 3 Democratic primary ballot. All three candidates will be on the final special election ballot on May 1.