By Madeleine D'Angelo, Reporter Correspondent
November 21, 2018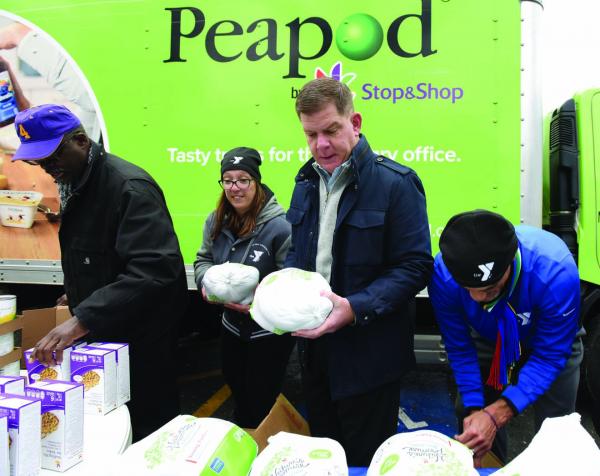 The holiday week has seen a surge in volunteerism and giving back across the city. Last Saturday, the Dorchester YMCA facilitated turkey donations, courtesy of Stop & Shop, to benefit almost 300 deserving families in the neighborhood.
The event itself included Mayor Martin Walsh, Sheriff Steven Tompkins, and state Rep. Russell Holmes, who were on hand to help hand out birds and sides, which were given to the families enrolled in the YMCA Out of School Time afterschool program.
Elsewhere, the Arredondo Family Foundation— based in Dorchester—hosted its annual Thanksgiving Turkey Giveaway last weekend. With their foundation organized to benefit veterans and military families in need of support throughout the holidays, Melida and Carlos Arredondo began the annual drive knowing from personal experience how difficult the holidays can be for people in general, and especially for some military families.
After the loss of their older son Alex, who was killed while fighting in Iraq, and their younger son Brian, the Arredondos became determined to support other military families around Thanksgiving, which Melida explained can be a "challenging holiday."
Since the drive began in 2014, it has grown exponentially each year, he said, noting that it is now in "four corners of the state" supporting countless families that are often overlooked. "A lot of people don't recognize that there are veterans in need," she said. "I think there might be some idea that there are senior veterans who need a helping hand, but the younger veteran and military family does as well. So being able to take that stress off of a young military family is pretty important."
The holiday spirit abounded at the Hynes Convention Center last week as The United Way of Boston gathered volunteers for its 19th annual Thanksgiving Project. In partnership with many community organizations like Catholic Charities of Boston and Interfaith Social Services, United Way has a newly expanded reach for serving families: more than 165,000 pounds of food in 7,000 Thanksgiving grocery packages.
This year Bostonians packed groceries alongside members of the Celtics CommUNITY Crew and service members from USO New England.
The Greater Boston Food Bank (GBFB) is also keeping the spirit alive with its 8th annual Holiday Meal Drive posting a goal of reaching every needy family in the state.
"With more than 500,000 people in Eastern Massachusetts not knowing where their next meal is coming come from, our Holiday Meal Drive goal is to help our neighbors struggling with hunger who enjoy a healthy holiday meal that they could not afford otherwise," said Catherine D'Amato, president and CEO of GBF.
Bostonians can donate as individuals or as part of a team composed of friends, family or coworkers. A donation of $20 provides a full meal for a family of five. Go to gbfb.org to contribute.