By Madeleine D'Angelo, Reporter Correspondent
October 18, 2018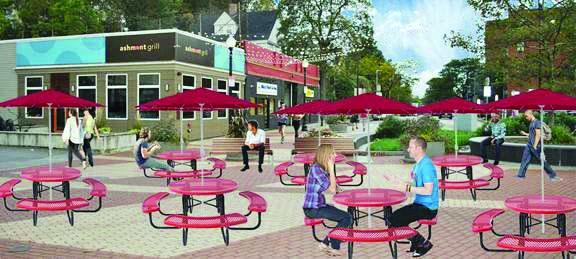 Work is expected to begin this week to fine-tune the public space in Peabody Square in the heart of Ashmont, a project facilitated by the Greater Ashmont Main Street organization for the past two years.
The revitalization, which will cost roughly $110,000, will include additions like improved green spaces, picnic tables, benches, and features to make the square safer and more accessible for cycling and pedestrians.
The city made substantial improvements to Peabody Square about a decade ago, creating two plazas reclaimed from what used to be travel lanes and asphalt along Talbot and Dorchester avenues. According to Jenn Cartee, the director of the Greater Ashmont Main Street group, the upcoming work will seek to finalize elements of that earlier project that were never implemented due to budgetary constraints at the time.
"Some of the aspects of the work that we're doing are actually completing the original plans – things like the street furniture and informational signage," said Cartee. "The rest of it is from lessons learned over time, and also just plantings needing to be refreshed." 
Some of these lessons learned concern maintenance, such as grassy patches that have lost their luster due to a lack of sprinklers. Others are more practical, like removing the patterned pavement outside Ashmont Grille that occasionally misdirected pedestrians.
Greater Ashmont Main Street hosted a community-wide public visioning session in 2016 to seek input from residents, neighbors, and local business owners. After finding consensus on a design, the push for funding began, which is when Ashmont resident Bryan Bryson became heavily involved in the process.
Bryson, who had recently moved to Dorchester from Cambridge, worked on seeking grants for project funding and helped lead a crowd-funding effort that has raised over $26,000 in individual donations from 135 members of the Dorchester community.
"That's actually the biggest part of what I think the signature theme of the whole project is – participation," Bryson said. "Neighbors participating to make the project happen and think about what they wanted, and neighbors participating to actually put the money where their mouths were."
Including matched funding and grant donations from individual donors, the organizers raised $96,430 for the project, which they estimate will take about four weeks to complete.
The final proposal was approved by the city's Public Improvement Commission on Oct. 4. Temporary fencing will be erected around the plazas during the construction, which will be supervised by Paragon Landscape and Construction, a landscaping company. A ribbon-cutting party is already in the works for mid-November.
Cartee said that the completion should dovetail nicely with the anticipated opening of the Treadmark Building and another new building at 1943 Dorchester Ave. Together, the new structures will bring 149 new household units to the neighborhood.
"We also know that coming down the road is the 500 Talbot Ave. development with 40 additional units, and some smaller ones nearby on Dot Ave," Cartee said. "This influx of households means more people living in transit-oriented developments without their own yard space. These are the only public plazas that we have within our Main Street district, this and the MBTA plaza. Making them accessible and attractive destination spots where people are comfortable hanging out, enjoying some time outside in the neighborhood, was a significant goal as the density around Ashmont increases."
Jack Pelletier, the owner of Ashmont Cycles, which is situated on Peabody Square plaza, has been involved as a resident and business owner in Ashmont for many years.
 "I think that the maturation of Peabody Square has been a two-step process because first there was the re-doing to make it more pedestrian friendly.  But now I think that this revitalization will be more of a focus on not just pedestrians walking through, but also people using this public space for gathering, relaxation. You know it's here and it does get a lot of use, but I think more could be done with it. I think that the Main Streets group sees that and they want to capitalize on that and I agree."
To Pelletier, the project "makes a better use of the space in terms of getting people to congregate there and sit and relax." He added: "I think that the more people feel welcome to gather and congregate in the square is great for community development, economic development. I think it makes a lot of sense."