By Jennifer Smith, News Editor
December 27, 2018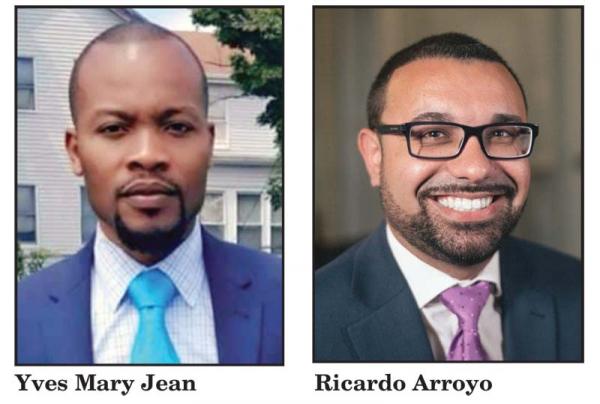 With Hyde Park attorney Ricardo Arroyo jumping into the race last week, there are now two candidates seeking the District 5 council seat currently held by Councillor McCarthy.
Arroyo was a public defender until early December, when he left the job to begin campaigning.
When I was "at a young age," he says on his website, "my parents instilled in me a love for public service and the importance of giving back. It was those lessons that led me to become a public defender where I saw first-hand the devastating impact inequity and lack of opportunity have on people's lives."
His father, Felix D. Arroyo, the first Latino to serve on the Boston City Council, is now the Register of Probate for Suffolk County. His mother, Elsa Montano, is a retired Boston Public Schools teacher. And His brother, Felix G. Arroyo, served on the council until 2015.
Ricardo Arroyo received a bachelor's degree in history from the Massachusetts College of Liberal Arts, and later a degree in law from Loyola University Chicago. He is on the board of the state chapter of the National Lawyers Guild and is a member of the Boston Bar Association, the Massachusetts Bar Association, the NAACP, and Mijente.
According to his campaign website, Arroyo's work as a public defender involved "fight[ing] every day for those that are often unseen and unheard, and he is now ready to do that for the communities that raised him." Raising those voices, he says, will lead to "stronger economies, quality schools, affordable housing, safe neighborhoods, and healthy communities."
The other hopeful challenging McCarthy is Yves Mary Jean, who pulled papers to run on Aug. 29. Jean, a Haitian immigrant and Roslindale resident who describes himself as a writer/poet who has worked for the European Parliament, has been active on social media, introducing his campaign under the slogan "Together We Are One."
Posts on Facebook show that he supported US Sen. Elizabeth Warren's re-election campaign and state Rep. Jeffrey Sanchez, who was ousted in November.
"I can't wait! I can't wait!" Jean wrote on Facebook on Dec. 6, "to build relationships with the mayor, to build relationships with colleagues on the Council, with everybody to adhere to the needs of the District 5 and the City of Boston."
Both campaigns are using the Democratic crowdfunding tool ActBlue. McCarthy has $78,141 in his campaign account, according to filings with the Massachusetts Office of Campaign and Political Finance. He said he is looking forward to the race and a competitive council run.
"People know we're doing a good job," he said. "Whether you're voting for me or not voting for me, you can disagree with me all day long and vote for somebody else, as long as you never say that I'm not working hard. That's personal, because I work really hard."